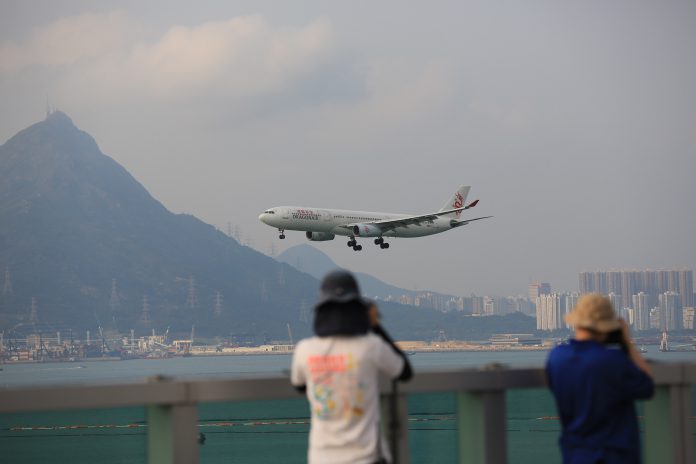 Airline workers are facing unprecedented challenges as the coronavirus pandemic halts air travel.
By Fiona Cheung, Hayley Wong, Patricia Ricafort
Sarah* has been working for Hong Kong's largest aircraft carrier for over 20 years, and she is currently a senior flight attendant.
Because of the pandemic, she is facing an upheaval in her work that she has never experienced before. "COVID has completely changed the way we do things, especially in my company," she says.
According to a press release from Cathay Pacific dated October 21, the aircraft carrier announced on October 21 that 8,500 staff roles were cut across Cathay Pacific Airways Ltd. Out of the total number of staff axed, 5,300 were Hong Kong-based, including all 2,500 employees under the Cathay Dragon airline, which stopped operating with immediate effect.

Going South
Sarah used to work for 15 to 20 days in a month, but she has only flown only three times over the past six months.
Although she has fewer flights, each flight requires longer working days.
"Flight patterns during the pandemic are longer because our flights are not as frequent as before," Sarah says.
In a flight to San Francisco in June, the total number of working days for Sarah was seven days. Prior to the pandemic, the number of working days for such a trip would only be four or five days.
"Pre-COVID-19, we had daily flights to San Francisco. So after the crew rested in the outport, we could immediately operate a return flight," Sarah explains.
"During COVID, since flights are not as frequent anymore, our stay in outports tends to be longer because we need to wait for the next aircraft arrival to be able to fly back to Hong Kong," she says.
Apart from longer working days for long-haul flights, Sarah says interactions with both passengers and colleagues have decreased sharply. She points out meal services have been modified to reduce contact between the fliers and the crew.
"Before the pandemic, interactions with passengers were about 80 per cent of the time. Now interactions only happen maybe five to 10 per cent of flying time," she says.
"Before the pandemic, interactions with passengers were about 80 per cent of the time. Now interactions only happen maybe five to 10 per cent of flying time."
Flight attendants are also not allowed to leave hotel rooms when staying in outports.
"When we are staying in layovers, we are not allowed to leave and eat outside of our rooms. We are only allowed to order food delivery," Sarah explains.
"We cannot even catch up with our own crew members. Our company wants us to maintain social distancing even when we are in outports," she says.
Sarah uses social media and does exercise to cope with the isolation during her stay in outports, but she still feels lonely at times.
"It can be very sad at times, and boring. But thankfully there is WhatsApp and all those other social media platforms, so we still try to interact with others this way. Mentally, it can be very boring, tiring, and sad, and you always think about when it will end," she says.

Taking a Nosedive
Sarah's income has also been significantly cut. A leave scheme has been launched in her company under which staff are asked to take a total of six weeks unpaid leave. Sarah is not allowed to work on other jobs during her leave to supplement her income.
While Sarah's income has been affected, the impact to her, whose salary is paid on a monthly basis, is not as great as to those whose salary is paid according to the number of flying hours.
"For those who are paid on an hourly basis, they are only paid a very basic amount and they have to fly to earn more. So I think the impact will be more on their side than on my side, being a monthly paid crew member," she says.
While Sarah's monthly income has been slashed, she is still able to keep her job. But James Chan*, a recently retired training captain, was unable to extend his contract.
Having worked 30 years for the carrier in Hong Kong with over 17,000 flight hours, Chan left the airline in October at the age of 55.
Before the pandemic, Chan says contracts of most pilots would usually be extended to the age of 65. "Since the company has 30 to 40 per cent surplus of pilots, they did not extend my contract," he adds.

Embarking on New Horizons
Chan says the airline has had to halt the recruitment of pilots and revamp training for them due to the pandemic.
"Average flying hours for a pilot have dropped from 80 to 90 hours to around 10 hours a month. Some pilots have not flown since February," Chan says.
"Induction for new recruits has also been halted since April and May. According to the company's chairman, the company might resume (induction) late next year if the pandemic is under control," he adds.
Under the Civil Aviation Department's Air Operator's Certificates requirement, pilots have to maintain take-off and landing recency to re-validate their qualification.
Chan points out since the number of flights has dropped drastically, the company receives approval from the Civil Aviation Department to conduct training through flight simulators instead.
"The way they maintain pilots' recency is very innovative. This has never happened before," Chan says.
In the months before his retirement, Chan experienced a shift in duty – from flying passenger flights to cargoes. "Though the number of passenger flights has been reduced, demand for cargoes has increased," he says.
"Though the number of passenger flights has been reduced, demand for cargoes has increased."
Chan explains that the increased logistics of medical supplies between China, the U.S. and Europe have contributed to strong demand for cargo service.
In a bid to satisfy the increasing demand of cargoes, Chan's former employer has converted passenger planes to cargo aircrafts.
"On top of the 30 to 40 tons of goods usually carried in a Boeing 777 jet plane, the company puts goods on cabin chairs or even removes the chairs to convey more goods," Chan says.
"Without the chairs, a plane can carry 10 to 20 extra tons of goods," he adds.
Circling the Wagons
Connie Leung, vice-president of Hong Kong Dragon Airlines Flight Attendants Association urges the government to take a more active role to offer help to all the affected workers, including their 1,200 members who were sacked as the airline was folded.
"The fact that the government invested HK $27.3 billion in Cathay Pacific but did nothing to stop the layoff from happening means they allow this. It thus gives an excuse for other companies to announce massive layoffs," Leung says.
In June this year, the government injected liquidity to the city's de facto flag carrier, which has been struggling financially.
"The government saved Cathay Pacific but did not save its employees. The government should assist the affected employees by helping them get compensation and offering them other job opportunities," she says.
Harry Hon, the public relations officer of Hong Kong Aviation Staff Alliance (HKASA), who is also a flight attendant, says most workers are on unpaid leave now and more layoffs are expected.
The alliance was registered in February, 2020 with about 300 members who are flight attendants and other workers in the industry including ground crew members, airport security guards, and maintenance workers.
The union criticises Cathay Pacific for not exploring other options other than massive layoffs.
To help the workers in the industry, the union thinks the government should introduce a cash handout scheme to help the affected employees.
On October 21, the day Cathay Pacific announced its extensive cut in staff, the Labour Department expressed "deep concern" about the plan and called upon the group to maintain effective communication with its employees over employment termination matters with appropriate arrangements in a press release.
"The employer should consult and secure consent from its employees prior to varying the terms of their employment contracts," a spokesman for the department said.
In a press release dated October 21, Cathay Pacific Chief Executive Officer Augustus Tang Kin-wing said that Cathay Pacific's corporate restructuring plan will reduce the company's cash burn by about HK $500 million per month. 
"We have taken every possible action to avoid job losses up to this point. We have scaled back capacity to match demand, deferred new aircraft deliveries, suspended non-essential spend, implemented a recruitment freeze, executive pay cuts and two rounds of Special Leave Schemes. But in spite of these efforts, we continue to burn HK $1.5-2 billion cash per month. This is simply unsustainable." Tang says.

*Name changed at interviewee's request
Edited by Lasley Lui & Regina Chen