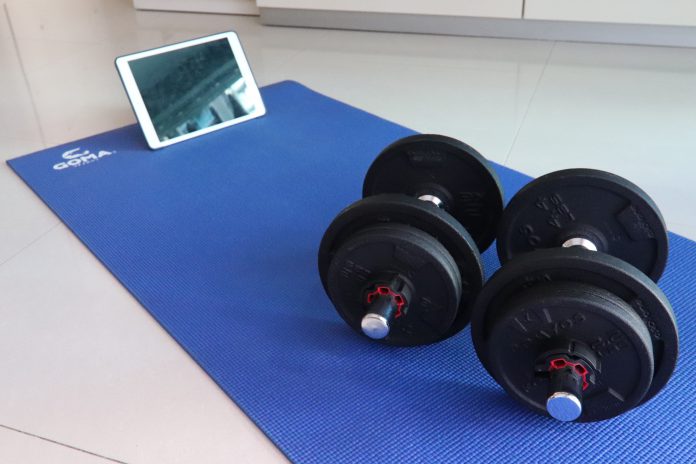 Coaches face difficulties conducting online fitness classes during the pandemic.
By Leung Pak Hei
Lee Yuk-shan has been conducting weight management classes online since the first closure of gym centres in March 2020. Despite fitness facilities being allowed to re-open on February 18, 2021, the 26-year-old coach is still worried about possible closures in the future.
"If gyms are forced to shut down again, our business may not survive," he says.
His worry is more real than ever because of a rapidly expanding cluster of COVID-19 infections linked to a gym in Sai Ying Pun in early March, less than a month that the city's embattled fitness industry is allowed to resume business.
The government announced on March 11 that masks should be worn at all times in fitness facilities, except during shower. Immediately after the new outbreak, Lee hired a cleaning company to clean his gym and asked his students to wear masks when exercising.
Having taught weight management classes online for a year, Lee thinks it does not work in the long run. "When doing online classes, you need to make a lot of effort. But you receive very little in return. It is hard to make profit," he says.
Lee adds that it is difficult to make money through online classes. He believes one of the reasons is fierce competition.
"During the pandemic, there are many YouTubers who provide information on fitness and exercise for free. People are not willing to pay for something they can get for free," Lee explains. "YouTubers also have a lot of resources, so it is hard to compete with them," he says.
The coach and most of his students prefer physical interaction.
"When having online classes, I am restricted by students' cameras. It is very difficult to see their whole bodies and help them improve their form," says Lee, who has been working as a coach since he was 18.
"Some beginners may refuse to follow instructions. For example, when you ask them to add more weight, they may not listen," he adds.
"We also need to take care of their safety, but we cannot make sure of that through online classes. If they get hurt, we cannot physically help them," he says.
Hong Kong has been struggling to contain the spread of COVID-19 since the first case was reported in January 2020. The government announced social distancing measures to combat the pandemic. Gyms and other fitness facilities have closed and then reopened three times since the beginning of the pandemic to reduce infection risk.
On December 8, 2020, the government ordered the closure of all gyms and sports venues starting from December 10.
The facilities and venues were allowed to reopen on February 18, 2021, under the condition that full-time staff are required to do mandatory testing every two weeks. Visitors are required to scan the QR code with the "Leave Home Safe" app or provide their personal information to facilitate tracking in case an infection is reported at these centres.
Cheung Koon-tung, a member of the Hong Kong Fitness and Combat Sports Alliance, shares Lee's thoughts. With the re-opening of fitness facilities, Cheung thinks that resuming physical classes is better than doing online classes. "There is more equipment at gym centres, so fitness training can be conducted in a more all-rounded manner," he says.
As a private fitness coach and an owner of a fitness facility, Cheung states that online teaching is not as good as face-to-face coaching. "A good atmosphere is very important for exercise. But students may not have enough space for online fitness classes at home, or they may have children at home which may cause hindrance and affect their mood," Cheung says.
"Also, if a coach cannot physically instruct students, it is hard to know whether they understand how to exercise properly," he continues. He adds that while online classes provide another choice for people who do not want to go outdoors, many of them may quit exercising due to low motivation.
Cheung also thinks that online classes provide them with little financial support. "The income is much lower compared to offering physical classes in fitness centres. Coaches only earn a few dozen Hong Kong dollars a lesson. Very few people sign up and join the classes," Cheung says.
"Some centres do not have enough money to invest in equipment, such as cameras and computers, for online classes. This increases their financial burden," he adds.
Online teaching mode is also not an option for Tsang Put-long, owner of a rock-climbing facility. He points out that it is very hard to do online classes with the type of sport he specialises in.
"We need a rock face in order to practice rock climbing. It is difficult to teach students the needed skills, and it is not something they can practice at home," Tsang says.
Tsang had no income during the period his centre was closed from December 10, 2020. As he could not do online classes, he was forced to pay HK$70,000 a month for rent with profits he made earlier on.
After Tsang's rock-climbing centre was allowed to re-open, his revenue has still not returned to the level during the period before the closure. "Our revenue has dropped by around 25 per cent. We have fewer students now than we used to have," Tsang says.
Despite this, Tsang has no desire to do online classes. "The difficulties of doing online classes remain. Now that we can re-open, we plan to hold more physical classes," he says.
Chow Chi-ngan, an assistant lecturer from the Department of Sport Science and Physical Education of the Chinese University of Hong Kong, believes that online coaching may lead to undesirable effects for students.
"When training lessons are online, instructions may be unclear and leads to exercising with improper technique. Coaches cannot monitor students and they may get injured," Chow explains.
Despite the difficulties, Chow thinks that online fitness classes will continue in the future. "I have told my students to film clips of them exercising at home as I do, so I can use them in the future for teaching," Chow says.
The lecturer believes that people of this generation should be more open-minded and try to explore different ways of exercising. She suggests coaches could think of different kinds of exercises that can be done easily and safely at home, such as bodyweight training, circuit training and high-intensity interval training.
Chow also encourages coaches to exercise with students during lessons. The lecturer says coaches can provide feedback and instructions during the process to motivate students.
Edited by Laurissa Liu
Sub-edited by Agnes Lam