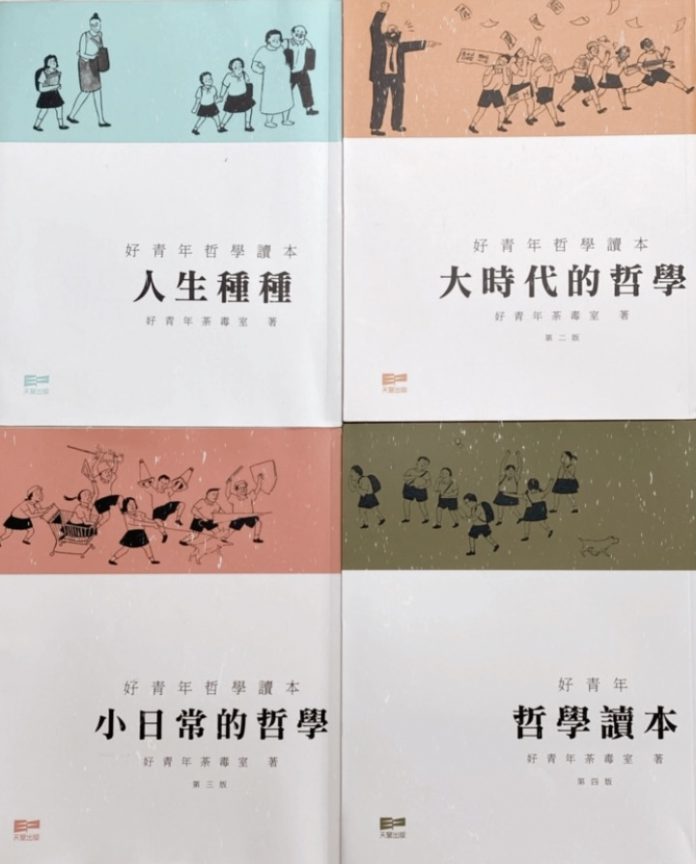 Philosophy students and lecturers from university are trying to creatively promote philosophy to Hongkongers.
Cheryl So
Philosophy can be entertaining and practiced in daily life, a philosophy group striving to promote the hugely misunderstood discipline to the general public vows.
Founded by 13 philosophy graduates and postgraduates from the Chinese University of Hong Kong (CUHK) in 2016, Corrupt the Youth has more than 100,000 subscribers on their YouTube channel with their videos garnering more than 10 million views.
The group name was inspired by a Greek philosopher, Socrates, who was sentenced to death for 'corrupting the youth' with his ideas.
One of the co-founders, Yeung Chun-yin, attributes their popularity to their light-hearted way of promoting philosophy via videos on YouTube every Friday. The group started livestreaming in April 2020.
Publishing their first live video named "9up", which means talking bollocks, the group tries to befriend the audience and hopes more people will be willing to watch their videos about philosophy.  
"We did not have a plan in mind when we first started livestreaming, just chatting and relieving our stress. We keep viewers company by going livestreaming regularly and that is the most important part of our channel. We also scroll through comments and talk to them as friends," Yeung, who is also a part-time lecturer in the Department of Philosophy at CUHK, says.
"We do livestreaming even during Christmas Eve and New Year's Eve because it is important to show our commitment to our members," he says.
"If we do not do it in an entertaining way, no one will be interested at all. Some even say the philosophy we teach has blood and tears. I will continue to speak out and exercise the freedom of expression we still have," he adds.
"If we do not do it in an entertaining way, no one will be interested at all. I will continue to speak out and exercise the freedom of expression we still have."
Breaking Stereotypes
Scenes of swearing and drinking are common in their live videos and are regarded as the most interesting parts by their fans. The most viewed clip is about one of the drunken hosts demonstrating a CUHK tradition, "dem beat" which is chanting slogans with clapping hands and stepping. The video has gained over 90,000 views.
"People who study philosophy are often stereotyped as nerds. Our behaviours often shock our audience. It shows that a person can have different layers. Doing these live videos can capture attention from other people," the group's co-founder, Alex Lai Ka-lok says.
Last year, the group started a series called "I Study Drama" with videos featuring philosophical concepts and presented them as drama. But some members in the group felt upset when reading viewers comments which were mostly about their acting rather than the philosophical concepts they wanted to present.
"I know some group members were upset but I personally do not mind," Lai says, adding that it is entirely up to the audience to interpret the videos. He feels happy that some audience have come up with perspectives that they have not thought of.
"Sometimes I worry whether we are too entertaining. But then I think not everyone really needs philosophy that much. Just knowing it is quite enough," Lai says.
From Entertainment to Education
Before livestreaming and posting videos on YouTube, the group first appeared in a new Radio Television Hong Kong (RTHK) TV programme called 'Philosophy Night' which was the first talk show featuring philosophical discussion in Hong Kong in 2016.
Dr Lau Po-hei, a part-time philosophy lecturer at the CUHK, was one of the curators and hosts of the RTHK programme.
"The views of each 'Philosophy Night' episode were around 10,000 before they did live on YouTube. The views of the programme reached over 100,000 in 2020. It shows that audience who watched their live shows also watch our programme," Lau says.
"They do entertaining livestreaming and serious talk shows at the same time. This can cater to different audience. Viewers can always find videos they like and absorb knowledge," he adds.
Future of Promoting Philosophy
RTHK cancelled all talk shows, including Philosophy Night in 2021. Dr Lau still hopes to continue his work despite losing a platform to promote philosophy.
"Not everything can go as planned in life. We are still taking experimental steps," he says. 
The group is doing a series of talk shows which is like the continuation of 'Philosophy Night'. The first episode was released on January 31, 2022 with 840,000 views.
Lai thinks philosophy can help people think rationally in chaotic times. "We are dealing with a lot of absurd things done or said by people. But philosophy demonstrates how critical thinking works and can help people," he says.
"We are dealing with a lot of absurd things done or said by people. But philosophy demonstrates how critical thinking works and can help people."
Edited by Leung Pak-hei
Sub-edited by Winkie Ng