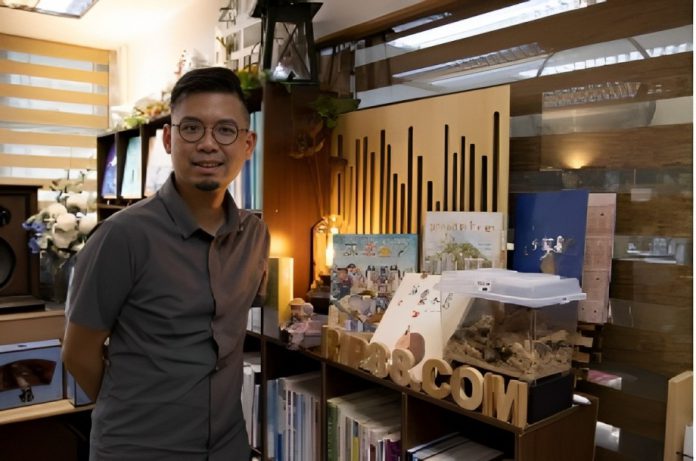 Pasu Ng Kwai-lun founded RIP88 to answer the city's calling: a lack of alternative undertaker service providers.
By Lesley Lam
Pasu Ng Kwai-lun quitted his job as the manager of the dissection laboratory at the Chinese University of Hong Kong in 2020. When he was struggling to stay or leave Hong Kong, the success of his social enterprise proposal submitted to the Social Innovation and Entrepreneurship Development Fund (SIE Fund) made him stay.
"The proposal is actually designed based on my final year project when I studied art and design for my top-up degree at the Hong Kong Polytechnic University. The funeral market is confined by traditions and rituals. No one (in Hong Kong) have thought of the need for alternative funeral services. I want to change that," says Ng, whose proposal is the prototype of "RIP88".
The social enterprise provides affordable, simple and dignified after-death services and emotional support to low-income families to bid final farewells to their deceased family members.
" '88' in Cantonese means 'bye-bye', and RIP88 is about how to say a good farewell," says Ng, who set up his social enterprise in April 2020.
Apart from being a social enterprise founder, Ng is also a certified embalmer. He is an awardee of the 2020 Hong Kong Humanity Award and the Top Ten Outstanding Young Persons for 2019, as well as the founding president of the Hong Kong Life and Death Studies Association.
Ng started working as a body embalmer when he was 24. Holding a higher diploma in applied arts, he finds his work as an embalmer who preserves and recovers bodies in line with his background.
"I think helping to recover a deceased's appearance is somehow quite similar to artwork which is related to my studies," he says.
Ng had his first grief counselling training at the Centre on Behaviour Health at the University of Hong Kong after working as an embalmer for around seven years.
"I gradually realise that there is little I can do to comfort friends and relatives of the deceased. But I want to be of help," he says.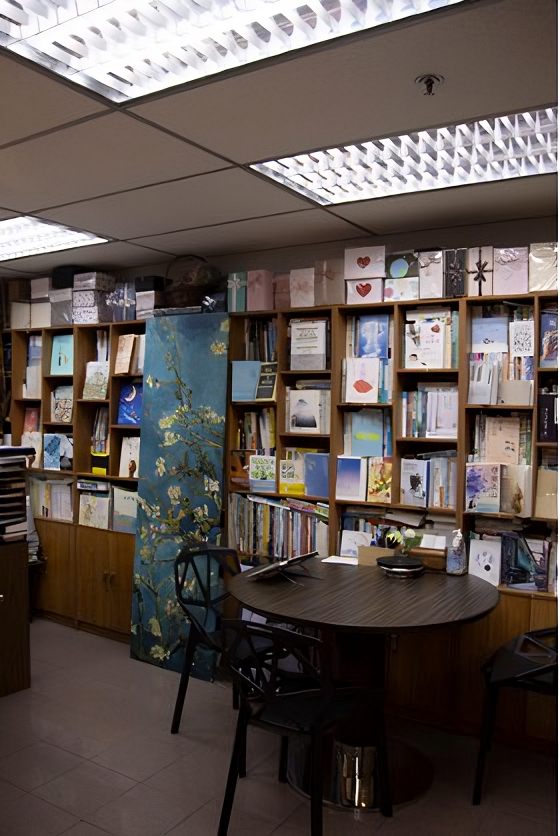 Ng points out that funeral directors in other countries such as the United Kingdom are well-trained in counselling, and there are licenses, qualifications framework, and codes of ethics that govern the industry.
Yet the funeral industry in Hong Kong is run by traditions, rather than a professional and knowledge-based system.
"Some say that undertakers in Hong Kong profit off the dead. That is true in a sense when the pricing is intransparent in the industry. Some may even demand for extra charges after the funeral service is completed," he says.
He is determined to make a difference with RIP88, which is situated across the street from the Kowloon Deaths Registry. It takes up half of the floor of a commercial building and is not only a funeral home but also a life and death education bookstore.
Ng talks about how the office of his funeral home is designed during the interview.
"This place looks like other hipster-style stores in Sham Shui Po. Customers find this environment more comfortable. They do not have to see a lot of coffins on display like those traditional funeral homes do," he says.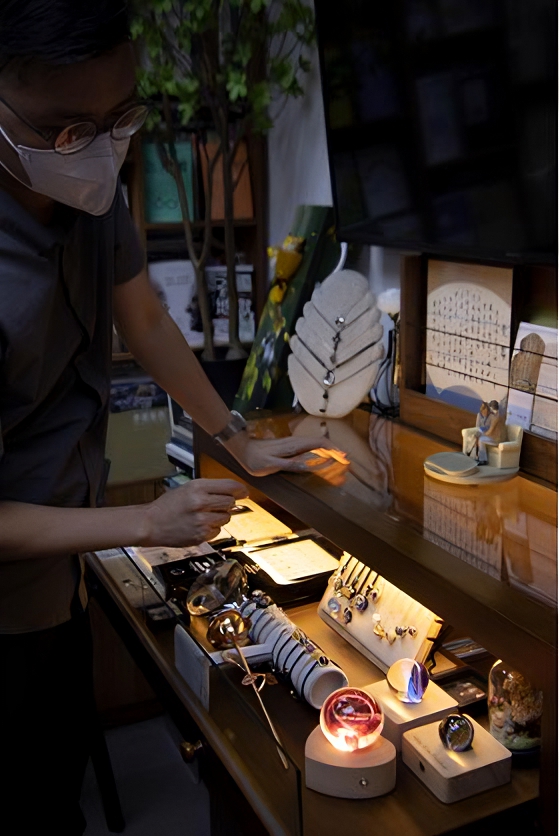 There are different types of urns in the office including necklaces, bracelets, crystal balls, and keychains that can be tailor-made.
"This is to cater to different people's preferences when it comes to keeping their loved ones with them," he points out.
Ng's funeral home also provides non-traditional funeral planning services.
"Rituals can help easing the grief, but relying too much on it will make the ceremony highly religious, especially in Daoism for Hong Kong. But in reality, many of the deceased here are not religious," Ng says.
Modern-style funeral featuring tailor-made service is an important alternative that Ng wishes to provide. He recalls one of the memorable ones he has planned for a mother of two.
"The deceased was a designer with two sons. Her husband chose pictures she designed to be printed on her paper coffin," he says.
The sons were in primary school at the time their mother left them in her forties. A farewell this early for the boys left a remarkable impression on Ng.
Asked if he has had compassion fatigue or feeling burnt out having handled so many heartbreaking cases for years, Ng thinks that his rational personality helps.
"I am a rational person. Of course, I am motivated by emotional causes and I act upon them, but I am also strongly rational and introverted when it comes to working," he says.
He describes himself as someone with an entrepreneurial spirit and sense, and this side of him prompts him to be active on social media platforms as well as doing a lot of interviews with multiple news outlets.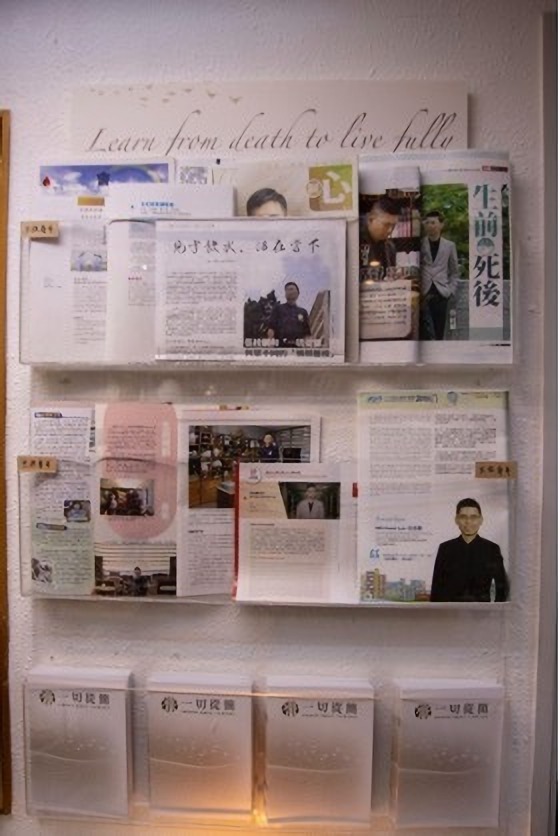 "Word of mouth is important in this business. The reason why I post on Facebook every day is to reach out to people. Also, since the underprivileged in Hong Kong relies greatly on the recommendation from hospital social workers to make funeral plans, keeping a media presence can help build trust with social workers so that they will consider recommending us to clients," he explains.
About half of the clients of RIP88 are less well-off families, most of which are living on welfare dole.
Ng hopes he can also continue to host talks and workshops on life and death education.
The funeral home has developed faster than Ng expected. Sadly, the pandemic brought a lot of unexpected and hard farewells.
Combined with immigration waves and an ageing population in Hong Kong, Ng advises Hong Kong people to bring death to the table for discussion.
"If there are elderly in a household, what to do at the end of their lives is a topic that should be discussed. It is important to plan end-of-life care because living and dying is a process that is not cut in two by the occurrence of death. End-of-life care is done so that during this whole process, families and friends of the soon-deceased person can face their passing away," Ng says.
"The ultimate goal of funerals and ceremonies is for the friends and families to say a good farewell. Funeral homes seem to serve the deceased, but we are actually serving the living ones," he adds.
Sub-edited by Gabriella Lynn