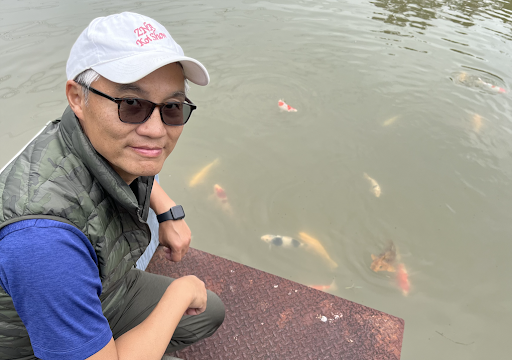 A longtime member of Hong Kong's Koi fish community shares what he does and how he got here.
By Liam Hordijk
Despite having about 100 Koi, Aaron Lit Ying-yeung is able to tell them apart.
"Each Koi has a different and unique pattern," the 56-year-old says, adding that he used to name his Koi fish, but has stopped as he cannot remember so many names now.
Koi, or nishikigoi, are coloured carp that symbolise good fortune. Lit says that some Chinese people buy the fish believing that they will bring good feng shui and positive energy.
There are many competitions hosted by Koi organisations – such as the Belgian Koi Society and the Koi Club Singapore – held in places like China and Japan to determine the most beautiful Koi every year.
Lit adds that a quality Koi, especially award-winning ones, can be worth a lot.
"One can be sold for USD $1.8 million dollars (HKD $14.1 million). It's quite crazy," Lit says.
Lit has raised several award-winning Koi in his own fish farm – measuring around 40,000 square feet – in the New Territories, since the 90s.
They include a Koromo Showa that took home this year's 80-to-85 cm division champion prize at the 35th Hong Kong Koi Show.
"Whenever she joins a competition she wins something," Lit says, adding that she won her first prize in 2017, and has done so on five occasions up until now.
Judges appraise a Koi on body shape, colour, and pattern. Lit points out that an ideal Koi would have a big, long, and symmetrical body shape, rich colours, and a well-defined pattern.
Lit says the rarity of a quality Koromo Showa like his own gets it additional points from judges. He adds that few breeders want to raise this kind of Koi because they are not known to sell for a lot.
A Koromo Showa has a white base with red markings, and blue-black shapes on top of or connected to its red areas.
Visiting his Koi farm at least twice a week, Lit says, "I will stay there for around two hours, because there's a lot of things to do." He has to observe the condition of the fish, refill the solar-powered feeders, and check the electric pumps. 
When he is not at the farm, the farm's landlord living close by would help look after the fish.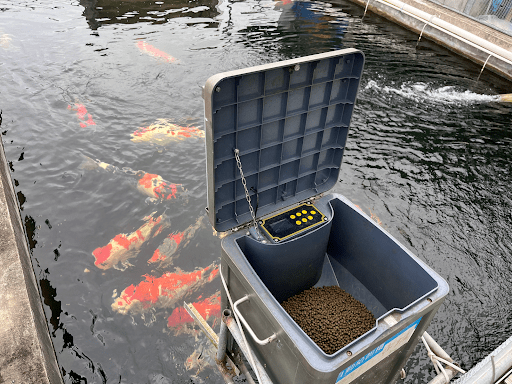 Lit says his favourite part of the visit is the final step – meeting with some of his friends from the Hong Kong Koi Club who have their own farms in the same area. After their caretaking chores, they bond whilst eating together nearby.
"We call it 'chui shui' in Cantonese (吹水; chit-chatting in English)". We treasure this time, talking about Koi or other things," he says. 
"We treasure this time, talking about Koi or other things,"
Errand Runner Turned Expert
Lit's love for Koi began when he was in his final year at university, whilst running an errand for his then-girlfriend's family. Believing Koi would bring the family good fortune, they sent Lit to purchase some for their newly built fish tank.
He became fascinated with Koi because, unlike marine fish, every one of them has a noticeably unique pattern.
"At that moment I fell in love with Koi. After that I joined the Hong Kong Koi Club. And then I started to buy and raise Koi," Lit says.
He also finds excitement in raising each Koi to their full potential, which he compares to chasing a dream.
"When a dream comes true, it will give you a lot of satisfaction, though of course sometimes a dream cannot come true," Lit says.
After 33 years as a member, Lit is now an honorary president of the Hong Kong Koi Club, an organisation with about 100 members. Lit says that although he was not a founding member, he worked very hard for the club to earn the top position.
When Lit first joined he discovered that the community included some upper class people, such as listed company CEOs and entrepreneurs.
"But when we go together to visit fish farms, we are just like friends," the 56-year-old says.
Seeing many of his friends from the club being self-employed inspired him. He left the South China Morning Post, where he worked in the property advertising sales department immediately after graduation, and established his own advertising firm.
"When a dream comes true, it will give you a lot of satisfaction,"
Joining the club also led him to begin his journey of becoming a certified judge (CJ) – the highest level possible – for Zen Nippon Airinkai (ZNA), a body that provides judging officials for Koi competitions.
It was a long process that took Lit a total of 12 years that he attended 11 competitions, six seminars, and three examinations. He worked his way up from being a Koi club member, trainee judge, local judge, assistant CJ, and finally, a CJ.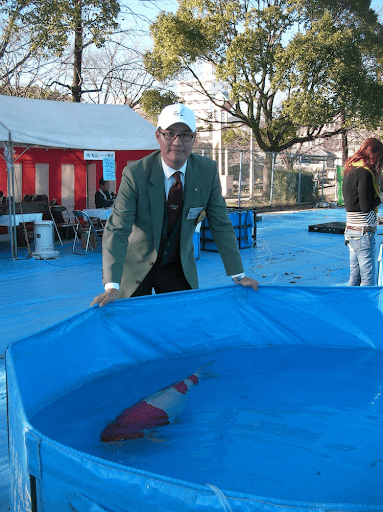 Lit says that his Koi journey has enriched his life in many ways, but notes the achievement he is proudest of is the special relationships he has formed with fellow enthusiasts along the way.
"Winning the Koi competition with my own Koi, and becoming a certified judge made me feel very successful." he says. "But after so many years, I treasure the friends I made around the world much more."
"Because we share a common interest in Koi – and there's not any profit or business interests involved as this is just a hobby for us – my friendships with these people feel quite real and pure," Lit adds.
More Good Times Ahead
Before the pandemic, Lit and his wife visited Japan five or six times a year to attend Koi competitions but had been forced to stay in Hong Kong due to COVID-19.
"Now I can freely go anywhere to visit my friends and judge in competitions," he says.
Lit is also hopeful about spending more time at his Koi farm when he retires but has no plans to expand its size. He will continue raising Koi that are young and inexpensive instead of buying Koi that already have accolades.
"Trying to judge which Koi has the most potential, then raising it to compete is a much more satisfying process," he says.
The ZNA judge believes those who are interested in Koi should also go to competitions to familiarise themselves with what truly impressive Koi look like.
Lit says, "When you look at other people's Koi, you will discover how beautiful a Koi can be."

Edited by Yap Ying Ye
Sub-edited by Karmen Yip