Handwritten cards make a comeback in the digital age as people crave a personal touch.
By Angel Yu
University student Kay Yu Nga-kei, once an enthusiast for writing cards for her loved ones, has reignited her passion in sending out handwritten cards on special occasions like birthdays and festivals since her visit to a birthday card exhibition.
Writing handmade cards for friends and family was her childhood habit, but the 20-year-old turned to social media and instant messaging apps as she grew up. She restarted the habit after being inspired by the exhibition.
"Handwritten words convey the writer's emotions, style, and personality which makes it unique and more intimate to the receiver. Each of us has a unique handwriting style, something a keyboard does not have," Yu says.
"Cards can be physically preserved. I enjoy the feeling of spotting handwritten cards and letters in a bunch of papers mixed with receipts and exercises when I am tidying my desk. They are like time machines that make me travel back in time," she adds.
Yu went to The Happy Birthday 366 Exhibition at Oi! Glasse in North Point designed by artist Hikoko Ito. Held in October 2022, it featured 366 mailboxes, each carrying a birthday card written by Ying Wa Primary School and S.K.H. St. Michael Primary School pupils.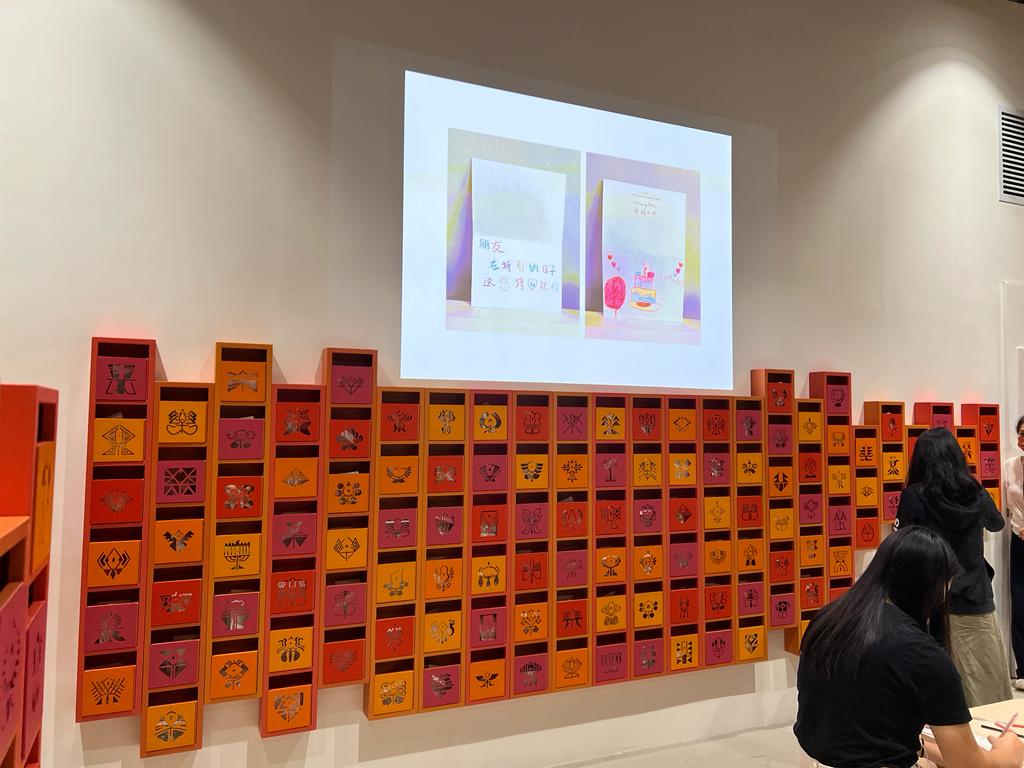 With 366 Art motifs Hikoko created from the Chinese character for "happiness" featured on the mailboxes' covers, visitors found their destined mailbox according to their birth dates.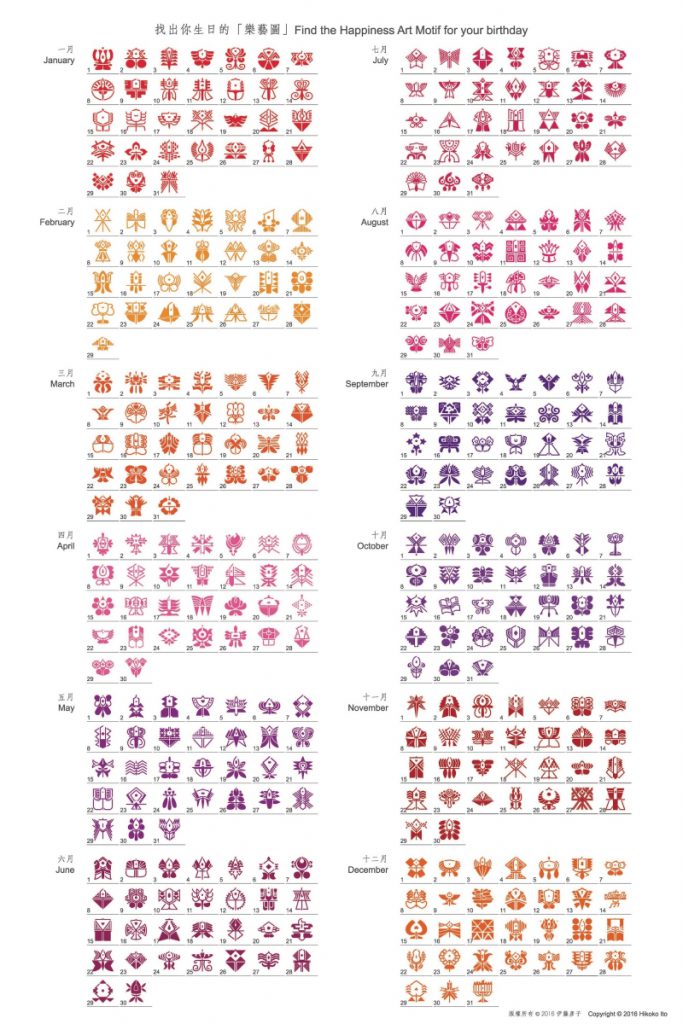 Each visitor could take a card from a mailbox of their birthday and write down their own messages in new cards for their birthday twins, contributing to a cycle of blessings.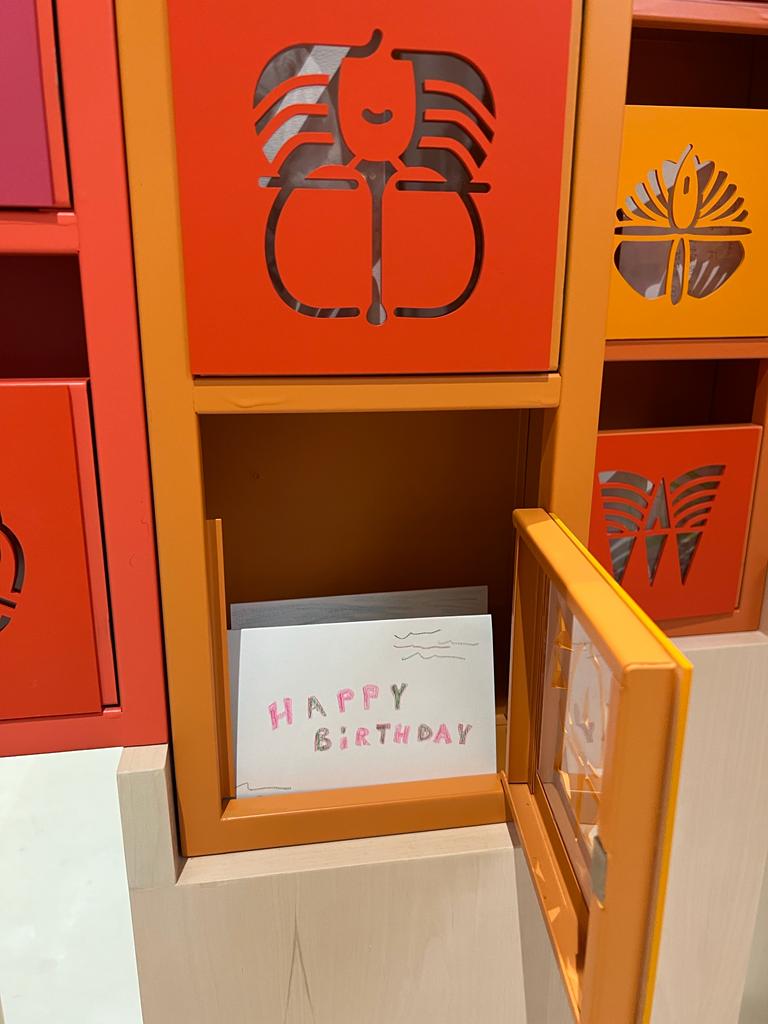 Yu received a card from the mailbox with a line saying: "I am good at uncoloured art." and a drawing of Peppa Pig.
"I could tell it was written by a zestful kid judging by the pencil strokes. It made my day. I have always loved works by kids. The embodiment of innocence offers pure happiness," the Early Childhood Education major student says.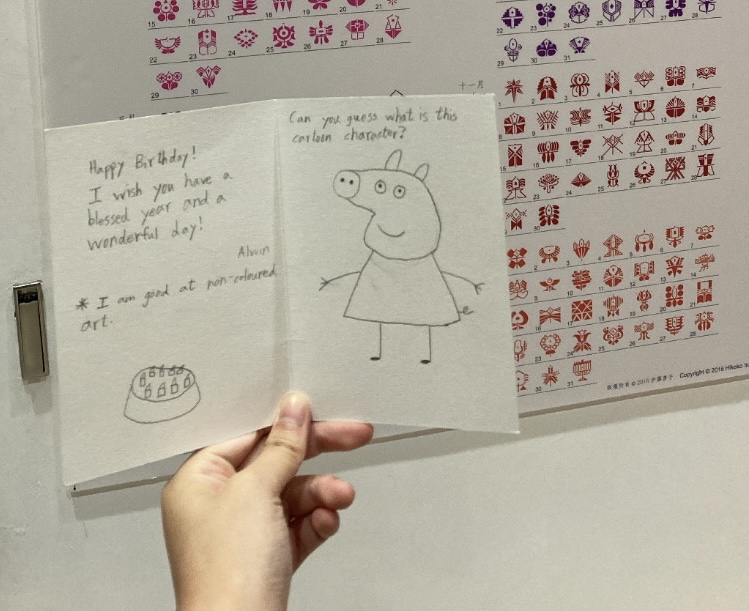 In return, she left positive messages like "I wish you a fabulous [and] wonderful day," and "Do you know that you are the best version of yourself because you're always the best?" at the exhibition.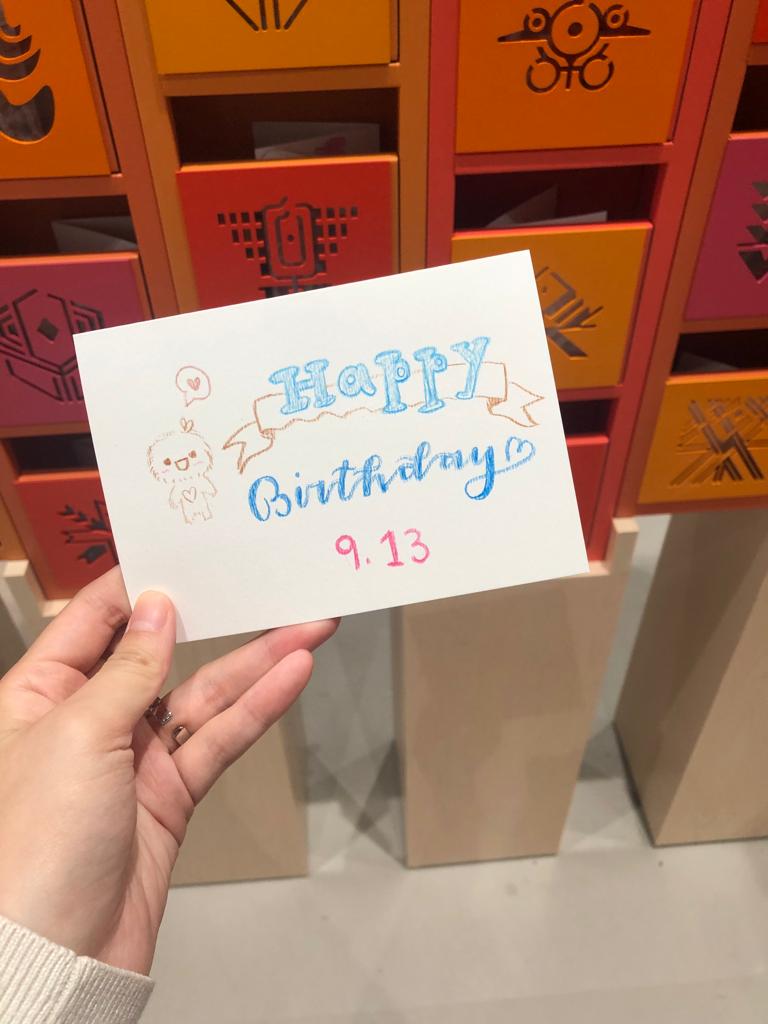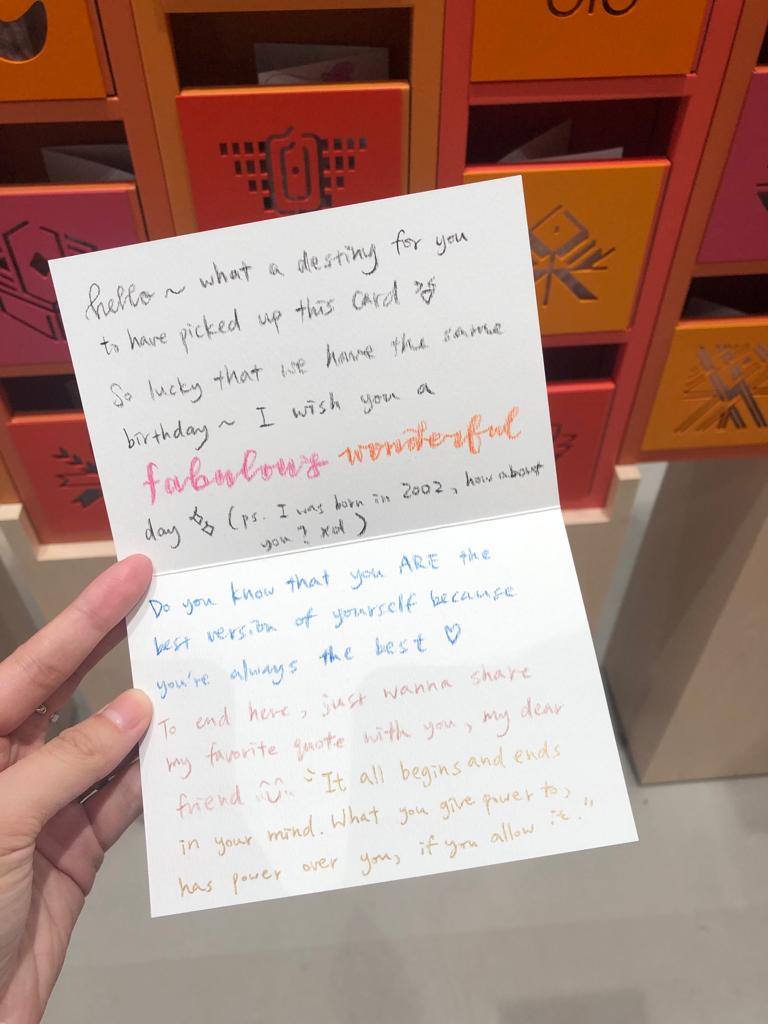 Inspired by the exhibition after experiencing a long-lost nostalgia, Yu wrote five small notes to her loved ones.
"I want to remind them of how much I care about them and how great they are. I wish to continue spreading the sense of connectedness I experienced in the exhibition," Yu says.
Yu's mother Anssie Suen Yuk-kuen was one of the recipients of Yu's loving notes. She also went to the exhibition and picked up this heart-warming habit alongside her daughter.
"If I want to leave my kids a message before I sleep, I will write them a memo and put it on a desk," the 54-year-old housewife says.
The messages are reminders of breakfast in the oven or rice cooker, and greetings like "Have a happy school day, fighting!"
"I actually look forward to their replies. If I WhatsApp them, it is very likely that I will just see blue ticks or a sticker," Suen says.
The 54-year-old believes that handwritten notes help her identify the most important people in life whom she would write to. "The act of picking a card is already a contribution of one's time. Then you also have to spend time thinking and writing," she says.
Ito has similar thoughts. "The whole experience starts way earlier than the moment you have your first word written down. The moment of creativity starts way before that," she says.
"The whole process brings you joy more than you ever noticed. You miss out a lot in life if you have never experienced such moments of happiness," the artist adds.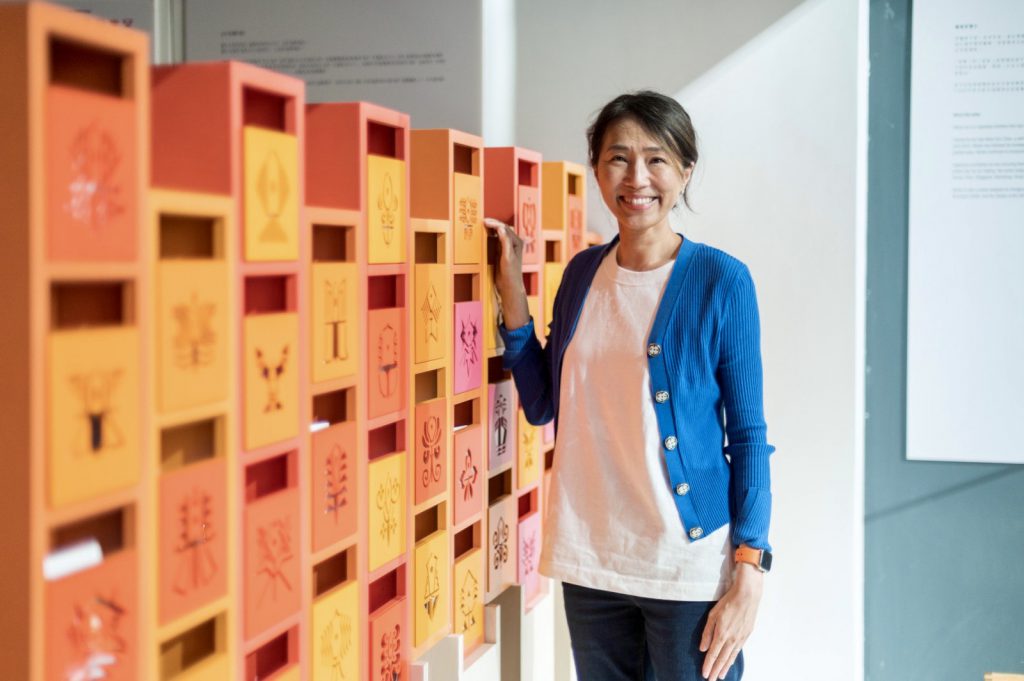 Hikoko Ito sees sending out handwritten blessings as a step-by-step ritual that has to be proceeded with care.
"First, I have to sit in a comfy chair under good lighting. Then, I need to clear my mind. After that, I will choose a piece of paper I like to write in a preferred manner. Ceremonial polity evokes a sense of ritual," she says.
To Ito, handwriting is more than a simple communication tool. "It is not a basic need. It is about the enjoyment you get at the end of the whole process," Ito says.
Ito believes handwriting reveals the writer's emotion and state of mind, so handwritten creations are more expressive and intense. "When you write, you infuse the note with emotional energy and it is almost like giving a piece of yourself away," she says.
Assistant professor Yang Tian from the School of Journalism and Communication of the Chinese University of Hong Kong points out that handwriting allows us to step away from the hyper-digital world.
"Typewriting allows you to edit before sending. But it is hard for people to edit handwriting unless you rewrite. Therefore, the writer is more mindful of the content written," Yang says.
"This form allows users to slow down, which prevents the abuse of technologies that are pervasive in our daily lives," the research specialist in digital media adds.
Edited by Charmaine Choi
Sub-edited by Victoria Fong