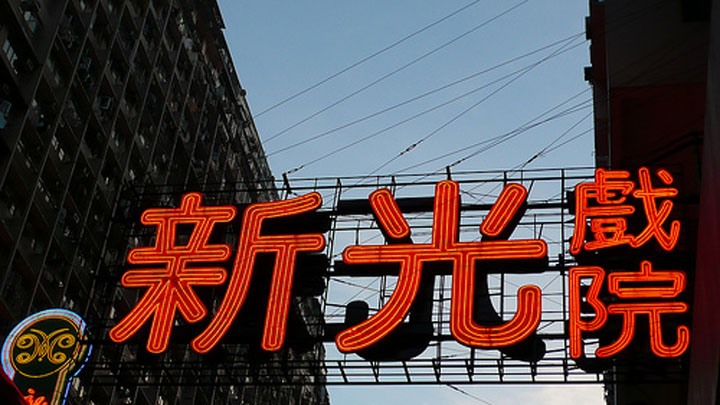 Reporters: Victor Chan, Melanie Leung, Nia Tam, Jasmine Wong
For nearly four decades, Sunbeam Theatre in North Point has been synonymous with Cantonese Opera.
That could come to an end, however. There are mutterings that the theatre will close down in 2012 and its future is still uncertain. The potential closure of Sunbeam Theatre has stirred up debate among those in the Cantonese Opera field.
Sunbeam was founded in 1972 by a group of Shanghai emigrants.  In 1988, the Hong Kong United Arts Entertainment Company Ltd took it over and has been operating the business ever since.
The theatre is a venue designated specifically for Cantonese Opera performances. It has a grand auditorium with 1044 seats and a mini stage with 340 seats.
All those involved in Hong Kong's  Cantonese Opera industry will have passed through Sunbeam Theatre. Each have their own feelings and stories about a venue that is inextricably bound to Hong Kong's history in Cantonese Opera.
Chan Kim-sing and Nam Fung, the renowned Cantonese opera artistes, both described Sunbeam Theatre as their birthplace. The theatre  has witnessed the crucial moments in the development of their careers. They think its possible closure would be a great pity for the history of Cantonese opera in Hong Kong.
With their roots in traditional Chinese cultural values, the artistes in the field have strong emotional ties to the spirit of "art inheritance". They greatly cherish and respect their relationship with instructors and masters.
In fact, many present artistes received guidance on the stages of the Sunbeam Theatre. For instance, Franco Yuen Siu-fai had helped his master, the renowned Mak Ping-wing, on the stage there. He cherishes the  memories of being with his master on the stage.
The atmosphere in the auditorium is quite different from that found in other public performing venues. Members of the audience may pay a surprise visit to their idols backstage or in their dressing rooms. They are allowed to eat snacks they while watching the show, conveniently purchased from the Sunbeam tuck shop. This can be regarded as the  culture of the Sunbeam Theatre.
Opera troupes appreciate the many advantages that Sunbeam offers. One is its convenient booking procedure. The veteran troupe manager and producer Lam Hak-fai recounted his experiences of reserving time-slots for performances. Sunbeam operates on a first-come, first-served basis, while the scoring system used in booking government venues is inefficient and lacks transparency.
Another advantage of Sunbeam is its excellent location. Situated right next to the North Point MTR stations and with bus stations nearby, it is  especially convenient for the elderly to get to. The same cannot be said for many government venues such as Tsuen Wan Town Hall, which is far from the railway station; or Ko Shan Theatre, where visitors have to trudge up a hill. Having been in and out of Sunbeam for close to three decades now, Lam describes the theatre as his old friend.
While the majority of the artistes believe that the closure of Sunbeam will be an enormous loss to Cantonese Opera, Marilyn To Wai Sau-ming, an experienced troupe owner and manager, believes the importance of Sunbeam is declining.
With the government providing more venue slots for Chinese opera performances in public venues, the need for Sunbeam is not as high as it was. Rental increases for the operator also leads to higher costs for using Sunbeam's stages. To says a preservation of the theatre would be for historical rather than practical reasons.