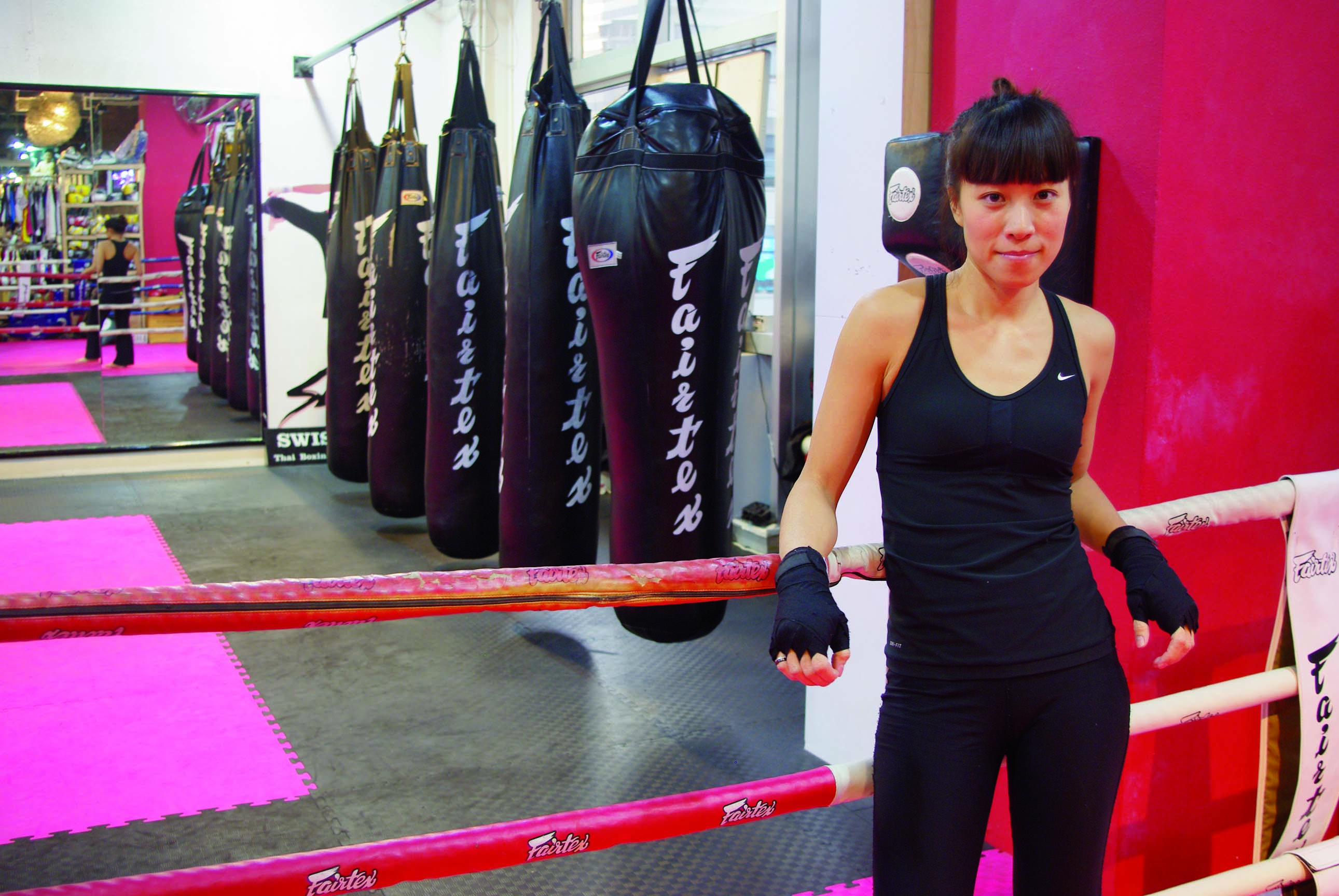 How an office lady became Hong Kong's first female Thai boxing coach
Reporter: Joyce Lee
It is a cold late afternoon and there are no students at Swish Club. Yolly Leung Pui-shan, Hong Kong's first female Thai boxing coach, puts on a black sports jacket, drags a heater to her side and sinks into a sofa.
From there she surveys the 5,000-square-foot boxing club in Causeway Bay. She can be proud of what she sees – the first boxing club in Hong Kong to hold ladies-only classes. Huddled on the sofa, it would be easy to miss the grit and muscle that lies beneath her petite and girlish appearance.
Leung, who is now in her early thirties, did not pay much attention to Thai boxing at first. Like most people, she thought it was a violent sport which was not for girls. It was not until she left Hong Kong after secondary school to study for her A-Levels in Britain that she really came into contact with the sport.
While in London Leung met her boyfriend, and now husband, Antony Au Ting-piu who was a martial arts enthusiast. It was Au who encouraged her to exercise. Au, who is an owner and coach of Swish Club, joins in the conversation.
"Don't think she has been this slim all along. She was a plump girl who never did any exercise when she was in the UK," he says, pointing at his wife and business partner, who shoots back a mischievous smile. In London, Leung tagged along with Au to a Thai boxing gathering in a park, and after that she fell in love with the sport.
Leung says the boxing gatherings were casual, like the Tai Chi gatherings in Hong Kong's Victoria Park. Six or seven people would come and practise the moves twice a month under the tutelage of a British amateur boxer. After a year of training at the gatherings, Leung found Thai boxing a good way to keep fit. Both boxing and exercise has since then turned into a habit. She says she now feels uncomfortable if she does not work up a sweat. Even on holidays and trips, she goes to the gym.
After she got her degree in finance and economics from City University London, Leung came back to Hong Kong in 2003 and worked in a telecommunications company for three and a half years.
However, her routine office job did not snuff out her passion for Thai boxing. She was an office lady by day and a part-time boxing coach assistant by night, working at Au's Thai boxing gym, Swish Club. There, she discovered a demand for female coaches as it is considered more appropriate for a woman to guide female students.
Bored with her job and passionate about Thai boxing, Leung finally took the plunge and became a full-time coach when Au decided to start the first centre for ladies-only training in 2006.
It was not an easy decision; Leung struggled with it for six months. She was not confident that the new centre would be a success because Thai boxing was not as popular in Hong Kong as it is today. "If I did it full time, I would devote 100 per cent of my efforts to it. I was worried if I could manage it."
She was also worried she would not be able to support her family because the income from teaching Thai boxing was not as stable as her office job. In the end, she decided that the combination of the support from her boyfriend and her family, her youth and the dead-end nature of her job made the risk worthwhile.