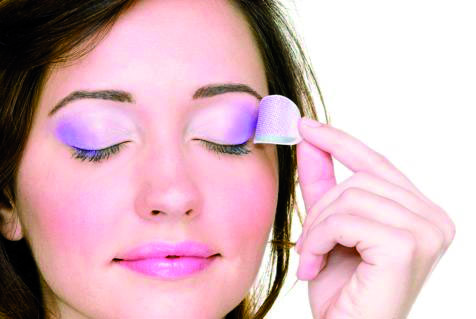 The three-second eyeshadow
Reporter: Yvonne Yeung
Imagine that you have a grand high-table dinner to attend. Your daily eye makeup may be too casual for the occasion but you don't have the money or time to seek professional help from a makeup artist after school.
We usually wear casual makeup to make ourselves look charming and energetic.  Most of us have only basic makeup knowledge which will barely do for special functions.
In just three seconds, you could be ready for your gathering with a magical instant eye shadow which offers you a convenient and fashionable experience.
You will never run out of choices for there are over fifty styles to choose from. There are different combinations of colours and even patterns to suit every skin tone. You can create your unique eye makeup style with just a press, a slide and a blend – in just three seconds! All you need is a simple touch on your eyelids.
To apply it, simply lift up your eyebrow and paste it on your eyelid. Rub it all over for three seconds, or you may leave it for a bit longer if you want more concrete colours. Now the eye shadow powder is evenly applied on your eyelid. To remove the applicator, slide it across your eyelid to avoid wrinkles. Lastly, blend and soften the colours with the reverse side of the applicator.
Unlike other eye shadows on the market, instant eye shadow does not require any skills or tools – not even brushes or mirrors. With instant eye shadow, you can apply trendy makeup wherever you are. You could even do it in a lift.
Convenience is not the only benefit of instant eye shadow. It is a single-use product so it is also more hygienic.   When we apply normal eye shadows, we need makeup brushes. However, if we fail to clean the brushes thoroughly, germs can grow in the residues.
There are more and more cosmetic manufacturers developing instant eye shadows, yet they are still not available in retail stores in Hong Kong. However, you can still order them online without stepping out from your room. Just look up "instant eye shadows" in any search engine and you will see numerous choices.
Now you no longer need to be frustrated with your imperfect makeup skills, or be sorry for wearing the same makeup style for years.
Photo courtesy of ColorOnPro