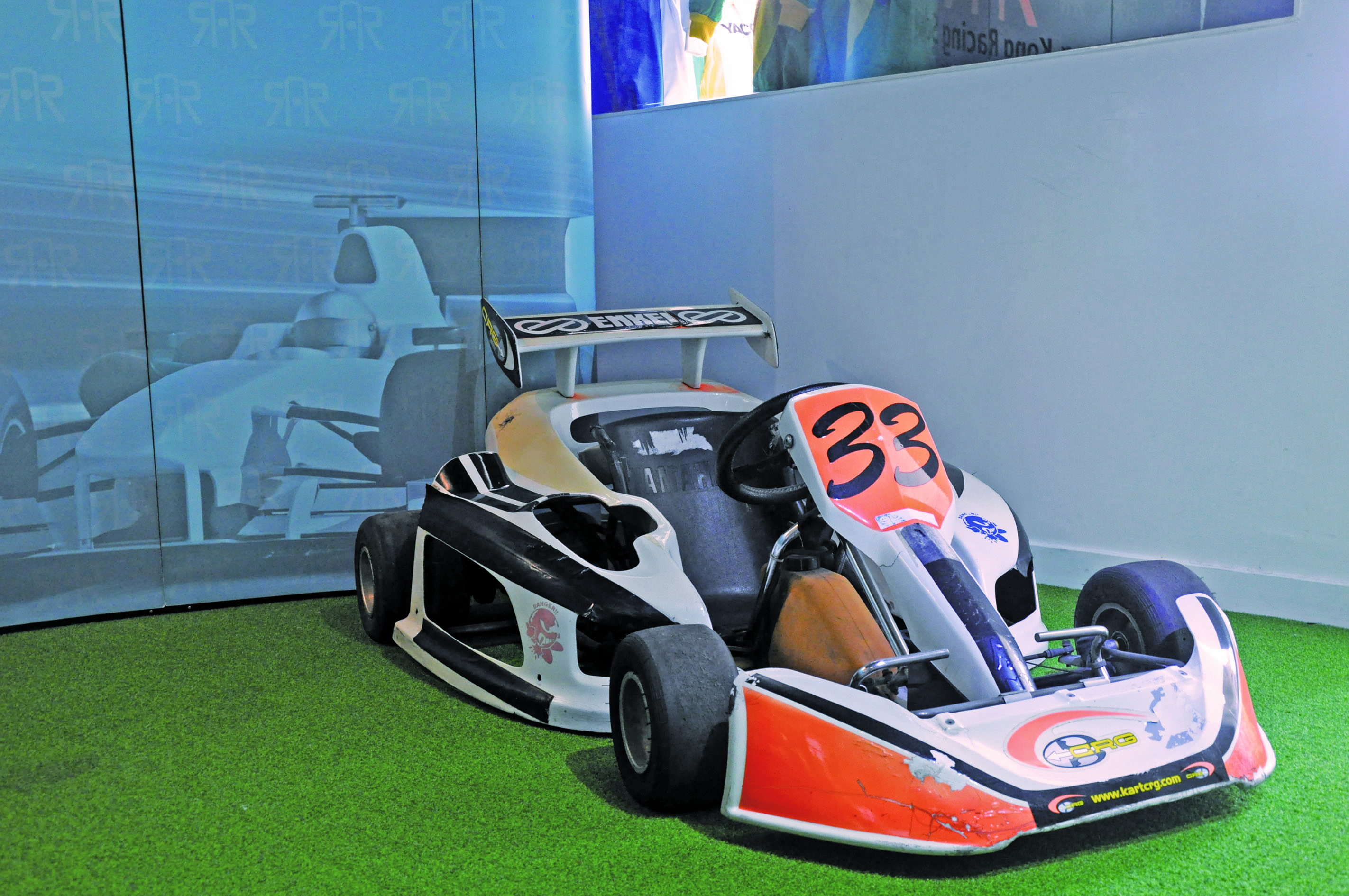 Revving up the local car-race scene
by Henry Lee
A corner of a unit in an industrial building in Kwai Chung is home to two sets of racing simulators, equipped with the most up-to-date edition of Gran Turismo 6 on Playstation 4. This is no online games arcade, but Hong Kong's only motor-racing school, the Hong Kong Racing School for Motorsports.
Many people may regard car racing as physically dangerous, yet the students at this school range in age from eight to 50. Youngsters need to begin with learning how to race karts, which trains them in the foundations of car racing. In fact, many great Formula One drivers such as Lewis Hamilton, Michael Schumacher and Ayrton Senna all began their motorsports careers in karting.
One of the students, 20-year-old Ken Ng Wai-kin, has been learning to race since 2011. Ng, who is aware that his hobby is not particularly popular in Hong Kong, says racing both brings him excitement and helps him to develop perseverance.
Ng describes himself as shy and introverted, but has found himself opening up and more willing to communicate after taking up motor racing. Racing has given him more chances to meet and chat with people. He has also noticed another change. "Even outside car racing, I find myself more aware of safety than before," says Ng, who hopes to pursue a career in motorsport.
Senna Sin Ho-ming, the founder and the principal of the school, is the "master" of this 1,800-square-foot space. Contrary to expectations, the school does not have a race course. For Ho, this says a lot about the state of motorsport in Hong Kong.
"There is literally no support for racing activity in Hong Kong. We have no racing course. Most of the time, Hong Kong car racers hold their competitions in the Mainland. So basically Hong Kong has no facilities that can help Hong Kong's racers and racing activity," he says.
Hong Kong's only private racing course, the Diamond Coast International Kart Circuit in Tuen Mun, was closed down after a British teenager was killed in a freak accident in 2010. The incident further deepened the perception that motorsports and racing are dangerous.
Senna Sin hopes to change that perception and promote motorsports with his school which opened its doors in 2011. Sin says car racing is stereotyped as a dangerous activity, indulged in by punks or rich playboys, which is not the reality. He makes frequent visits to primary and secondary schools to share his experiences as a car racer and to promote this declining sport.
Sin explains that car racing is safer than people think because safety precautions are built into the sport. It is also far safer than illegal street racing, which Sin is keen to differentiate from "legitimate" car racing. Taking karting as an example, he says the kart is modified to resist the force of a great impact.
The equipment used by racers is verified by the Fédération Internationale de l'Automobile (FIA). The racing suit and crash helmet are highly heat-proofed and have expiry dates. Despite the accident in Tuen Mun, Sin says car racing is safe when participants use proper equipment and follow procedures.
Sin further points out that while drivers on a racecourse drive in one direction, those in street races drive on roads with two-way traffic. Race courses also have buffer zones equipped with sand or tyre walls to lower the force of impact if there is a crash and there are professional yardmen and marshals on standby during a competition to help the drivers if an accident happens.
Sin says that learning car racing can even enhance drivers' everyday awareness of motoring safety. For instance, his school offers classes on "drifting", a technique where drivers deliberately over-steer and the vehicle appears to slide sideways.
"We hope to teach people in case of rain or a slippery road, and your car is going to be out of control, you know how to deal with it," he says.
While Sin seems to be facing an uphill struggle to promote motorsports in Hong Kong today, Raymond Tsang Chau-ming remembers a different, more vibrant motorsports scene. Although he is now an actor, Tsang has supported motorsports in Hong Kong ever since his days as a car racer in the 1970s.