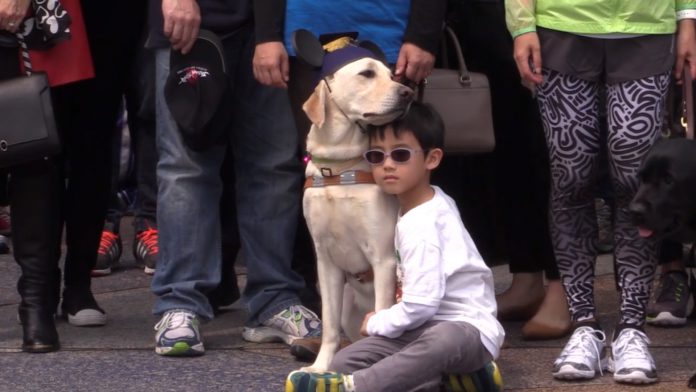 The law makes it hard to address a shortage of guide dogs with more training.
Editors: Jayce Lai, Julian Ng
Reporters: Rubie Fan, Eunice Ip, Gloria Lee, Megan Leung
Guide dogs made a comeback to Hong Kong in 2011 after a gap of 26 years; the territory's first two guide dogs were sponsored by a Hong Kong resident who came from Germany. Currently there are fewer than 40 serving guide dogs in the city, or around one guide dog for every 4,300 visually impaired people; the International Guide Dog Federation says ideally there should be one guide dog for every 100.
Puppies have to be descended from at least seven generations of selectively bred guide dogs to be selected for training, so the lack of guide dogs in Hong Kong means the city relies on dogs donated from other countries. The two groups that provide training and guide dog services are Hong Kong Guide Dogs Association and Hong Kong Seeing Eye Dog Service.
The two groups are trying to localise the breeding and training of guide dogs so more of the visually impaired can get guide dogs.
But trainer Edith Lee Yuen-yan explains this doesn't work without more volunteer host families to care for the puppies.
Host families have to care for guide puppies for months, giving them socialisation training before they go on to professional training. They have to walk the puppies in as many different places as possible so that the puppies become familiar with different environments.
Raising a guide puppy is very different from keeping a pet, and it's especially challenging in Hong King due to the many constraints on day-to-day training.
The public may know about guide dogs but they generally don't understand the training process, and this causes problems for walkers and their puppies during socialisation training.
For one, the Disability Discrimination Ordinance only acknowledges the rights of visually impaired people and their guide dogs, but not of people with normal vision who are raising or training guide dogs for the blind. That means guide-dog trainers have to deal with different daily challenges without legal protection.
"Guide dogs are not allowed in public housing estates so we will not accept any host family applications living there," Lee says.
The Housing Authority says guide-dogs-in-training can't live in public housing because the tenancy agreements say tenants cannot keep any dogs on the premises without prior written consent. As of now, only the visually impaired or tenants who need a dog for mental support can get such approval.
Also, most of the visually impaired in Hong Kong take public transport, so a guide dog has to be familiar with different forms of public transport. Lee says that most bus drivers welcome guide dogs but this in fact violates the Public Bus Services Regulations. The Kowloon Motor Bus (KMB) says training guide dogs can only get on buses if accompanied by a visually impaired person. On the other hand, City Bus says that while it is illegal to bring a training guide dog onto a bus during service, the company agrees to arrange trial rides for guide dog puppies and their trainers on a non-service franchised bus at depots to experience on-board travelling.
David Leung, Commissioner for Rehabilitation of the Labour and Welfare Bureau, said that it is challenging for guide dog training to reach the magnitude of other countries like Japan or New Zealand, as Hong Kong is comparatively smaller and more densely populated. He said while the government recognises this discrepancy, it still has to take into consideration, the different interests of society's stakeholders. He says the government is working to improve the environment for guide dog training in Hong Kong, but it is still unavoidable that some training have to compromise to certain regulations.
"If the government can allocate more resources to encourage the public not to reject us and let us utilize every opportunity to carry out socialised training, it will be very helpful for us as guide puppy raisers," Mok Kei-yee a guide puppy raiser, says.