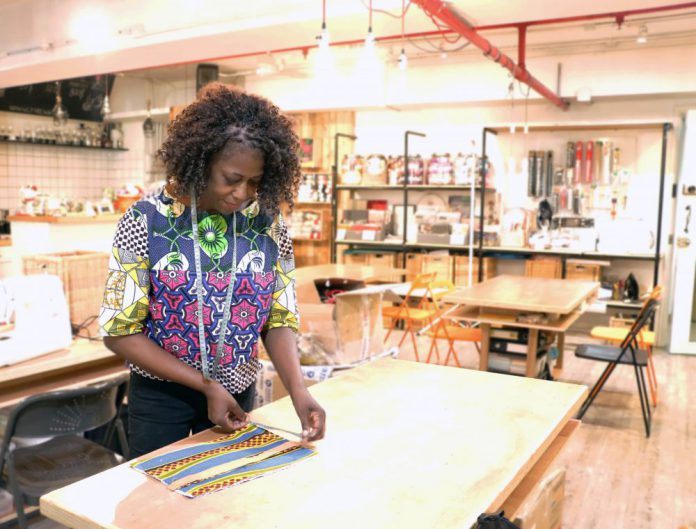 Seams creative at The Sewing Lounge
by Lynette Zhang
A co-working space shared by several craft stores, The Sewing Lounge provides the necessary tools for people to learn how to sew. It is a place where sewing enthusiasts can share their ideas and projects with one another.
Sewing used to be an essential skill yet many Hongkongers don't know how to stitch these days. But there are reasons perhaps –  after all, it is a time-consuming process and a sewing machine would take up precious space in our tiny homes.
Inspired by a similar business in Berlin, Melanie Bell opened The Sewing Lounge in 2011. It was a first for Hong Kong. "I thought it would be nice to turn your hobby into a business and really make money from doing something you really love," she says.
Bell holds workshops at The Sewing Lounge where customers complete a sewing project together. Beginners usually make cushion covers, pyjama bottoms and tote bags, but the possibilities are endless – one customer made a spider costume for her dog to wear on Halloween.
Apart from regular workshops, The Sewing Lounge held its first summer camp this year for students to join. The week-long Teen Fashion Sewing Camp was an intensive sewing course where teenagers designed and made their own garments. Some participants loved it so much that they came back for another week. "Some of the young fashion designers can already make patterns and designs," says Bell. "It's just amazing."
It's also not only girls who enjoy working with fabric. Last month, Bell held a sewing party where four boys and two girls learnt to sew together.
In December, The Sewing Lounge will hold special Christmas-themed workshops, where people can sew gifts like ties and bowties. Those who want to design and sew personalised dresses for new year parties can also join the Dress in A Day workshop.
If you are not interested in sewing, The Sewing Lounge also offers clothes alteration and made-to-order services to turn your fashion ideas into reality. "Anything that involves the sewing machine, we can do it," says Bell.
The Sewing Lounge is located at 1/F, Sing Kui Commercial Building, 27 Des Voeux Road West, Sheung Wan. Call 9435 6757 or head to www.thesewinglounge.com for more details. You can also search "The Sewing Lounge" on Facebook or "thesewingloungehk" on Instagram.
Edited by Natale Ching