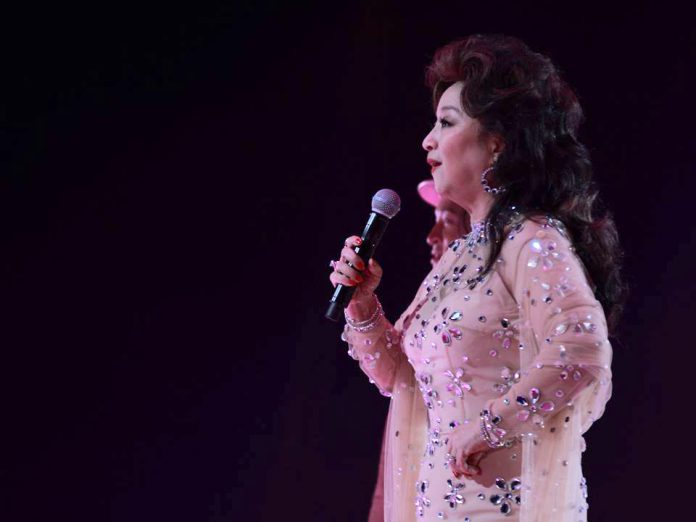 Cantopop legend Paula Tsui looks back on her 40-year career
By Minnie Wong
The lobby of Hong Kong's iconic Peninsula Hotel, with its high ceilings, gold and ivory coloured columns and grand staircase seem like a fitting setting for a conversation with the grand dame of Hong Kong Cantopop, Paula Tsui Siu-fung. Tsui is elegantly turned out in a black pantsuit, a wig, and huge vintage sunglasses – the picture of an old-school movie star attempting to go incognito.
Indeed she quickly establishes she wants to go unnoticed, telling Varsity she does not want to be photographed for the interview. At one point she worries that the tourists holding out selfie sticks may be trying to take photographs of her.
This comes as something of a surprise as Tsui should be used to the consequences of fame by now – after a career spanning more than four decades. The 67-year-old star has outlasted her contemporaries, still plays to packed houses and has even won over a new generation of fans, some for reasons she never expected. Looking back, Tsui, who is affectionately known as Siu Fung-jeh (Big Sister Siu-fung) describes her life in show business as a dream.
"It's a very real dream, although there's a huge chasm between the day I first started and the 40 or so years that have passed in between," she says. "I feel grateful – there's been a measure of luck."
But luck cannot wholly explain Tsui's popularity. Apart from the time and hard work she has put into perfecting her craft, Tsui says it is her persistence that has set her apart.
"I've had many friends who are singers, some are much better singers than me, but they gave up in the middle of the journey… It's all about whether you have the stamina and the interest to carry on."
Over the years, Tsui has built a solid reputation for her singing skills, her striking stage wardrobe featuring elaborate dresses with full skirts and long trains, and her easy rapport with the audience.
Today, her unique voice with its husky tones and deep register still captivates audiences. For her, singing is not just about the art of performance, it is about creating emotional resonance. Interestingly, she says she treats her songs as "patients" which she nurses to health to get the best out of them. Although she is regarded as a consummate professional, Tsui never formally studied music or singing.
She was born in Wuhan and moved to Hong Kong as an infant. The eldest child from a poor family with six children, Tsui left school at a young age to work at odd jobs to support her family. She taught herself to sing by listening and singing along to the tunes on the radio.
After drifting aimlessly between jobs, Tsui eventually found her calling in 1965 when she won a singing contest which led to her becoming a nightclub singer in 1968. Talent, luck and persistence led to her success and a recording deal with Sony Music that enabled her to release the Canto-pop albums that propelled her to stardom. "It all happened by coincidence, I never thought people would actually hire me," she says.
Since her 1970 debut Mandarin album Autumn Night, Tsui has released more than 60 records before her last one in 1990. Her hits include classic Canto-pop tunes such as Season of the Wind, Char Siu Bao, Flowing in the Natural Direction and Behind the Bridal Gown, the theme song of a popular 1980s TVB drama series.