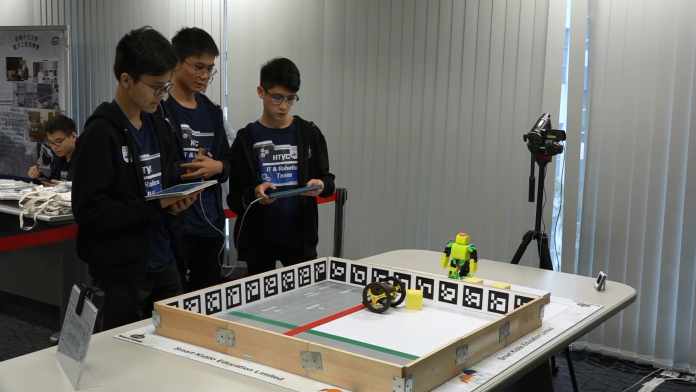 The Enriched IT Programme that will be extended to all schools
Reporters: Agnes Lam, Bonita Wong, Kayi Tsang
Editors: Edith Chung, Sam Kwong
Applications of STEM (Science, Technology, Engineering, Mathematics) is in everyday lives. Establishment of Cyberport and the Hong Kong Science and Technology Park has yet to turn the city into a regional tech hub. The government has stepped up effort to promote STEM education to breed young talents.
The Financial Secretary announced the Enriched IT Programme in the 2014-15 Budget. The eight-year pilot programme is comprised of Enriched IT Class Programme and Enriched IT Activities Programme. Eight secondary schools – Cheung Sha Wan Catholic Secondary School, Christian Alliance SW Chan Memorial College, Pak Kau College, Pui Ching Middle School, Shun Tak Fraternal Association Yung Yau College, St. Paul's Convent School, The Y.W.C.A. Hioe Tjo Yoeng College and
Tin Ka Ping Secondary School, were selected to run Enriched IT Class from 2015/16 to 2022/23 school year. It provides around HK$1 million yearly to each participating school.
Jordan Fung, a Form Five student of EITP, CEO of Pedosa Group, believes STEM education is vital for the future generation. "STEM education is about equipping every student with the skills to succeed in our society in the 21st century. It's about how we can use our creativity to turn our ideas turn our concepts into reality by taking actions to do so," he says.
Godwin Wong is a Form Two student who designed and invented BackUp, a device to measure and alert users when they have posture problems. His design won the Hong Kong ICT Best Student Innovation Merit Award in 2019.
Students and teacher of The Y.W.C.A. Hioe Tjo Yoeng College agree that the EITP helps strengthen STEM education.
Pui Ching Middle School allocates funds to employ alumni to serve as tutors to help students prepare for competitions. Jonathan So, the teacher-in-charge of the EITP programme and alumnus of the school, says he encourages and inspires students by sharing his experiences of joining international competitions with them.
In light of the positive feedbacks of EITP, the government proposed to set aside HK$500 million to implement the IT Innovation Lab in Secondary Schools initiative in all publicly-funded secondary schools in the coming three school years.
Leung Man-kit, panel chairman in computer of PCMS, hopes the government can acknowledge and focus on training student's computational thinking instead of teaching topics that are trendy but will soon be obsolete. Anthony So Man-cho, professor at the Department of Systems Engineering and Engineering Management at the Chinese University of Hong Kong, says STEM education should be implemented in a more systematic way. "Basically the STEM education now the secondary level shooting into different directions and most of them are related to technology…I guess it calls for a more systematic approach to train up our future STEM talents. Systematic STEM education is essential for our city's future development," he says.