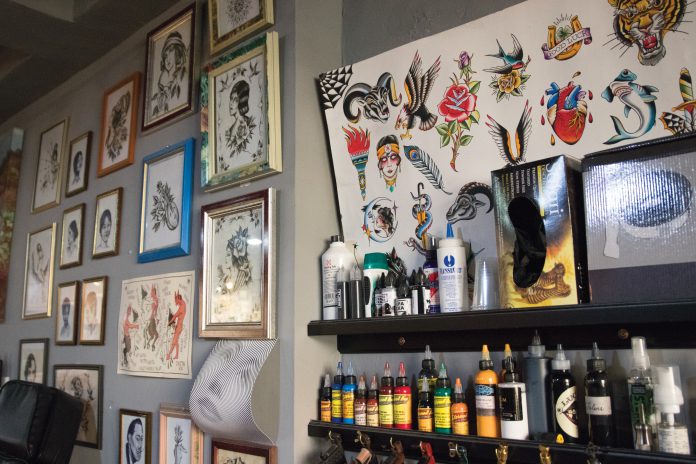 Instead of pursuing white-collar jobs, some university graduates choose to follow their passion in career building
By Agnes Lam & Lambert Siu
Franco is not an ordinary taxi driver. He graduated from the Department of Chinese Language and Literature at Hong Kong Shue Yan University. Passionate about writing, he also manages a Facebook page (我的你的紅的) where he shares his encounters with passengers of diverse background.
"In the past, I valued a lot on the importance of a degree certificate. I have neglected other skills that we have learnt at universities," says Franco, who has been a taxi driver since 2016.

Realising his passion for being a driver
Franco worked as a tutor for five years before he became a taxi driver. While he was in tutoring, he asked himself: "How far could I go in ten years?" Reaching a deadlock in his career with no hope of promotion opportunities, he resigned.
What attracted him to be a taxi driver was the high degree of autonomy. "You may get scolded as an employee. But when you are a taxi driver, the power hierarchy is reversed. You will never see a passenger who dares to rebuke a driver," he says.
Despite having higher academic qualifications, Franco still has to learn from experienced taxi drivers. "I respect them [other taxi drivers] very much," he says. He appreciates how the experienced drivers observe and analyse traffic patterns of passengers.
"You have to know these skills to look for passengers in order to maximise profits. But you can never learn these from textbooks," says Franco.

Discovering one's talents and potentials
Looking back, Franco firmly says that he does not regret going to university. For him, the functions of university education are to nurture critical thinking skills, and more importantly, interpersonal skills.
But a certificate does not mean a promising future. "It is not a must to study at universities. What matters is that you have to find a particular area in which you can excel," he says.
He cites the case of Steve Jobs, who had already found his own talents before dropping out of college. With a clear direction in mind, Jobs further explored his potentials and made ground-breaking inventions.
Others may not agree with his choice, but his way of living gives him a sense of accomplishment. "All occupations deserve equal respect. There isn't one that is more superior to the other," he says.
According to a report conducted by two political groups in 2018, 16.4 per cent of degree holders in Hong Kong worked in low-skilled positions.

Following her heart to be a tattooist
Franco is not the only case. Jayers Ko, a female tattoo artist who graduated from the Department of Psychology at the Chinese University of Hong Kong (CUHK), realises the importance of staying true to herself.
Before studying at CUHK, she pursued veterinary education in Australia. "Australians are different from people in Hong Kong," she continues. "They lead a completely different lifestyle, but they still survive."
When she returned to Hong Kong, she was disappointed with the one-way teaching approach. She decided to explore more outside lectures. She later learnt she was actually very interested in tattoos.
During her first year of studies at CUHK, she travelled to Thailand, where she had her first tattoo on her wrist. After that, she started to get several more tattoos, such as a shuttlecock, to remind herself of her passion in life.

The values of tattoos
When asked about the meanings of tattoos, she believes it is a form of commitment. "After you get a tattoo, there is no turning back. It is the most suitable medium to convey my philosophy," Ko says.
As she loved how tattoos are conduits of her self-expression, she started to consider the possibility of being a tattooist. She looked up for information online and found herself a mentor in tattoo painting.
"It's like martial-art novels. You follow your master and learn from him," she says. As a dedicated mentee, she treasured every opportunity to observe and learn.
Comparing with her time in college, she says learning from her mentor was more down-to-earth. Other than teaching practical skills, her mentor also shared his views towards life. It was the first time when her values were recognised by a senior.
"I clearly know what type of person I want to be," she says, "I do not only aim for titles and achievements." She thinks her mentor plays an important role in her journey of pursuing her life goals.
Despite so, she still believes university education has its values. She used to think there is only one solution for every question, as she studied science in high school. But from the eyes of social scientists, there are many possible answers to one question. The new insights have transformed her into a more open-minded person.

The meaning of university education in the maritime industry
From the examples of Franco and Ko, some may draw a conclusion that university degrees are not really necessary. However, some occupations favour employees with higher academic qualifications.
Kelvin Tsang Chun-wun, who majored in International Shipping and Transport Logistics in the Hong Kong Polytechnic University (PolyU), is now a sailor of the Royal Institution of Naval Architects. He also took courses offered by the Maritime Services Training Institute (MSTI) during his school years.
While there is no significant difference in starting salaries of a degree and a non-degree holder, a university certificate is a prerequisite if one wants to work in the Hong Kong Marine Department. In view of this, Tsang says: "Some sailors from the MSTI are going back to university to get a qualification."
Although the programmes by PolyU and MSTI both cover shipping and logistics, they differ significantly in the curriculum. While PolyU provides more theoretical knowledge of business management, the MSTI focuses on practical skills.
However, Tsang says a promising career is still attainable even for sailors without a degree. Some higher-ranking positions, such as captain, chief officer and chief engineer, do not require a degree.

Courses for sub-degree holders by Employees Retraining Board
The government offers comprehensive support to cater to the needs of low-skilled workers. According to a written reply from Employees Retraining Board (ERB), it funds and co-ordinates a network of 80 Training Bodies, providing around 700 training courses across 28 different industries.
The courses by ERB target employees aged 15 or above, with educational attainment at sub-degree level or below. In other words, university graduates are not eligible for application and are only accepted under special consideration.

Growing popularity of make-up artists in the labour market
University graduates have joined private institutions for retraining opportunities. One example is GLOW Makeup Academy by Janice Lam. Many of their students are university students, and some are banking professionals.
Academy owner Janice Lam Shun-ka says their programme consists of 20 classes and is approved by the government's qualifications framework. Apart from in-class learning, students can gain hands-on experience by working as helpers in freelance jobs. She says one-third of her academy's graduates end up being full-time make-up artists.
A career as a make-up artist has gained more recognition in society. "The income of an average make-up artist is already comparable to that of a manager in a large firm," Lam says.
"University education is more rigid, in comparison with vocational training courses," she adds.
Edited by Sarah Poon