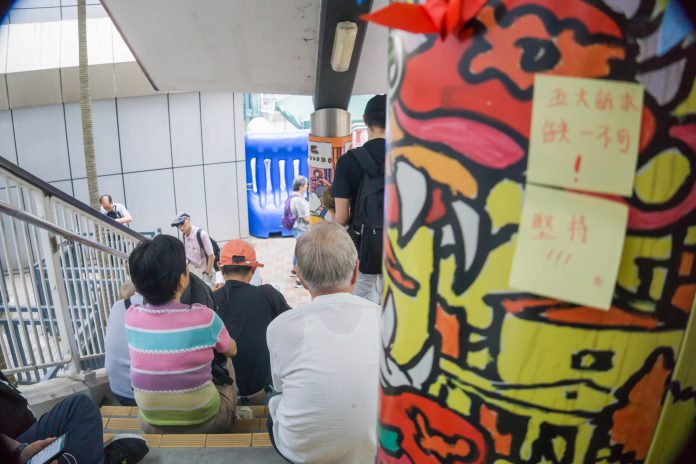 The silver-haired stand with the young in the anti-extradition bill movement.
By Lasley Lui
On October 12, several hundred silver-haired protesters gathered in the rain outside the Wan Chai Police Headquarters for a 48-hour sit-in to express their support for young protesters who have fought in the front lines in the Anti-Extradition Law Amendment Bill (Anti-ELAB) Movement that has persisted for over four months.

Since June, the Anti-ELAB Movement has seen an unprecedented concerted effort by different age groups in Hong Kong. The elderly who are usually absent from social movements also play an active role. On July 17, an estimated 9,000 elderly citizens took to the streets, staging a protest which was dubbed "silver-haired march" (銀髮族遊行). They voiced their opposition against the controversial bill and showed their solidarity with young people.
Mrs Law, who refuses to disclose her full name, 60, participated in the "silver-haired march". Despite her strong objection against the use of foul language in the past, "Now I feel like 'DLLM' is the best phrase [to describe my feelings]….there is no better way to express my anger than swearing," she says. "DLLM" is an abbreviation of a Cantonese foul expression which is not commonly used by the elderly.
Law thinks the movement serves as a call for civic awakening that unites not only the elderly and the young but everyone in Hong Kong from all walks of life and of all ages. The unity and connections have helped the 60-year-old regain her long-lost passion for and confidence in this city. "I feel very proud of our young people and I appreciate their effort. There is hope for Hong Kong," she says.
Protecting the young in times of chaos
Law joins "Safeguard the Children", a community group initiated by the Good Neighbour North District Church, which calls on the silver-haired and social workers to stand at the front lines of protest sites to mediate conflicts between protesters and police officers. The group has around 50 middle-aged and silver-haired volunteers as well as social workers who stand between the police and young protesters to ease tension and avoid violent clashes from happening. Once an active participant in the Umbrella Movement in 2014, Law recalls leaving a protest site when police started clearance operation. Feeling apologetic for the young, she decides to support them by standing at the forefront of this movement. "
Ever since the first time I took to the streets, when people ask about my feelings, I have always told them that I am scared, " says Law. "But I told myself, I am not leaving this time."

Ever since the first time I took to the streets, when people ask about my feelings, I have always told them that I am scared… But I told myself, I am not leaving this time.

Mrs. Law, a member of "Safeguard the Children"
A young protester who names himself Karson says he is overwhelmed with the elderly's care for young people. He recalls volunteers from Safeguard the Children marched towards the frontline slowly and hand-in-hand. Like many other young protesters, these older citizens place themselves in the battlefield in "full gear", donning helmets, goggles and face masks. But their yellow vests and green sashes which read "safeguard the children" make the grey hairs stand out as peacemakers amid tension.
Karson says he was profoundly moved by how much the elderly wanted to protect the young people when he caught sight of one particular senior volunteer hobbling along the street with a cane. "What motivates the silver-haired to watch out for the young at the front lines when some of them might even have knee problems?"

Resolving generational differences
Apart from standing with young protesters on the front lines, some silver hairs have also made great effort to learn about mobile technology which is widely used by protesters to organise themselves in this leaderless movement. They try to understand games rules of the virtual world by using messaging apps and figuring out meaning of buzzwords commonly used in online discussion forums.
In a bid to help the silver-haired community better understand what the young protesters are thinking, a group of students initiated a campaign called "Part Time Guai Suen" (一班乖孫), or part-time grandchildren in Chinese, this June. They organise workshops to teach the elderly how to use social media platforms which play a significant role in facilitating communication and interaction among protesters during the past several months.
Cody, a member of Part Time Gwai Suen, who declines to reveal his full name, thinks traditional smartphone workshops held by political parties cannot help the elderly to connect with the youth as they are only taught to use some old-fashioned social media apps such as Facebook, which is not popular among young users.
The 18-year-old student observes that many old people receive information about the protests by reading posters on "Lennon Walls"- community message boards set up by movement supporters who leave notes and leaflets on walls in different neighbourhoods across the city to express their support for the pro-democracy movement and inform the public about what is happening. Cody says the older generation have limited access to social media platforms due to their lack of knowledge about the use of e-devices.
Cody says he once met a pro-government man who attended a workshop held by Part Time Gwai Suen. The old man has a smartphone which is the latest model, but he did not know how to use the gadget his children bought him. Cody thinks the young should reach out more to the silver-haired regardless of differences in political views.
"We might not be able to change their political opinions which have been deeply rooted in their head. But [we] hope that [the workshops] can at least help them read more," he says.
According to a survey published by Chinese University's Centre for Communication and Public Opinion Survey in early August, about one fifth of the respondents aged 55 and above said that they thought LIHKG, an online forum similar to Reddit where users exchanged their ideas on protest developments and posted calls to action, was important for the movement. The Centre's director, associate professor Michael Chan Che-ming at CUHK's School of Journalism and Communication, found this result "quite surprising".
"Usually for those [aged 55 and above] who are considering retirement, they want stability rather than changes," Chan says. He thinks what motivates the elderly to learn how to use social media apps is their eagerness to learn about the younger generation's thoughts. Also, traditional media sources may not satisfy their needs to acquire real-time information on this movement.
Reconnecting the old and the young
Mei, 59, a volunteer of Part Time Guai Suen, who does not want to disclose her full name, used to think young people were indolent and decadent. But she now understands the young better after using social media platforms. "If this movement did not take place, young people would not talk to me, and there would never be such a channel [of communication]," says Mei.
Part Time Guai Suen is planning to publish a book to explain the meaning of buzzwords such as "Pin Post to Top" (置頂) and "Boost Post for Sharing" (推post) to the silver-haired audience, which are specifically used on online discussion forum LIHKG.
Cheryl, one of the editors of the book, says the students involved in editing work realise that they should teach the elderly how to obtain information with smartphones instead of just introducing them basic functions of these devices. "The book also allows me to talk to my family and ask for their advice. For example, I asked them whether they could understand the content if I designed like this and whether they feel comfortable when reading the book," she says.
She hopes that the book can encourage people to bridge the generation gap in their families. "Let's put politics aside. Talking about buzzwords on LIHKG has already provided a good opportunity for us to improve our communication with the elderly," says Cheryl.

The movement might end one day, but the relationship between the old and the young will never end,

Cody, student at "Part Time Guai Suen"
        Witnessing solidarity of the two generations amid the social unrest, Cody thinks this movement has helped to mend the once-distant intergenerational relationship. "The movement might end one day, but the relationship between the old and the young will never end," he says, "[I] hope [the book] can promote cultural integration, and the two generations can show greater care for each other."

Edited by Jasmine Ling