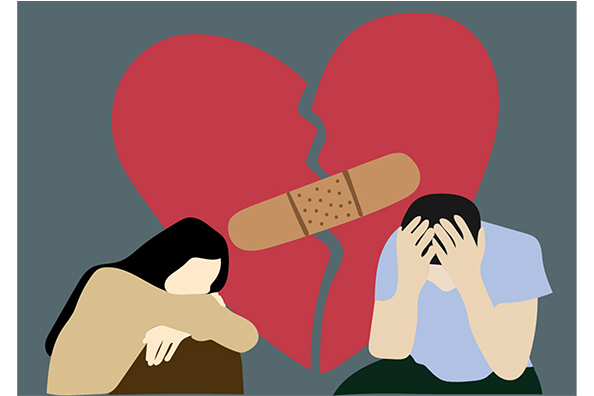 By Soweon Park & Kassandra Lai
On November 17, 2019, more than 1,000 radical ­protesters and their supporters occupied the Hong Kong Polytechnic University (PolyU) campus and engaged in fierce clashes with the police, sparking off violent exchanges of petrol bombs and tear gas.
Volunteer first aider, Sam, who declines to reveal his full name, was one of those barricaded inside the PolyU during the confrontations.
Trapped inside the campus, the 20-year-old says what he witnessed and experienced there was just traumatic. "The police locked down the campus, manning every exit, and leaving many young protesters on the brink of mental breakdown. You just never know when the police would stage a raid. At that moment, I thought we were once promising young people, but we might lose everything the next second," he says.
Days after his escape, he was still gripped by fear that he would be accosted by police. The paranoid thoughts still keep clouding his mind.
"Every time I take a minibus to Mongkok, passing by Block Z of the campus, my hands and body shake involuntarily. I try to avoid talking about the PolyU incident. But whenever I come across news about it, I get very emotional," he says. "Sometimes tears just keep streaming down my cheeks uncontrollably."
Sam has been diagnosed with post-traumatic stress disorder (PTSD), an anxiety disorder which develops after experiencing an exceptionally threatening or a catastrophic event, such as getting into a serious accident, witnessing violent deaths of others, or being a victim of a violent crime.
Mental Health crisis
According to an article in volume six, issue 12 of The Lancet, a medical journal published by the University of Hong Kong academics, more than two million Hong Kong adults have shown the symptoms of post-traumatic stress disorder during the ongoing political unrest in the city. Sam is one of those.
Questionnaires were sent to more than 18,000 residents aged 18 or above between 2009 and 2019. The result suggested that the prevalence of probable depression is five times higher during the 2019 social unrest than the 2014 Occupy Central Movement. Post-traumatic stress disorder symptoms were also estimated to be six times higher, with 1.9 million more adults compared to 10 years ago.
The Hong Kong College of Psychiatrists also conducted a mental health survey on various groups of people, including journalists, property management staff, teachers, social workers, and the general public between October and December 2019.
About 90 per cent of respondents from the survey reported that the social movement had affected them psychologically. Journalists and property management staff were found to be especially vulnerable to trauma exposure during the social unrest.
"We refer to trauma exposures as one or more of the following: directly experiencing trauma, witnessing trauma, learning that a traumatic event occurred to a close family member or friend, or extreme/repeated exposure to aversive details of traumatic events due to the needs of your work," explains Dr. May Lam, Vice-President (Censor/Education) of the Hong Kong College of Psychiatrists.
"Those who have direct involvement in the social turmoil due to occupational needs are more prone to developing depressive and anxiety symptoms than other groups of people," Lam adds.
The survey also shows that about 50 per cent of the respondents experienced feelings of helplessness and hopelessness.
Wendi Fu, a 20-year-old business major student of the Lingnan University, is one of those who suffers from mental problems. She does not seek help from doctors and medical treatment, but she does suffer from anxiety due to arguments and family conflicts over the recent protests.
"I feel very pressured and anxious when I am with my family, as we have different political stances. It is very hard to avoid the topic in our daily conversation. My parents kept bad-mouthing protestors at dinner and this gave me a hard time. So, I chose to live in school dorm, instead of going back home most of the times, to avoid conflicts," she says.
In light of the current situation of Hong Kong, Fu is pessimistic about the future of the city. She has been thinking about moving to other countries since 2014 and her determination got stronger this year due to the fears against the Communist Party of China.
"I don't see any hope in the future. It is upsetting to see Hongkongers don't get what they deserve or what they should have had – justice and freedom," Fu says. "Our freedom of speech and our independent legal system are all being threatened since the 2014 Umbrella Movement," she says.
Care4ALL programme
Pokky Choi, director and education psychologist of Edge Development Centre, explains that the protests are tearing families apart. "The differences in values and views could develop into doubts regarding each other's personality and moral standards, and thus breeds mistrust and criticisms," he adds.
Civil society in Hong Kong has been quick to respond to fears of the mental health crisis, with many launching targeted campaigns and psychological counselling services to the public.
Edge Development Centre set up a free hotline in June 2019, to provide counselling service by voluntary educational psychologists to the needy, during the social unrest. Currently the centre has about five educational psychologists on voluntary basis.
While programmes and services are being offered to curb rising mental health problems, it is likely that some are still some suffering in silence. Some may not recognise their problems or may not be willing to seek help.
"Many protestors prefer not to talk about their experience. They are not worried about being labelled, but they are afraid of whistleblowers. You never know whether they are friends or foes," Sam, the volunteer first aider says.
Echoing what he said, Lam, Vice-President (Censor/Education) of the Hong Kong College of Psychiatrists, states that the hardest part is getting those who need help to come forward and receive service they offer. "Once participants come to us, things are actually very easy."
In hopes of helping more who are reluctant to seek help, the Hong Kong College of Psychiatrists launched a volunteering programme named 「Care4ALL香港精神 – 同舟共行計劃」in August 2019. It is targeted at people who are mentally disturbed by the recent social unrest.
The programme is designed to be easily accessible and approachable. The college tries to offer a comprehensive and volunteer-based community model to achieve early intervention and remission. Patients are also encouraged to voice out their worries and concerns before their consultation.
It is run by volunteering psychiatrists and social workers. "We offer a maximum of eight free psychiatric consultations and a medication subsidy of up to HKD$6,000," Lam says.
How can people help themselves?
The Hong Kong College of Psychiatrists has also shared tips for maintaining mental well-being with the public.
One of the tips is to find activities to do or be with families to take everyone's minds off the troubles. It is also important to get unplugged from the internet and let emotions run free instead of suppressing them.
"We believe that high levels of exposure to trauma through social media is worrisome, and we would advise those with PTSD symptoms to refrain from excessive social-media exposure to traumatic events," Lam advises.
Despite all the self-help tips, Lam repeatedly emphasises the importance of finding the right person to talk to. "The best way is to seek professional help as soon as possible, especially when the symptoms are recurring and intrusive," she says.
*If you are feeling depressed or suffering from symptoms of PTSD, you can call the Social Welfare Department hotline service (2343 2255) or Care4ALL香港精神 – 同舟共行計劃 (6020 2493) to get consultation and help.
Edited by Kayi Tsang
Sub-edited by Soohyun Kim