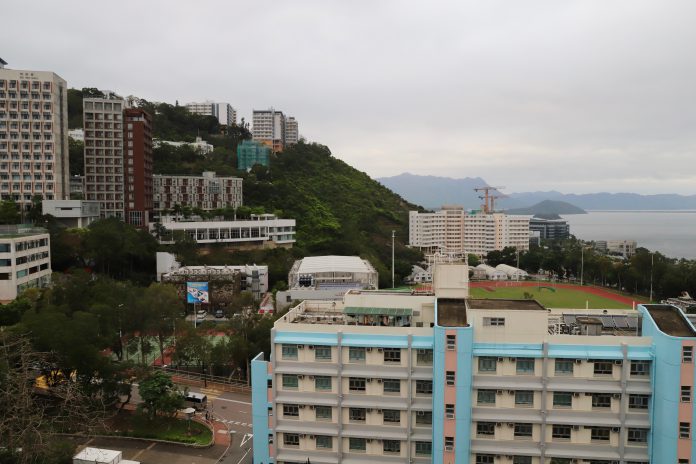 Hostel shortage plagues international university students in Hong Kong.
By Vivian Cao in Kunming & Charlie Yip
Diana Li, a student from the City University of Hong Kong (CityU) who came from the Mainland is forced to share a 675-square-foot flat with five other students as they all fail to get hostel places on campus. And instead of paying the rent monthly, they had to pay nearly HK$ 400,000 to their landlord who required them to settle a year's rent in one go.
"Since students do not have stable work and income, landlords usually ask us to pay one-year rent in a lump sum," the Year 3 student majoring in Finance says. "Paying such amount all at once is a huge burden for our parents," Li says, but she has no choice as landlords tend to worry about students delaying their payments.
Like many international students coming to study in Hong Kong, Li craves for living with her fellows on campus. "Many students want to live on campus, but there is not enough supply."
Living Off-campus
Failing to get hostel places compels Li and many other international students to rent a place off-campus to solve their accommodation needs.
It took Li a long time to find her flat in Parc Oasis, which is not far away from her university in Kowloon Tong. But communicating with landlords is a problem. "Many landlords, especially the older ones, cannot understand Mandarin and English and our Cantonese is not good enough either. Hence, we cannot communicate easily when we have to sign a lease," she says.
Li adds that many landlords do not like renting their properties to students. "We always rent a flat together to share rent. Landlords are worried that we might mess up their flats."
Leasing arrangements are not very flexible for students because most landlords require tenants to rent a flat for a year or even two years. "Some of us may leave Hong Kong for exchange programmes but we still have to pay the rent even if we are not in Hong Kong," she says.
But Li's situation is only a tip of the iceberg.
Keen Competition
According to figures from the University Grants Committee (UGC), the number of non-local students studying UGC-funded Programmes doubled in the past decade, from 9,333 in 2009/2010 to 18,061 in 2018/2019. But the supply of hostel places fails to catch up with the surge in demand.
Lilian Ho, executive officer of the UGC, says the eight UGC-funded universities only allocated 16,500 hostel places to a total of 22,200 applications from international students studying UGC-funded programmes this year, including around 3,300 applications by exchange students. The allocation ratio is 74 per cent – which means more than a quarter of these non-local students failed to secure a hostel place on campus.
Figures from the UGC reveals there was a shortfall of over 13,000 hostel places in 2018/2019 at the eight universities across the city. Hostel shortage at CityU was the most alarming, requiring 3,167 hostel places to be developed.
Under the current policy, international students studying in Hong Kong universities for a four-year bachelor's degree programme are only guaranteed to live on campus for two or three years. For the non-guaranteed year(s), they need to earn "hostel credits" by participating in school activities to compete for the limited hostel places.
Adapting to U-life
For non-local students, it is not easy to earn enough hostel credits to secure a bed place on campus.
Kevin Xue, a Year 3 Mainland student of CityU, who is also a tutor of a residential hall of the university says it has become more difficult for non-local students to get a hostel place since a change of policy in 2018.
"Although the number of vacancies of each hall varies, the Students Residence Office (SRO) gives the same quotas to non-local students in each hall," the Computer Science student says. He adds that under the previous policy, SRO did not give specific quotas for non-local students.
"If you want to gain enough credits for a hostel place, you have to attend as many activities as possible. But this is very time consuming," Xue says, adding that some students want to devote their time on studying to get better academic performances than spending time on school activities. Students trying to earn hostel credits by joining activities may not succeed either. "The quotas of hostel activities are given out on a first-come-first-serve basis. Students have to keep a keen eye on the news about activities and try to sign up as fast as they can," he says.
Lim Her Yun, a Year 2 student from Malaysia, who is also the former president of the International Student Association of the Chinese University of Hong Kong (ISA-CUHK), thinks culture and language differences make non-local students hesitate to take part in school activities. Lim notes it is difficult for international students to set up and register a club or society with the Student Union for members to earn hostel credits since all submitted documents for the registration must be in Chinese. The Global Economics and Finance major student adds that many are forced to give up the registration.
School activities organised by local students therefore become the main source of hostel points, but international students find it difficult to join with language and cultural barriers. "I guess not everyone is willing to put themselves in an environment where language is a problem," Lim says, adding that local student societies tend to have long late-night meetings that non-local participants are not used to.
Hands from the Government and Schools
In a bid to solve the problem, the UGC introduced the Hostel Development Fund in 2018. A one-off grant of over HK$ 10.3 billion was approved to the six UGC-funded universities with hostel shortfalls, hoping the supply of student hostels can meet the demand by 2027.
Some universities are also trying to deal with the pressing problem by offering off-campus accommodation assistance to non-local students. The University of Hong Kong provides a rental information database to non-local students to help them find privately rented accommodations in the city. It also offers rental subsidy amounting to HK$ 2,600 per month, and HK$ 26,000 per year to eligible non-local students.
Collaborating with three non-governmental organisations, CityU provides hostels or guest houses for non-local students to live off-campus, in which the rent is more affordable than hotels.
Edited by Cynthia Sit
Sub-edited by Kayi Tsang