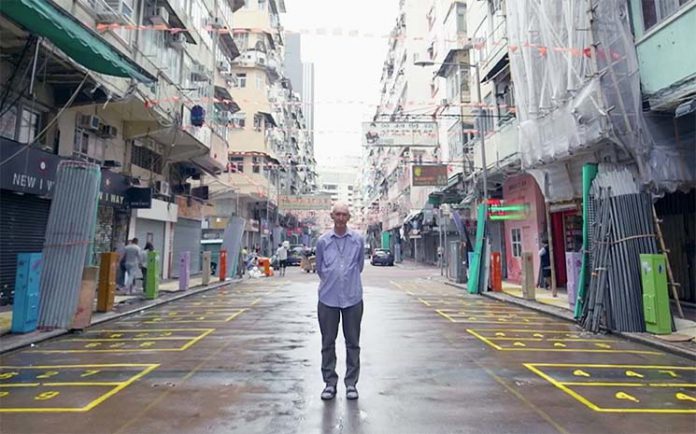 An Australian priest provides help for Hong Kong's needy during the COVID-19 pandemic.
Iris Jiang
Australian priest John Wotherspoon lends a helping hand to foreign domestic helpers who have been sacked by their employers after testing positive for the coronavirus during the Omicron outbreak in Hong Kong.
"We have had more than 100 cases of homeless domestic helpers. Some cried when they came to our organisation. I was so upset by their suffering," says Father Wotherspoon, who is also a co-founder of MercyHK, an NGO he set up with his friends in 2016.
He says one migrant worker slept in a car for 30 hours, and some stayed at the Hong Kong International Airport for three days when the weather was cold in late February. "Some of them were not accepted by boarding houses and others had trouble getting on the planes to their home countries because of COVID," the Catholic priest says.
He also says that homeless cases have been mostly referred to his organisation by HELP for Domestic Workers, a concern group which also helps domestic workers in Hong Kong.
"We have five centres accommodating more than 100 domestic helpers from Indonesia and the Philippines. They are provided with three meals a day," Father Wotherspoon says in a virtual interview with Varsity on his smartphone while checking on domestic helpers to see whether they had enough food.  
The priest at one stage worked 16 hours a day helping domestic helpers affected by the pandemic.
"These workers would have been on the street if nobody helped them. I have three needles and I will be careful," says the 75-year-old, referring to the three doses of vaccines he has taken, despite the risky nature of his work. He has been assisted by a team of volunteers.
Temple Street Father
Having served the poor in Hong Kong for over 30 years, Father Wotherspoon can speak fluent Cantonese.
Dubbed as "Temple Street Father", the Australian priest from Brisbane who came to Hong Kong in 1985 because his congregation needed more personnel.
"We have been helping homeless people, McRefugees (homeless people who stay overnight in McDonald's) and ex-prisoners, now we are assisting COVID-19 patients as well," he says.
Living in a subdivided flat in Yau Ma Tei, he says: "It has been a very happy experience," which also brings him a lot of practical advantages.
"I like to live in a simple small room in the midst of poor people… I do not have to commute to work and am always available to people seeking my help," he adds.
Apart from helping the needy, Father Wotherspoon updates his blog titled "A Voice for the Poor" every day. The blog has content ranging from prayers and the Bible to the latest situation of the homeless and links to news reports. 
Donations have flooded his bank account after his work has been reported by the media.
"I didn't ask for money, but donations have just kept coming. I am very lucky that more people are learning about our work and are willing to help us," he says.
It allows Father Wotherspoon to employ a full-time social worker to help look after the homeless and two part time ones to look after drug addicts since November 2021.
Serving the poor in China
Apart from spending time helping the needy in Hong Kong, Father Wotherspoon also served in China.
He worked at an international school in Zhaoqing, Guangdong, as an English teacher from 2001 to 2008.
"I used my salaries to help migrant workers in the local area. There were a lot of migrant workers from Guizhou and many of them could not afford the cost of seeing a doctor," says the priest, adding that there were a lot of migrant workers from Guizhou.
He has strong interest in Asia as he studied Chinese History at Monash University in Australia.
"I always think of China as the most important part of Asia. When I came to Hong Kong, I dreamt of working in China someday," the priest says.
He also voluntarily taught poor children English in the nearby area. "I taught students from all levels. It was very enjoyable," he smiles.
When he returned to Hong Kong in 2008, his main job was to help prisoners, drug mules and drug addicts.
"We just respond to the needy. Wherever someone needs help, my group tries to do something…The most important thing is to treat people with respect and care," says Father Wotherspoon.
Home is where the heart belongs
About 242,000 residents have left Hong Kong since 2020, according to the figure from the Census and Statistics Department. While Hongkongers are leaving the city because of the introduction of the National Security Law and strict government COVID restrictions, Father Wotherspoon says he belongs to Hong Kong.
"For me, Australia is just a holiday place. Helping people in Hong Kong is more important…My family in Australia has always been supportive and they are very happy with what I'm doing" he says.
He believes that the world needs more people to care about the disadvantaged. "No matter what you do, if you can devote part of your time to helping people, you will be much happier," he says.
Edited by Leung Pak-hei
Sub-edited by Winkie Ng