By Charmaine Choi
Hong Kong fashion designer Tsang Mei-sze creates ergonomic industrial workwear durable and safe for blue-collar workers.
Striving to make better clothing for blue-collar heavy-duty workers, or "industrial athletes", Tsang Mei-sze is determined to shake up the industrial workwear scene with ergonomic industrial pants.
"Many heavy-duty workers are performing repetitive physical movements during work. They also have great endurance and persistence. These qualities echo the essential traits of athletes. Therefore, workers' uniforms should be athletic, flexible and protective, just like sportswear," says the fashion designer.
Interested in drawing and working on hands-on art projects, the 28-year-old takes her passion and talents in art and design further. She studied fashion design at the Technological and Higher Education Institute of Hong Kong from 2012 to 2016.
After graduation, she dipped her feet in the industry, serving various retail fashion brands like Aitour Throup, Toogood and ASOS for two years.
Soon, she learned that pure fashion was not her calling.
"The term 'fashion' often limits designers' ability to create because you need to cater to the taste of the masses in order to fit into the retail ecosystem. It is a bit old-school to create fashion just for the sake of aesthetics. As a designer, I wish to launch products that can help make the world a better place," says the Hong Kong-based fashion designer.
Her dedication to making better workwear stems from her father, who worked at construction sites in the 1990s. With many fond memories of her father and his fellow workers during her childhood, Tsang considers industrial sites to be her "second home".
"To me, these heavy-duty workers are like my friends and family. They construct the beautiful Hong Kong that we live in and I want to offer my design skills in return for their contribution," she says.
A Gap In The Market
Tsang knew at a young age that existing workwear designs do not offer enough comfort and protection for heavy-duty labourers.
"I find it ridiculous that workwear for heavy-duty workers has barely changed over the past three decades," she says.
She points out that workers often wear ill-fitting and bulky pants drenched in sweat and dirt. Coupled with multiple rips and tears, the pants make their lives even more miserable, especially under the scorching summer heat in Hong Kong.
"It is too despicable to only take fashion inspiration from workers without catering to their actual needs."
"There is insufficient well-designed workwear in the market. The few well-thought-out designs usually cater to the needs of a colder climate, but still incompatible with the sweltering weather in Hong Kong. As the climate gets hotter, there is a need to introduce [a design] lightweight yet durable," she adds.
"It is too despicable to only take fashion inspiration from workers without catering to their actual needs. If no one is taking the responsibility to provide better workwear for these workers, I will. I know I can create something better," she continues.
This is why Tsang flew to London to study the Master Programme in Fashion at the Royal College of Art in 2018, which she considers "not only a fashion course". Covering a wide range of social issues such as gender, culture and race, the programme has offered her a chance to ponder the relationship between society and fashion.
From Drawing Board To Life
In 2020, Tsang launched the "Brickman" collection as her graduation project, featuring a workwear set with a T-shirt, a jacket and a pair of trousers designed specifically for bricklayers.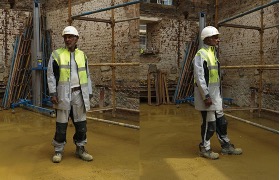 Incorporating the concept of ergonomics into workwear by reducing the use of fabrics for greater flexibility and mobility, the collection laid a solid foundation for Tsang's workwear brand, TMS.SITE., founded a year after she returned to Hong Kong in 2021.
Based on two prototypes she developed in her graduate project, Tsang continued to refine the industrial pants named "3.0 Industrial Athlete Pants" with the help of three steel fixers, Em Pong, Ka Wai and Stone, who she met during a lunch break in front of a convenience store in Tsuen Wan in 2021.
The three workers told her about their feedback on the wearing experience during their lunch and cigarette breaks.
Using a breathable and moisture-wicking nylon material, the "3.0 Industrial Athlete Pants" are much more lightweight and dirt-proof than traditional woven fabric pants. The adjustable waistband design also wittily helps workers avoid "builder's bum" by providing a snug hug around the waist.
On May 27, 2022, Tsang launched the new collection on Kickstarter.com.
In less than two months' time, she received a total of HK$188,730 (US$24042.73) from 98 backers, successfully bringing her collection to life. The industrial pants have started manufacturing and are expected to reach customers in December 2022.
Yet her beloved father and her muse will not be wearing her designs.
"I would have wanted my dad to try them on for me, but he could not even fit into the largest size. He has gotten a 'dad bod' after his retirement," the designer says with a giggle.
"Of course, he no longer has an athletic physique as he used to, but his endurance and perseverance make him an industrial athlete for life," she adds.
Edited by Gabriella Lynn
Sub-edited by Felicia Lam