Women in Iran have launched a "Hijab Revolution" to fight for their own freedom.
By Kossy Chen
Iranian student Nasrin Riahi enjoys freedom and liberty in Hong Kong while women in her home country are still fighting for basic human rights.
"I'm smart with good grades in school and good English, so I just applied to study in Hong Kong to start a new life," says Riahi, who came to Hong Kong in September 2022.
Riahi thinks that women in Iran have been tortured by inequalities all their lives.
"My mom never wanted to bring a girl into this world because she thought a girl would not live happily in Iran. I felt sad at first, but now I think she is right. I don't think there is anything harder in the world than being a girl in Iran," the 23-year-old Hong Kong university student says.
"In Iran, women can't ride bicycles since the posture may evoke men's sexual desire. Women are not allowed to dance or sing. Women can't drink alcohol. If others smell alcohol from our breath, we will get eighty lashes. Women also can't divorce or go abroad without their husband's permission," she explains.
The business major student says The Islamic Republic of Iran uses religion as a tool to rule the people, and controls have become tighter as some people have started to ignore these rules and live the way they like.
"We were born to be Muslims with no choice. The regime has instructed morality police to force women to wear hijab better. My mom has warned me to wear a hijab properly whenever I go out. And how can I have fun at beaches with a hijab? I'm done with that!" she says.
A Women-Led Uprising: A Spark to Start a Great Fire
A few days after Riahi's departure to Hong Kong, the death of Mahsa Amini on September 16th ignited public anger in Iran.
Amini failed to cover her head properly and died in custody after being detained by the morality police. She was 22 and just had been admitted to a university.
Protesters have vented their anger at the country's mandatory hijab laws and the Supreme Leader, Ayatollah Ali Khamenei, despite crackdowns from authorities like Internet shutdowns.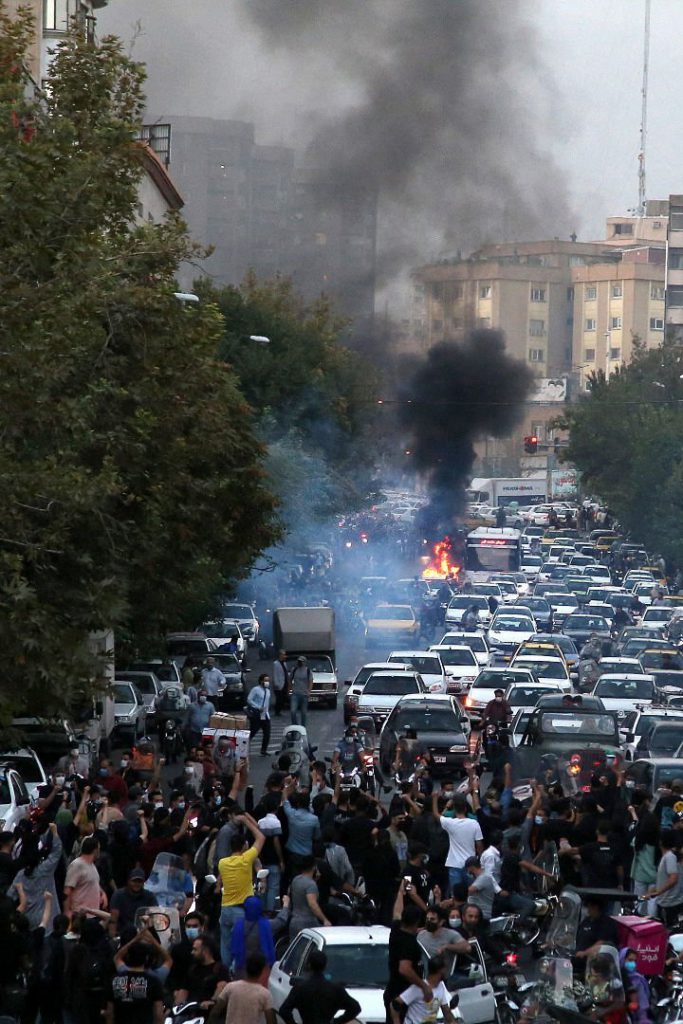 According to information obtained by Iran Human Rights, at least 458 people including 63 children have been killed by security forces in the nationwide protests before December 7th.
The report also shows protesters have been killed in 26 provinces.
We Need Help
Zahra Fakerzad, a student at Tehran's Sharif University of Technology, was at the heart of anti-government protests and crackdowns in early October.
"We thought security forces were going to kill us! They used guns, batons, and teargas," Fakerzad recalls.
"I had friends who were killed or went missing at universities across the country. Those who were arrested and released said they were tortured so much in jail that they wanted to commit suicide," the 22-year-old says.
"The military never stands by the people and always tells lies. They rape women before killing them because it is forbidden in Islam to kill a virgin, then they tell people that victims kill themselves due to depression," she says.
But Fakerzad is still hopeful and finds unity from her fellow Iranians.
"Even though our families urge us not to take part in the protests, we still try to go. We boycott classes, shout 'women, life, freedom' and wear no hijab. We even cut our hair which signifies protests in ancient times," she says.
"We want freedom! The issue of women's rights is to add a small fire to start a big fire, so it is not just about hijab or feminism but about overthrowing the regime. Iranian protestors—men and women worldwide also join us—and we have never been this close before," she continues.
But she is upset about Iran's helpless situation in the international community.
"Many countries ignore this Middle Eastern chaos. They find it beneficial for our government to stay because they can buy our oil at the lowest price, so they say, 'we strongly condemn the violence', but take no action to stop it," she says.
"Our protest deserves more media coverage by the international community. There is a saying that the darkness does not always stay. Even if the Islamic Republic may not fall now, it will be toppled in the next five to ten years," she adds.
No Way to Turn Back
Another Iranian woman, Leila Salles, has been protesting since September 16, 2022, the day Mahsa Amini's first photo was posted on social media. She quit her auditor job in late October to devote herself to protests.
"I don't wear hijab anymore as an activist. I also share news of protests and research on how we should protest in advance," the 22-year-old from Tehran says.
"Every day around 9 p.m., protesters chant 'death to the dictator' targeting the supreme leader. Our group used to go to the roof, but one time I was scared when I saw someone taking pictures, so we returned home and turned off the lights to chant loudly. Everybody wants Ayatollah Khamenei to leave!" Salles says.
"We don't want to reform. We want a new revolution and voting for the next election. Who wants a ridiculous government basically run by sexual predators?" she says.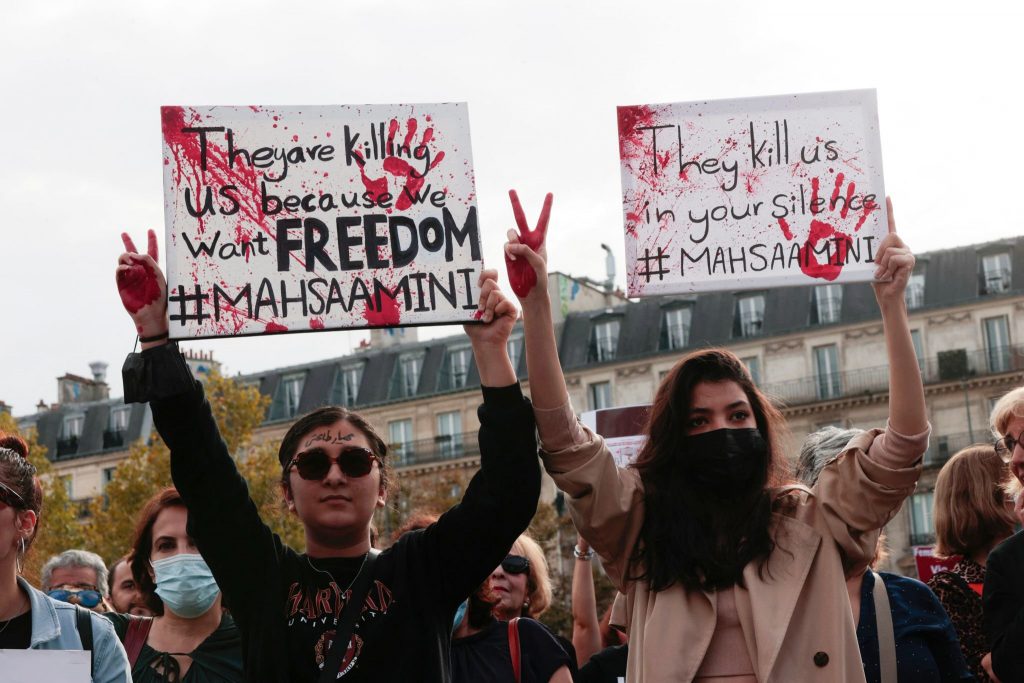 Salles is aware that what she is doing is dangerous. "I can't go anywhere alone because I can feel the eyes on me. Some men look at me differently. I suppose they are from plainclothes Basiji force (a volunteer force under the umbrella of the Islamic regime) looking for protestors' heads for execution," she says.
"Actually, they can always find an excuse to kill, even if you are just a passerby. If the government doesn't care about people's lives, everything you do puts you in danger," she adds.
Her parents became increasingly enraged with the regime after hearing screams from a fire that broke out at Evin prison, a facility known for housing political prisoners, near their home on October 15.
"They believe the government is to be blamed (for this incident), but my mother is a teacher and my father is a doctor, so they are powerless to protest since they rely on government institutions for a living," she says.
She tried applying to universities abroad but has decided to stay until changes are made.
"I don't want to leave my family behind. When Iran's Internet is still blocked, how can I tell if security forces raided my sister's school or killed everyone?" she adds.
Force to a Change
Fatemeh Aman, a senior fellow at the Middle East Institute, believes that current protests respond to 40 years of discrimination and violations of women's rights.
"Iranian women…were stripped of their rights after the 1979 revolution. Currently, the majority of young people with higher education in Iran are women, and these women want more than some old leaders are willing to offer them. They demand freedom," she says.
"Back then (during the International Women's Day protests in Tehran in 1979), men were not widely supportive of the protests. Right now, women—often schoolgirls—are leading the protests, and men are supporting them," she adds.
Fatemeh admits the future of protests is unpredictable.
"We were born to be Muslims with no choice… And how can I have fun at beaches with a hijab? I'm done with that!"
"The truth is that the regime will not be toppled simply by protests. For a positive outcome, the protests should stay non-violent, steady and continuous with all sectors' participation," she points out.
"The regime change requires strikes, especially from the oil and energy industries and the regime base. If they join the protests, the regime may be forced to bow to the women's demands," she adds.
*Name changed at the request of the interviewee.
Edited by Jack Deng
Sub-edited by Gabriella Lynn