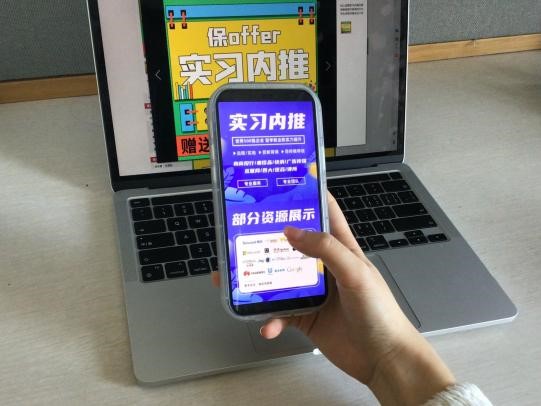 Some students in mainland China spend money to secure internship opportunities.
By Fiona Dongye
Year Three student Zhong Qingya of Soochow University paid an agency RMB ¥35,000 (US $4,900) to get an internship this summer. She was worried that the pandemic, which has greatly weakened the economy, will make her job hunt difficult when she graduates next year.
Zhong came across the job-seeking agency on the social media platform WeChat in June 2022 when she failed to secure a summer internship, while some of her friends had gotten one or two offers.
"I feel really anxious. If I do not have any work experience in my resume this year, I will not be able to compete with others when I have to hunt for a job after graduation. Although the price was expensive for me, I paid without hesitation," she says.
The agency helped Zhong secure a three-month online internship opportunity at ByteDance—the mother company of Chinese-version Tik Tok—lasting from June 1 to September 1.
"The agency told me that the internship would give me the opportunity to participate in Douyin's community operation. I would have a chance to work with well-known creators, conduct user research, and improve the review and recommendation systems," Zhong says. 
"If I do not have any work experience in my resume this year, i will not be able to compete with others."
A man claiming to be a ByteDance employee added Zhong on WeChat after she paid the agency.
"He told me that he was my mentor. Then he assigned work such as proofreading articles and copying and pasting data into excel sheets to me. The job's nature was completely different from what the agency told me. I did not have a chance to get to know other people in the company or learn about the operation of the company," she says.
After the internship, the agency gave her a certificate issued by Bytedance.
"But I later found out that this internship cannot pass background checks, which means if someone checks with Bytedance about my internship, no record can be found. So if I put this internship record in my resume, it is likely to be considered a fraud," Zhong says.
A job or a scam?
Li Lan has been running a job-seeking agency that helps students like Zhong to find internships since 2016.
"When I first started my agency, students who sought help were usually incompetent students," Li says.
"It is becoming more difficult to hunt for jobs due to the pandemic, so more and more students from top universities also seek help from us to look for internships, especially after 2020," she says. 
According to data from China's Ministry of Education, the total number of college graduates was 9.09 million in 2021, up 350,000 from 2020.
Li says her agency usually has a network of employees working for tech giants such as Bytedance and Tencent. The agency pays these employees for referring students to work at their companies as interns.
"But now many companies have stricter management on internship referral. Some employees have been fired for selling internship opportunities to job agencies, so it is getting harder and harder for job-seeking agencies to sell internship opportunities to students. Some agencies scam students by asking someone to act as employees of certain companies to cheat on students," she says. 
"More and more students from top universities also seek help from us to look for internships."

Li lan, a job-seeking agency
Li warns it is difficult to tell which job agencies are reliable.
"Some students encounter refund disputes when trying to get internships through agencies. Students should read contracts carefully to avoid troubles," Li adds.
Alice Zhao is a career counselor at Nanjing University of Aeronautics and Astronautics.
"Students usually can find internship information from career centres of universities. Our school, for example, holds an internship-sharing session every year before the summer break. We also invite senior students and companies to give talks and some companies even recruit interns on campus," Zhao says. 
But Zhao says sharing sessions and talks have been canceled in the past three years due to the pandemic. "This makes it easy for students to be scammed," she says.
"Many universities have increased their enrollment, resulting in more and more graduates in recent years. At the same time, the epidemic has affected the development of many industries, leaving fewer jobs for college students in the labour market," Zhao says. 
Sub-edited by Ryan Li