Love for pens and papers never fades even in the digital era.
By Lorraine Chiang
Trying to make her notes as pretty as possible, Emily Tang Yan-Tung has tried numerous notebooks and pens that lead her to fall in love with stationery.
The 18-year-old student has spent more than HKD 2,500 (USD 318) on over 100 pens and around HKD 1500 (USD 191) on 100 notebooks.
Her journey as a stationery lover began in secondary school when she saw her teacher's colorful blackboard writings. To match her notes with the blackboard writing, she bought pens in the same color as her teacher's chalk markers.
"Back then, I came up with a few ways to make my notes look aesthetic such as using calligraphy pens," says the social work major student from the Chinese University of Hong Kong.
Other than pens, she also likes experimenting with different types of paper.
"For drawing, I use kraft paper. I like the color combination of brown kraft paper and grey pencil marks. As I find white paper ugly for note-taking, I use Muji's cream-colored paper instead. Then I use grid paper for Chinese and lined paper for English," Tang says.
"When I brainstorm essay ideas, I write on many pieces of paper. I lay them side by side which allows me to see everything at once. But digital gadgets only provide a scroll function or zoom-in and out function. I cannot see my ideas altogether," she says.
She believes stationery is irreplaceable even though she often uses digital gadgets for her study out of convenience.
"An iPad with a matte screen protector is not even close to tactile feedback of pen and paper," Tang says.
CUHK student Paul Ip Pui-Hei, who also loves stationery, has ventured into the fountain pen world since he worked part-time at a bookstore in 2022. The 18-year-old stationery addict has spent around HKD1,500 (USD191) on fountain pens in nine months.
"My colleagues have taught me a lot about fountain pens such as how to refill the pen ink, ways to differentiate fountain pen nib sizes and more," the Year One student says.
Ip is fascinated by the charm of fountain pens. "I like to have some "ceremonial" things to spice up my life. I like to take things slow in the simple parts of my life, and using a fountain pen allows me to experience those small pleasures," he says.
The student also cherishes the warmth of handwritten messages.
"WhatsApp messages usually sound cold and identical, which shows no effort of our connection. But everyone's handwriting is unique, " he says.
Another fountain pen fan Ng Chuen-Pei turns his passion for stationery into a retail business, Muze Pens, which he sees as an "oasis" for his customers.
The collectibles shop, located in Sham Shui Po, provides fine writing instruments, journals, papers, fountain pen inks and other pen accessories.
"Stationery and digital worlds do not contradict one another, they complement each other instead," Ng says.
His company uses digital platforms, such as Instagram and Facebook, for business communication. However, when it comes to writing self-reflection, he prefers pens and paper.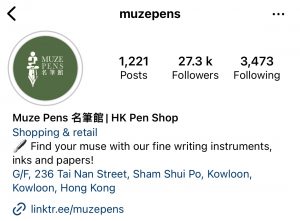 "Sometimes you are all by yourself with just your notebook and pen. At that moment, you can self-reflect without all of this fast-paced information flooding in your brain"
Like Ng, Tony Chan loves stationary so much that he started an online store in 2017. He now has a physical store in Mong Kok.
"Most of my physical store customers are fountain pen beginners or people who need help with fountain pen problems, while my online customers are experienced fountain pen lovers," Chan says.
His customers buy his products out of a need for satisfaction. "When you write, you solely focus on writing and forget about other problems. In this way, people can relieve their stress," Chan says.
Edited by Phoebe Chu
Sub-edited by Karmen Yip