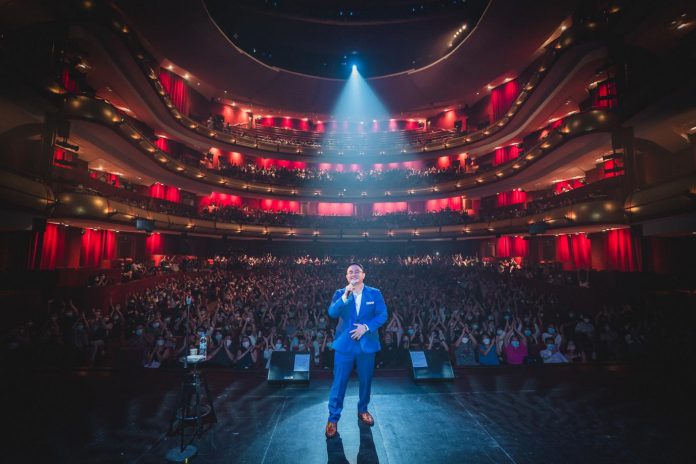 Former doctor Jason Leong shares his story of being a comedian.
By Ryan Teh
Doctor-turned-comedian Jason Leong is back on stage with a new show after the pandemic.
"It is nice to be working hard and to go through the process of creating a new show, it is something I enjoy," he says.
Leong says that his current world tour is by far his most ambitious project.
"This year's tour is the biggest one I have ever done. I will be touring around 25 cities in nine countries. Places like New York City, Melbourne, Indonesia. It is a good time to be a comedian and to be able to travel again" he says.
'Brain Drain', the title of Leong's new show, is referenced to the slang term describing talents leaving their home country.
"The main theme is about how I want to leave Malaysia. This started last year when one of my fellow comedians was arrested and the comedy club was shut down," he adds.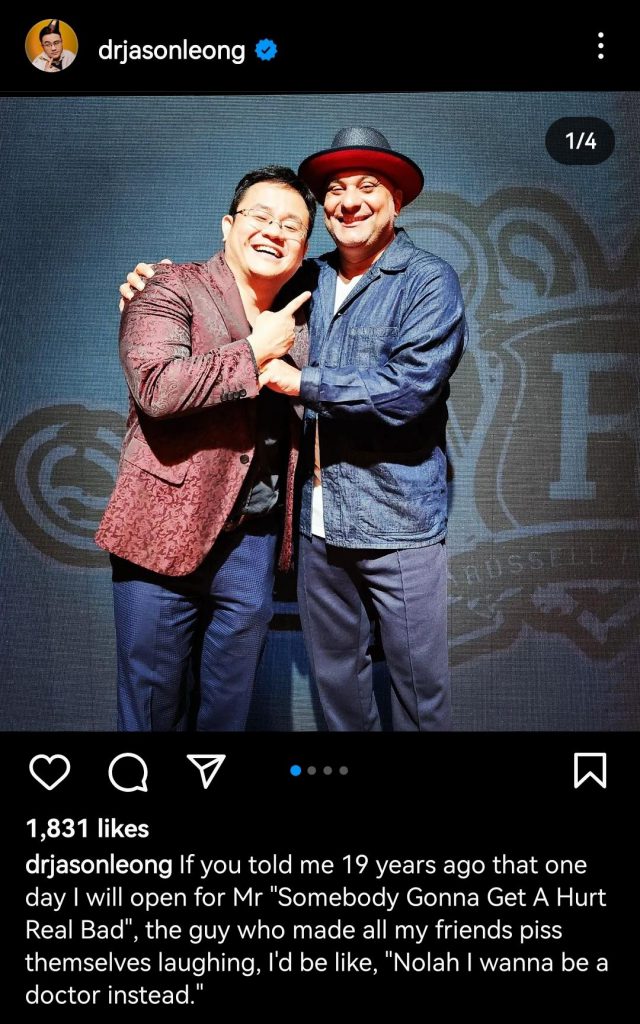 Malaysian comedian Rizal van Geyzel was arrested and the operation of Crackhouse Comedy Club was suspended in July 2022. Both cases were due to separate allegations of religiously insensitive jokes by Rizal that went viral online.
"I also wanted to talk about how Malaysia has been crumbling and how this among other reasons has made Malaysia unappealing for me. This is how I came up with the name for the show," Leong continues.
"It is the tour I travel the most extensively outside Malaysia so it is nice to call it the Brain Drain World Tour," he adds.
One of the stops on his tour is Hong Kong and Leong says he is excited to be back.
"It has been three years since I have been in Hong Kong. I used to come almost every year. The city is one of my all-time favourite places. I love visiting the city centre and also hiking at Dragon's Back. I especially love the dim sum at Fu Sing Seafood Restaurant (a local restaurant in Hong Kong famous for its dim sum). Thinking about it alone makes me hungry. Now I want some dim sum," he says.
"And I am very happy to be earning Hong Kong Dollars as well," he adds jokingly.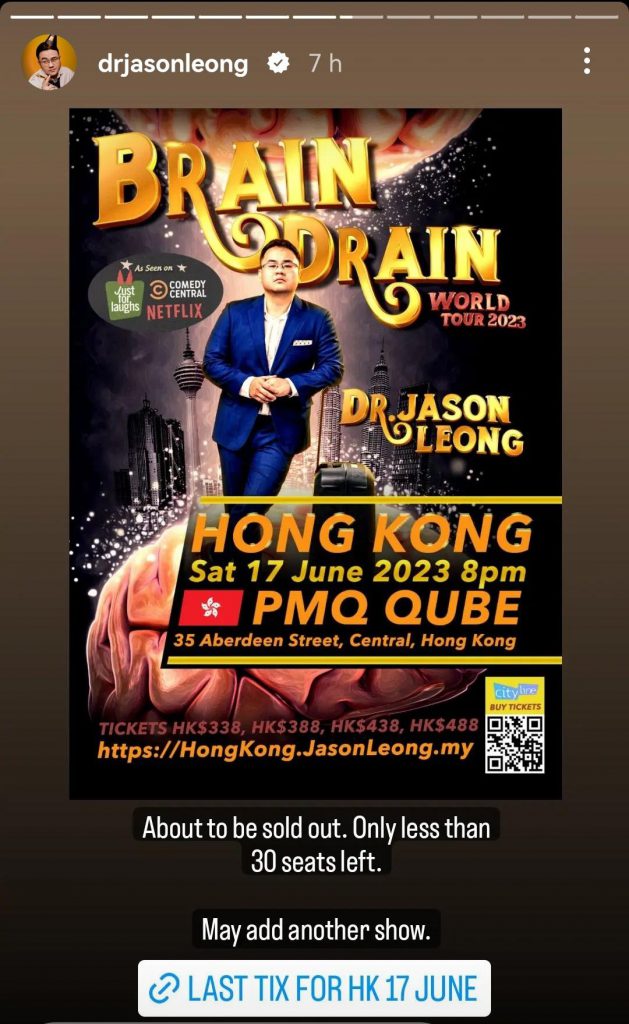 With 2023 marking his ninth year in the industry, Leong says he has no regrets about leaving the medical field to pursue comedy since making the switch in 2014.
"I tried balancing being a doctor and a comedian for two years and eventually stopped my practice to focus on comedy. Now my newest Netflix Special Ride with Caution has been getting good reviews, and I am in the middle of touring for my new show so I am enjoying my career to the utmost and definitely have no regrets," he says.
The comedian also boasts a number of accolades to his name. Ride with Caution's release in February added to the list by making Leong the first and currently the only Malaysian to have two Netflix Specials.
Leong was also selected to perform at the Just for Laughs Festival in July 2022, the largest international comedy festival in the world.
"These successes are meaningless if they do not spur you to achieve more. They drive me forward to do bigger and better things," he says.
Behind the Jokes
The former doctor shares that his jokes are inspired by his own life experiences.
"To me, it is really simple. You just see something and then you make fun of it. At first it was mostly from my background, growing up in a Chinese household and growing up in Malaysia. Then as I grew older, I began talking about my experiences as a father, being married to an Indian wife," he says.
"I have come to realise I really like to make fun of people who like to show off. My favourite joke from my first comedy special was about people showing off their business-class tickets and in my latest one, it was making fun of people who start cycling but honestly, they are just trying to show off their money," he adds with a laugh.
Even while performing overseas in countries that have local taboos, Leong says that there is no restriction in his creation.
"My intention is to make people laugh, maybe even provoke their thoughts. I want to take their minds off their stress, and of course, be famous as well," the comedian says.
Leong's shows also feature a fair share of jokes about Malaysia, particularly the country's political scene and its figures- a topic that is traditionally considered taboo.
"They give us comedians an endless supply of material to make fun of. It is also becoming quite common in Malaysia on Twitter. So, I am not worried about making jokes about our politics," he adds.
The comedian does not feel the need to adjust his creation to cater to his international audiences and make sure they understand his jokes.
"Humour is universal… actually you do not have to be Malaysian to understand most of my jokes. Like my bit about cyclists, they are everywhere around the world and most people would get it so I do not ever change my jokes," he says.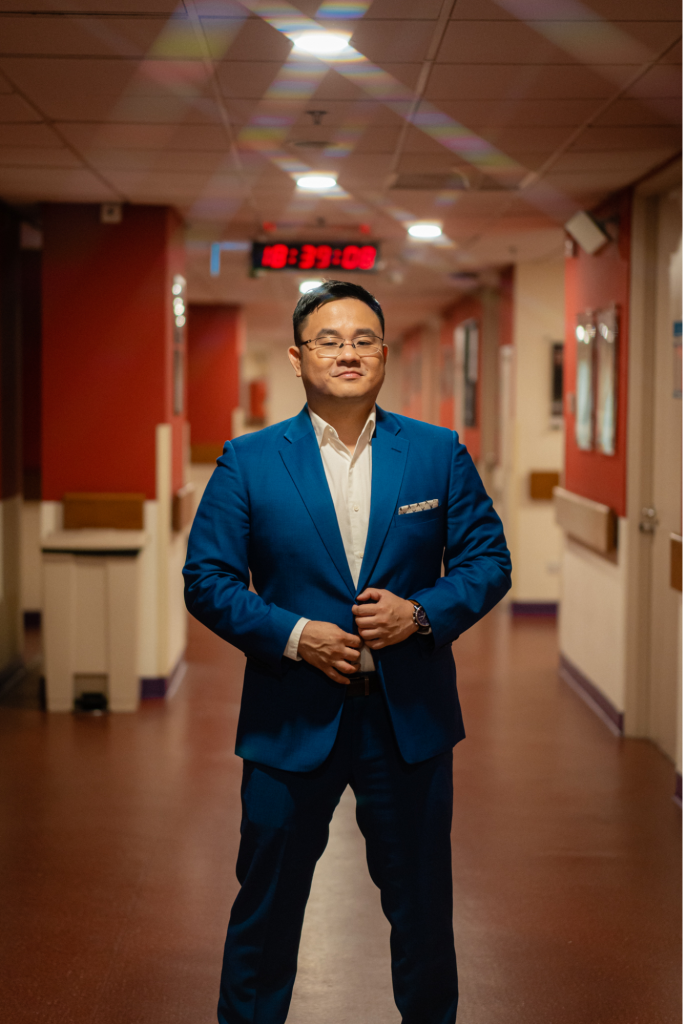 As for his future plans, Leong hopes he can continue with comedy and have his own TV show.
"I (am) hoping to keep doing comedy until I can't anymore. Maybe let's try for two more decades. I also plan to travel more and do more shows or stand-up gigs overseas like in New York City. Another thing I really want to do is to produce my own sitcom and be on-screen besides just only being on stage," he says.
Edited by Esme Lam
Sub-edited by Charlie Chun