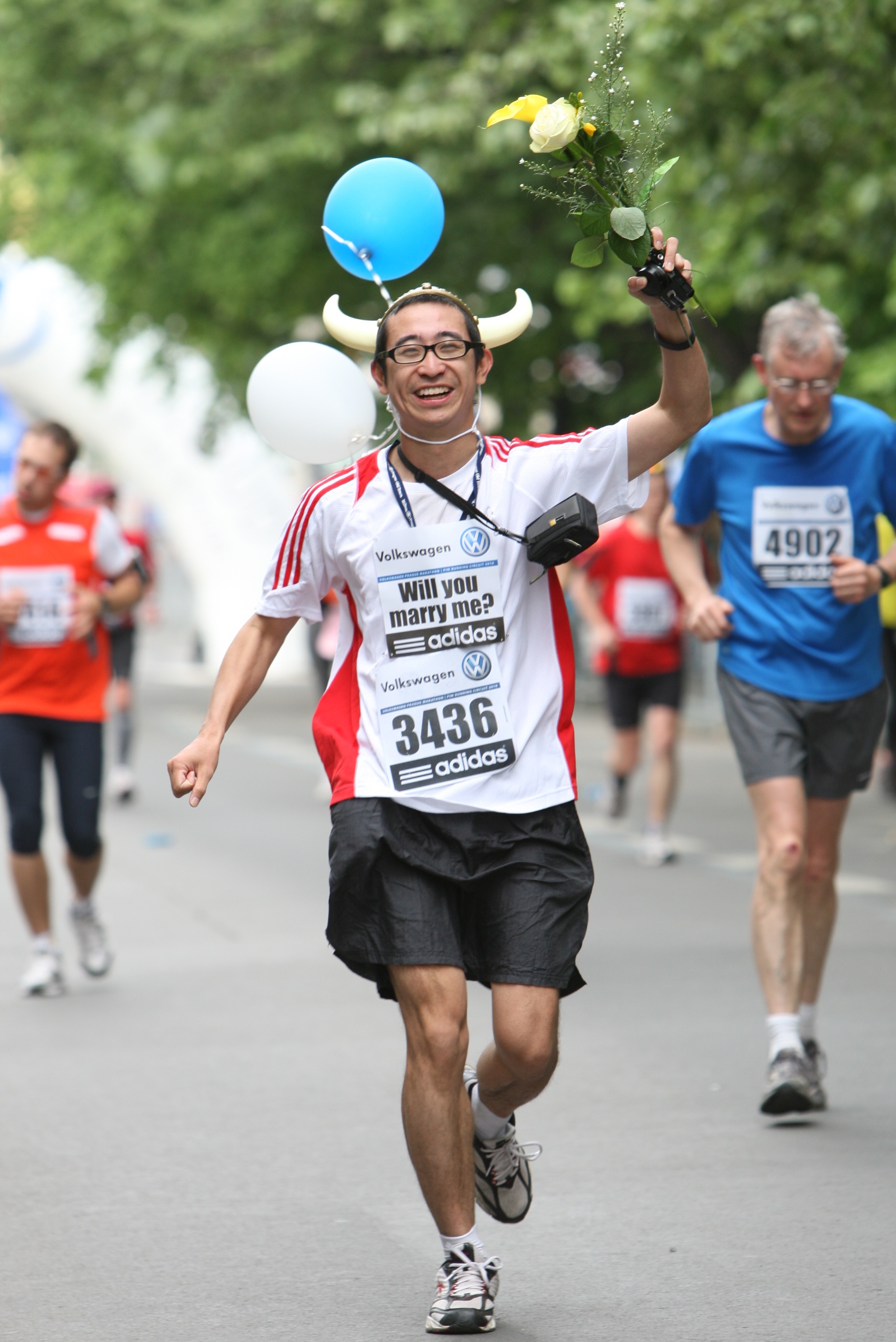 Local marathons are just not enough. Feel the difference and try international marathons!
Reporter: Cherry Ge
As he ran through the heart of Frankfurt, Ng Che-ming's spirits were lifted by the crowds who had turned up to cheer the runners on. But an even bigger welcome was in store as he sped along the hundreds of metres of red carpet to the indoor stadium at the end of the 42-kilometre marathon. He crossed the finishing line in a blaze of coloured lights and, best of all, he could see his moment of triumph "live" on a huge TV screen and hear the host reading out his name. Hot soup, soft drinks, beer and fruit were on hand for the runners to take in some energy.
Ng, a 59-year-old Hong Konger, completed his 100th full marathon last month but he tells Varsity that the most unforgettable race in his life to date was the Dresdner Kleinwort Frankfurt Marathon in 2007.
In the past 11 years, the marathon fanatic has left his footprints in 40 cities in countries around the world, including China, Japan, Korea, Taiwan, Malaysia, Singapore, Germany, Italy, France, Greece, Denmark, the United States and Australia.
"Marathons give me a chance to compete with world-class athletes in the same competition," Ng says as he explains why he fell in love with the long run at his first Hong Kong Standard Chartered marathon in 2000. "Although it is impossible to win a medal, satisfaction can still be gained."
What attracts Ng to overseas marathon races are the challenges presented by different courses, the warm support from local citizens along the way and their respect for the sport and the athletes.
Ng says the routes of these overseas marathons take runners mostly through urban areas. When the runners are striving to get their best times, local citizens can watch them go by and show their support by applauding and cheering them on.
He feels he gains respect as an athlete by participating in international marathons. Since he retired two years ago, he now has the time and freedom to pursue his great love of running around the world.
Chong Hiu-yeung, a 32-year-old journalist and freelance writer does not have the same degree of freedom that Ng has but that has not stopped him from embarking on his own marathon journey. He ran his first overseas marathon in 2006 in Singapore and has taken part in races in 14 cities since then.
Chong's marathon itinerary has also taken in cities such as Barcelona, Paris, Tromso in Norway, Athens, Los Angeles and Samui in Thailand. He agrees with Ng that overseas marathons are more fun and special.
He says it is not just that it sounds "cool" to tell people that he is running overseas, but that the concept and understanding of marathons actually is quite different in other countries.
"In Hong Kong, it is just a race," Chong says. "In Europe, a marathon means a party over a weekend for all the people including the runners." Some foreign organisers even hold exhibitions for all marathon fans to buy souvenirs of the race.
The time limits in overseas races are also more generous than in Hong Kong. This ensures that every runner or walker can finish. For example, when he ran the Singapore marathon in 2006, there was a time limit of eight hours and almost every participant finished the race. In Hong Kong, the time limit for the Standard Chartered full marathon is just six hours.