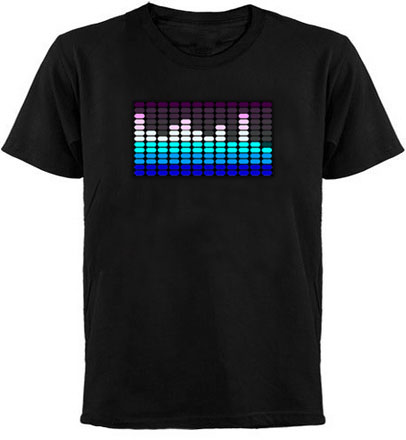 The T-shirt that flashes to the beat
By Nectar Gan
Have you ever felt frustrated at not being able to follow the beat on the dance floor? Have you ever wished you could light the place up with your grooves?
Here comes the good news: with the assistance of the sound activated electro-luminescent (EL) T-shirt, a rhythmically challenged and shy person can also become a great dancer.
The "magic" of shining patterns is achieved with a built-in sound sensitive EL panel underneath. The patterns usually involve rows of colorful little squares, which look like a graphic equalizer on a music player. The bars of the graphic equalizer respond to the music around you, jumping in time to the beat: the louder the sound, the higher they jump. Other patterns can also be found, including stripes and signal shapes. In some stores, you can design your own patterns.
The EL T-shirt is a great choice of outfit for concerts, festivals, parties and even sports events. Putting on such a T-shirt will not only make you the focus of people's attention, but also the life and soul of the party.
However, you might be worried about the potential safety implications of wearing an electric display panel right on your chest. Will the lights generate heat and burn your skin? You might ask.
Well, this is not much of a concern in the case of the EL T-shirt because of the special properties of the electro-luminescent sheet. The display sheet will not generate any heat or ultraviolet radiation while it transforms electricity into light, which is why it is also known as the "cold light" sheet. Besides, the EL sheet is thin and relatively flexible, allowing bends with a radius bigger than two centimeters. These properties have made it very suitable for use in clothing.
Since the EL panel requires electricity to function, a small battery box containing four AAA batteries is attached to the shirt. There is also a sliding wheel on the box, enabling you to control the sensitivity of the EL panel according to the volume of the music.
Care is needed with washing the T-shirts. They can only be dry-cleaned or hand washed. Both the battery box and the EL panel should be removed before cleaning. The panel is attached to the T-shirt with Velcro tape, which makes it easy to remove or replace.
As Christmas is approaching, the sound activated EL T-shirts could be a great gift for your friends and family. Shining along with the music and the Christmas lights might be a good way to celebrate Christmas Eve!
To get your own EL T-Shirt, please visit http://www.eltshirtco.com.