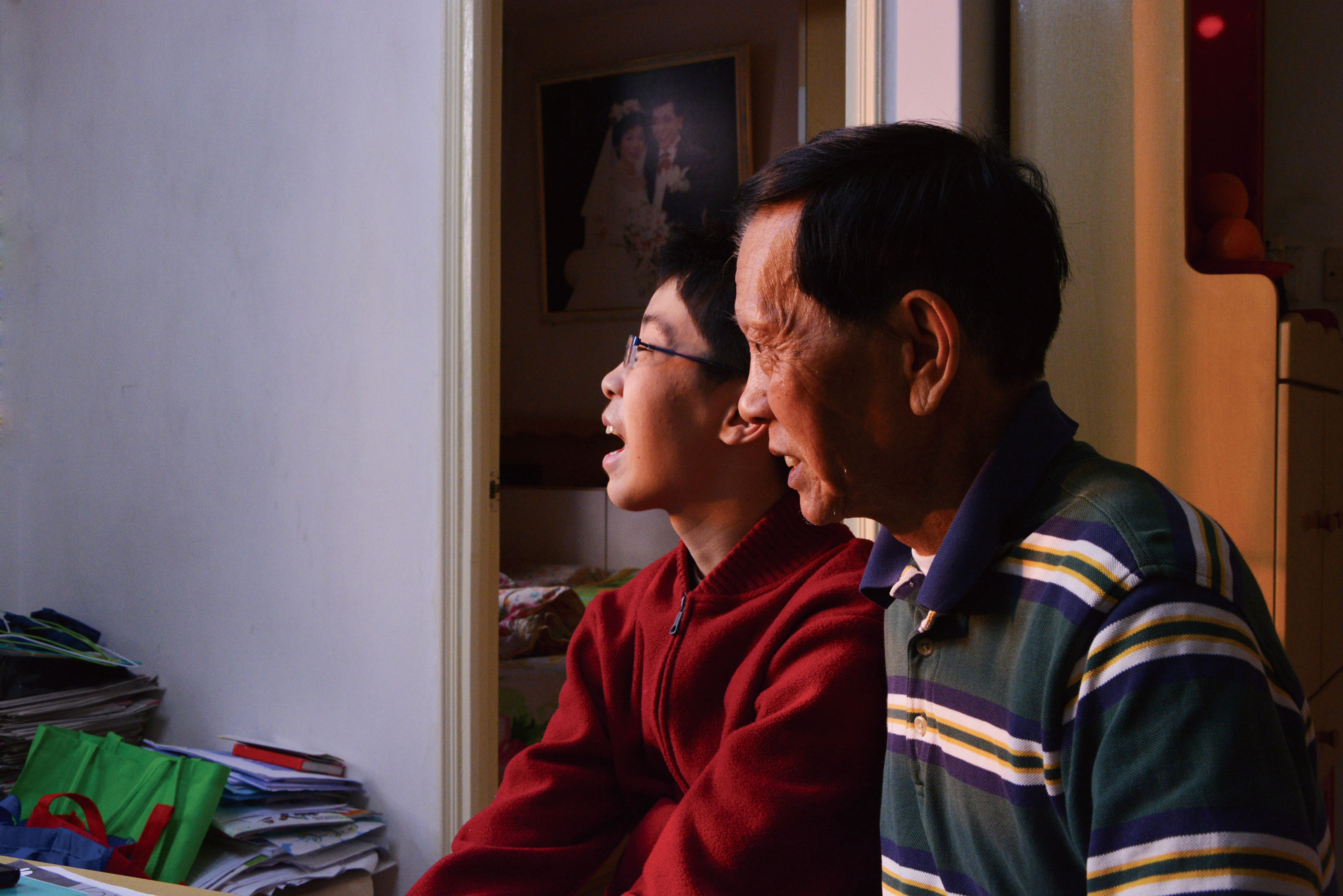 How single dads take up the role of both parents
by Grace Cheung and Yan Li
It is still dark when Chan Yung-kun leaves for work as a security guard. He starts his shift at 5:30 a.m. and, an hour and a half later, he calls his 16-year-old son, to wake him up for school. The day is far from over after his 10-hour shift ends. The 64-year-old still has the dinner to cook and the housework to do before he can finally go to sleep in the cramped bedroom of the public housing flat he shares with his son. This has been Chan's daily routine for almost two years now after his wife died of cancer in 2012.
When his wife was still alive, Chan was a typical Hong Kong husband of his generation. He was the sole breadwinner of the family and did not spend much time on household chores or parenting. It took him half a year to adapt to his new role as a single dad.
"After work, I still need to go to the market and then cook the dinner. I work non-stop till after 10 p.m. Of course it is very tough. My life was totally different when my wife was here, as she'd take care of the cooking. I didn't have to do anything after work," says Chan. Yet, Chan has not actively sought help. "It's fine. I just try to learn the stuff [housework and cooking] myself," he says.
Long hours and stressful working conditions in Hong Kong make it hard for single fathers to develop an intimate relationship with their children, even if they very much want to. "Since I need to work, I really don't have much time to communicate with them [the kids]," says Lo King-lam, a single dad living with two sons in Tai Po.
Since Lo's wife died from gastric cancer in 2006, he has come to realise how tough her life had been. He recalls how she had to take care of the children, the household chores and work full-time. Despite having so much on her plate, she was the one who had a closer relationship with their children.
Lo's elder son, Lo Wing-on, who is now 23, recalls he usually went shopping and had intimate chats with his mother. Family days were often initiated by her as well. It was only after she had gone that he started to develop a closer relationship with his father.
Lo King-lam is making up for lost time now. Although it is a challenge for him to do the housework, he decided not to hire a domestic helper as he found he would have less communication with his sons when there was somebody else to take care of their needs. Instead, the family moved to the same housing development where his mother lives so she could help with the cooking.
Often, single fathers do not actively seek either practical help or emotional support when they need it. This is a phenomenon observed by Ken, who does not want to disclose his identity to protect the privacy of his two children. Ken suddenly found himself a single dad after his wife left him for one of his best friends. Their daughter was 10 and their son just three at the time.
After the couple divorced in 1999, Ken ran into financial difficulties with just one income, two children to support and a mortgage to pay. Feeling overwhelmed, he tried to kill himself. Luckily, he did not succeed and instead he approached the Caritas Family Service. With the help of social workers, Ken managed to free himself from his suicidal thoughts.
"When a man's life is falling apart, he tends to hide himself at home and not consider asking for help," says Ken. "I believe the most important thing is that you know when to seek professional help when you are having problems. I'm fortunate that there were some good social workers around to help me at that difficult period of time."
Ken also understands from his own experience that, due to their characters and the way they have been brought up, fathers' concerns tend to be concentrated on the physical needs of their children rather than on their emotional needs and problems. It is hard for them to help children vent their frustrations, express their feelings and relieve their stress.