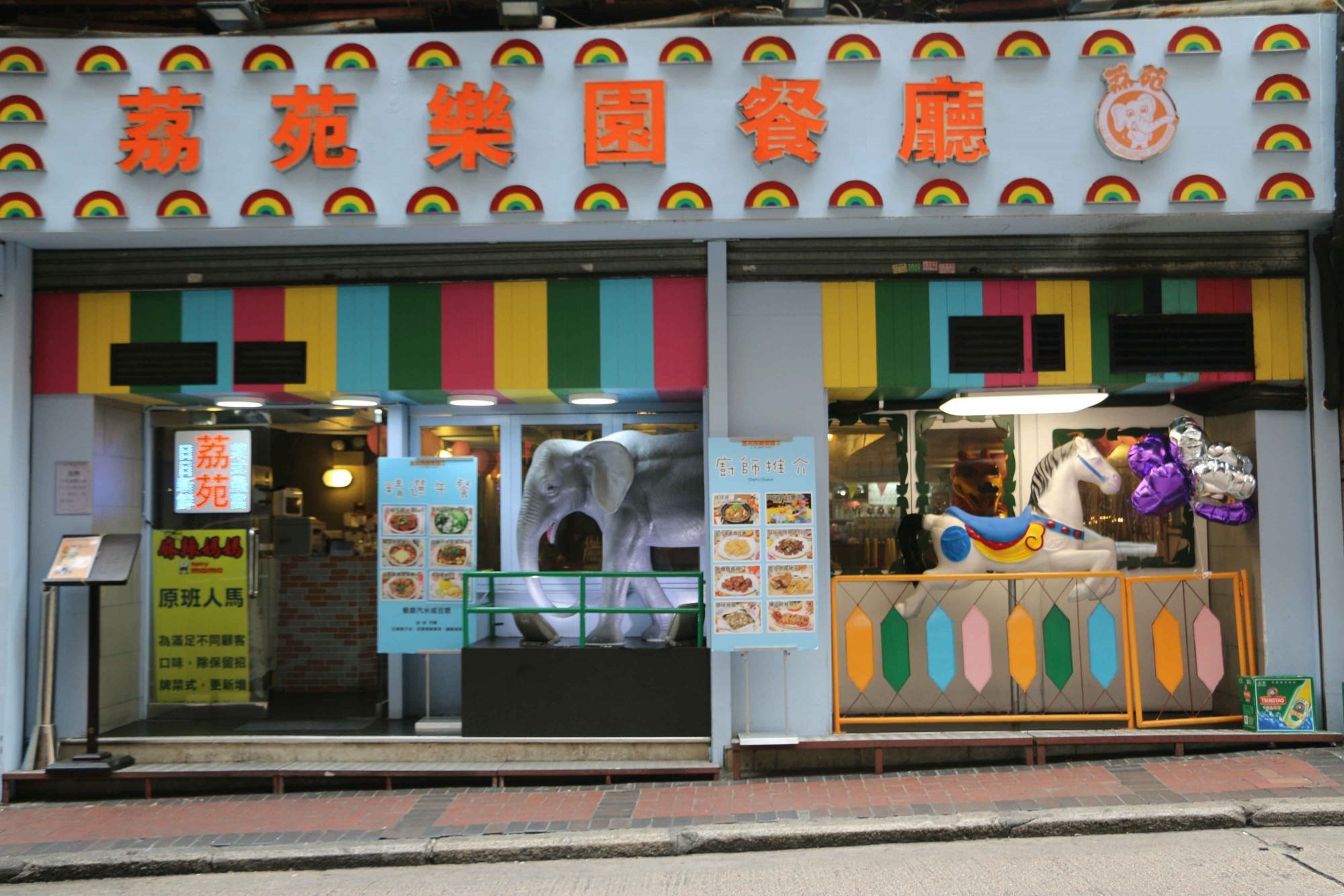 Restaurant recreates demolished Lai Yuen amusement park
By Wing Chan
In a city full of chain stores with unified looks and dull commercial buildings, this Jordan establishment may come as a complete surprise. Step into Lai Yuen Amusement Restaurant in Tak Hing Street and you will find yourself transported back in time. The restaurant's most striking feature – a giant model of an elephant – leaves no doubt that this is an eatery dedicated to the memory of the Lai Chi Kok Amusement Park.
The park, founded in 1949, was once the largest amusement park in Hong Kong. It was demolished in 1997 after 40 years of operation because of fierce competition in the market as Ocean Park took off.
Matthew Chan Sze-long is one the owners of the restaurant. The 42-year-old and his partner Kenji wanted to reconstruct parts of Lai Yuen in their restaurant. At the entrance, is the model of the Asian elephant Tino, the star attraction of the park.
Other features of the park have also been incorporated in the interior design. The slot machine on the wall, the dragon-boat-like roller coaster seats, the Dinosaur house entrance at the back all evoke the collective memory of many Hong Kong people.
The restaurant serves mainly Chinese dishes and a few Western dishes. As customers flip through the menu, they can also find some old photos of the park. The menu is designed as a photo album to trigger nostalgia. The cost of a typical meal ranges from $50 to $100.
The idea for the restaurant was born in September, when the Occupy Movement was just beginning. Chan and Kenji noticed that negative emotions stemming from political conflicts were overwhelming society. They wanted to inject joy and synergy into the city and to remind Hong Kong people of the value of old things.
Their concept strikes a chord with many people. Chan recalls an experience that particularly moved him. Once, a very old and frail gentleman with a walking stick was passing by when saw the restaurant and decided to eat there. The gentleman, who used to work in Lai Yuen, really appreciated Chan's idea. When he left, he said, "Youngster, keep on!" Although he has heard many encouraging remarks from customers, this man's words touched him deeply.
Many people have tried to conserve lost landmarks in the form of artwork, photography or books but Lai Yuen Amusement Restaurant demonstrates an innovative form of conservation that can be shared by many people simultaneously.
Check out the restaurant at 7A-7B, Tak Hing Street, Jordan. You can also call 23770222.
Edited by Jeffery Loa