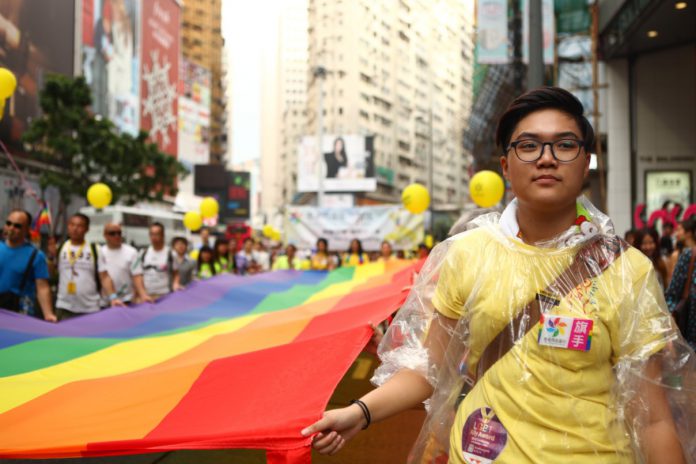 Greater visibility hasn't stamped out discrimination, now the LGBT community faces a blacklash
By Eunice Ip, Maggie Suen
Raymond Chan Chi-chuen realised he was different from other boys when he was in primary school.
"I had two uncertainties as many others had at that time. First, am I the only one? S­­econd, if I'm not the only one, how could I seek out others?" recalls Hong Kong's first op
enly gay legislator. At the time, a child of his age had no concept of what it meant to be gay, lesbian, bisexual or transgender (LGBT).
"Students today do not have those confusions. By simply searching on the internet, they can access texts, pictures, videos [regarding LGBT], as well as forums and dating sites," says Chan.
Chan came out in 2012, the same year that pop singers Anthony Wong Yiu-ming and Denise Ho Wan-see did. Apart from these high-profile figures, recent years have also seen more realistic and positive portrayals of gay characters in mainstream films and television programmes, such as ViuTV's acclaimed Margaret and David – Green Bean series.
The increased visibility of LGBT in public life and popular culture means individuals no longer need to feel alone. But visibility itself does not necessarily create a more favourable environment for being more visible. Young LGBT can still face a harsh reality.
"There was a TV programme about gays. My father disliked it," says 22-year-old Michael Li Hon-ting. Li will openly talk about his sexual orientation if anyone asks but he still keeps it from his family.
Li was not sure of his sexual orientation until he started a relationship with a girl in Form Four of secondary school. Until then, he had told himself he was bisexual rather than gay. "There's at least half-normality when you say you are bisexual. This matches with social norms more," Li says.
After he graduated from secondary school, he plucked up the courage to tell his teacher. The teacher, who was a Catholic, found it hard to accept. "She asked me to think clearly [whether I really love guys]," says Li. She also attributed the emergence of homosexuals to the increasingly open discussions about LGBT in society.
Li observes that university campuses have a relatively free environment where LGBT individuals can talk openly about their issues, but secondary school students are still reluctant to say or reveal much.
Charles Chan, a 17-year-old international school student, agrees. "It's a taboo at school," he says. Chan moved to Hong Kong in 2011 from the Philippines, where he had a miserable time in primary school.
"I was quite feminine. I would do those hand gestures, and run weirdly. So I was called gay or stuff like that," he says. "I didn't really have friends at primary school."
Chan was under great pressure as he hid his identity and disguised his orientation, all the while not daring to seek help from teachers or social workers. He only opened up to intimate friends who gave him their support.
He was also afraid to tell his family because his parents are traditional Asians. Chan says his family once came across a transgendered person in the street. His parents made fun of the person and admonished his little brother, "don't be like that."
"I had sunglasses on, so I was just crying throughout the whole thing, and they just didn't realise I was crying," recalls Chan.
This April, it was Chan's mother who was crying when she guessed that her son was gay. First, his parents pressured him not to tell others but now he feels they have gradually accepted it.
Chan plans to go to university in the United States, which he believes has a more gay-friendly environment. To him, Hong Kong is still not ready for greater LGBT visibility.
"I can't really talk freely because I would be discriminated against," he says.