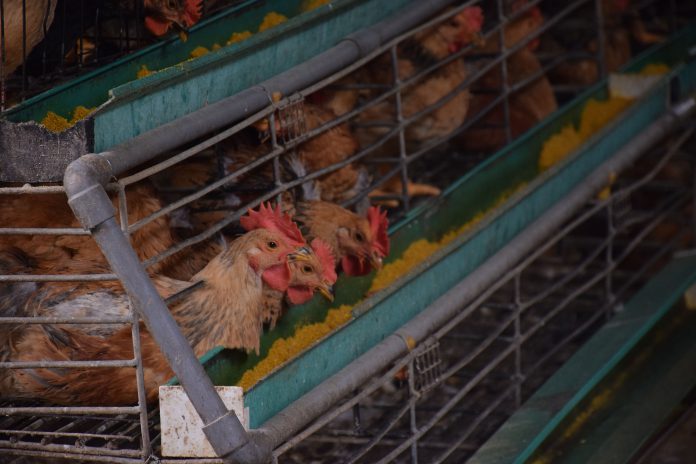 Curbing antibiotics in livestock farming to stem the spread of drug-resistant bacteria
By Civi Yap & Daphne Li
At a fish farm in Fanling, farmer Teresa Chan Suk-chun scatters black soldier flies into a pond teeming with fish waiting to be fed. She breeds the flies as a protein supplement to prevent disease and to avoid the use of antibiotics.
Chan, who is also the chief executive of the Hong Kong Organic Association, believes an ounce of prevention is worth a pound of cure. "Actually if you put more effort into prevention, it is unnecessary to use any medicine," she says. To this end, she strives to provide a better environment for the fish, including using running water to keep the pond clean and aerated.
In 2017, the World Health Organisation issued new guidelines calling on farmers to "stop using antibiotics routinely to promote growth and prevent disease in healthy animals". This is because the use of antibiotics – or antimicrobials – in food animals can lead to changes in microorganisms and the spread of antimicrobial resistant (AMR) bacteria. These AMR bacteria, or superbugs, can then spread to humans via contact with animals, food or through other routes. In Hong Kong alone, one strain of AMR bacteria, commonly known as MRSA, has led to 1,000 deaths annually in the last three years, according to figures from the Department of Health.
Most experts agree the widespread use of low doses of antibiotics by livestock farmers around the world to prevent disease and promote growth has contributed to the spread of resistant bugs.  Lee Leung-kei, a Yuen Long chicken farmer and the chairman of the supervisory committee of the New Territories Chicken Breeders' Association, says the practice was common among local chicken farmers in the 1980s but that it has now stopped. Today, Lee says he does not use antibiotics for disease prevention. Instead, he uses Chinese medicine like fishwort herb powder in the feed to keep the chickens healthy.
It is not just concern over the spread of superbugs that is restricting his antibiotic use. Lee says the stricter government regulation of antibiotics for livestock and the high prices for the drugs means it is hard for farmers to get antibiotics when their birds are sick.
"Buying antibiotics is not like shopping in the wet market, we have to place the order through a veterinary physician. The prescription is not instant and we have to wait for some time [before the antibiotics arrive]," he says. "Even after you buy it, you still have to stick with the [government's] guidelines."
Farmers must first get a permit from the Agriculture, Fisheries and Conservation Department (AFCD) for the purchase and possession of antimicrobials to treat the diseases of their farm animals. The permit covers 20 antibiotics and must be renewed every six months, instead of every three years as previously. Once they have a permit, farmers must then get a prescription from a veterinary physician. In a written reply, the AFCD says it has issued 71 antibiotic permits in total, 43 for pig farms and 28 for poultry farms.
Lee is critical of the current system and the requirement that farmers must first get a vet's prescription before buying antibiotics. He says it is unfair on the farmers as most vets in Hong Kong only know how to treat pets, not livestock
"If we can't use antibiotics, our chickens will die. Who bears the loss of chickens' death? It will not be the government. It is our loss," he says.
Apart from implementing the permit system to monitor the use of antibiotics in livestock, the AFCD also conducts regular and surprise inspections at livestock farms. During the inspections, information related to the types of antimicrobials, purpose of use and amount, route and frequency of administration is collected. The AFCD says there is no evidence from its inspections to suggest antimicrobials are being misused in the local livestock industry.
As for the food safety regulatory system and surveillance programme, the Centre for Food Safety (CFS) takes food samples to test for antibiotic-residue levels. The centre said it sampled over 7,600 meat, poultry, aquatic and related products at import, wholesale and retail levels from 2015 to 2017 and found only seven aquatic food samples with trace amounts of antibiotics residue. It said all other samples were satisfactory.
However, tests and inspections only test for the residue levels of antibiotics and there is no surveillance system on the presence and levels of antibiotic-resistant bacteria.
A Consumer Council report issued in December 2017 gives cause for concern. The council tested chicken on sale in Hong Kong for ESBL-producing bacteria (an antimicrobial resistant bacteria), against guidelines and standards set by the US and European agricultural and food safety authorities. It found over 60 of the 100 tested samples were found to contain ESBL-producing bacteria, with samples from Mainland China and Hong Kong reaching 80 per cent or higher. ESBL-producing bacteria have been found to be resistant to antibiotics such as penicillin and cephalosporin, which is described by the WHO as a "critically important antibiotic to combat serious health threats".
However, Kwok Ming-cheung, a breeder of local Ka Mei chicken, says he thinks there are other factors that affected the test results, particularly environmental factors. "[AMR bacteria] can be tested in the environment, because AMR bacteria are flowing everywhere and do not just appear inside the body," says Kwok.
Kwok says he does not use antibiotics and also questions the degree to which the use of antibiotics in livestock farming has contributed to antimicrobial resistance in Hong Kong. For one thing, he says, it requires far higher dosages of antibiotics to treat infections in livestock than in humans, which means it is not cost effective. "If it costs a human HK$100 for an antibiotic shot, then how would it be possible to sell a chicken for HK$200? So that's why we basically don't use those drugs."
Kwok thinks it is unnecessary for the government to step up supervision on antibiotic use on livestock farms because it will have little or no effect. He points out local farms supply just 10-20 per cent of the domestic market, therefore, he believes they cannot be the source of the spread of AMR bacteria. Not only does Hong Kong import most of its poultry, much of it from the Mainland, but also, according to Kwok, Hongkongers are overly fond of antibiotics. "The biggest problem is that people always require their doctors to prescribe [antibiotics] for them," he says.
This is an argument that Yuen Kwok-yung, the chair of Infectious Diseases at the University of Hong Kong, has heard from farmers before. He says farmers and doctors should not be blaming each other. "Both of them should bear the responsibility [to curb use of antibiotics]," says Yuen. He also suspects that some local farmers are bypassing the supervision system by buying antibiotics in the Mainland.
In any case, Yuen says the use of antimicrobials in the livestock industry contributes to the transmission cycle of AMR bacteria both directly and indirectly, through the selection for and dissemination of AMR bacteria which are then ingested and excreted by animals and humans and end up in rivers and the soil.
As we move into a "post-antibiotic era" where the drugs in our medical arsenal can no longer fight bugs that have become resistant, common infections will become incurable. In recognition of the dangers that this poses, the High-level Steering Committee on AMR under the Centre for Health Protection announced a five-year Hong Kong Strategy and Action Plan on Antimicrobial Resistance in July last year.
The plan outlines a list of actions and activities to curb the growing threat of antimicrobial resistance in Hong Kong, some of which target local livestock farms. However, much of the food consumed in Hong Kong is imported from the Mainland and surveillance on imported food in the action plan has only extended to "conducting surveillance studies in imported day-old chicks and breeding pigs to ascertain if they are significant carriers of AMR microorganisms".
The Consumer Council suggests the government should not only strengthen periodic spot checks on food animals and edible meat from farms, but also at food import checkpoints and retail outlets. It wants to see the High-level Steering Committee on AMR make concrete suggestions and take a three-pronged approach involving reviewing the current legislation in respect of regulations, healthcare and hygiene, and the raising of food animals.
The Consumer Council also suggests the phasing out of permits for the regular use of antibiotics so as to eventually restrict the use of antibiotics to situations in which they have been prescribed for medical reasons by veterinarians.
In order to monitor AMR bacteria more effectively, Chen Sheng, a professor in the Department of Applied Biology and Chemical Technology at the Hong Kong Polytechnic University, suggests locally produced and imported food should be tested for both antibiotics residue level and AMR bacteria because this "will make farmers who produce food for export to Hong Kong be careful not to use antibiotics".
In the meantime, HKU's Yuen Kwok-yung says ordinary citizens can also do their bit to slow the spread of superbugs by observing personal and kitchen hygiene.
"Boil everything you eat or drink, especially when you are taking antibiotics," he says. "Don't go to the hospital unless it is exceptionally necessary."
Yuen suggests that people with symptoms of acute upper respiratory tract infections should see a doctor to assess the likelihood that they have a bacterial infection. "If the risk is low, wait for two days before you start taking antibiotics," he says.
Edited by Kristy Tong