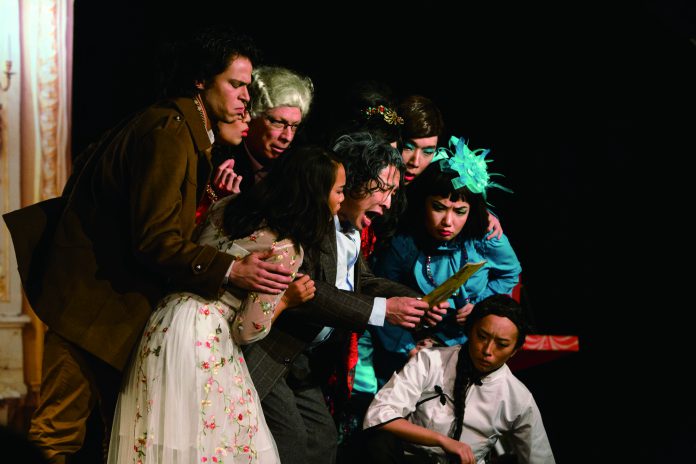 Revamping classic Western plays with a Hong Kong twist
By Raven Hui 
English-language theatre might be a niche market in Hong Kong, but the Shadow Players, a theatre company founded in 2012, aims to change that by modernising classic Western plays to suit the taste of local audiences. Members of the Shadow Players are young local English major graduates, who not only share an interest in theatre and literature, but also gather for a higher purpose — to make classic plays more accessible for everyone.
"We have localised the contexts and characters of the plays but kept the language original," says Joseph Lin Chi-wo, 29, a founding member of the Shadow Players. "We hope more people will be attracted to Western literature and find it more approachable, relevant and fun."
During their regular play-reading sessions, the members choose and discuss a play that might resonate with Hongkongers. Although there may be a few twists in the scripts to make them fit into a local context, changes are kept to a minimum to preserve the original message.
Their first play — The Learned Ladies of the Mid-levels — was based on Les Femmes Savantes (The Learned Ladies) by the 17th-century French playwright Molière. The original play is a satire about pretentious women who like to use fancy words to flaunt their superior education and the Shadow Players found a resemblance in Hong Kong's middle-class. In their version the women are middle-class "tiger moms" who like to boast about the outstanding achievements of their children.
More recently in November, they adapted the American play The Glass Menagerie, in which they re-contextualised the setting from a poor small town in the United States to Hong Kong's public housing estates in the 1960s to give it a local flavour.
Despite differences in the cultural contexts, Lin believes all good plays are based on human experiences that people can relate to regardless of their nationality and generation. "Very often, playwrights build their satire on social phenomenon. This hasn't changed over the years," Lin says. "They are either about how pretentious, fake or corrupt people are, or convoluted interpersonal relationships or broken hope and dreams…It's the same then in the Shakespearean age as it is now."
What sets the Shadow Players apart is that they are an entirely local cast solely performing Western classic plays in English. "There are very few theatre groups in Hong Kong – so few that you can count them on one hand," he says. "So it is actually a really big untapped market."
He thinks attracting audience is not an issue, as most of their tickets sold out quickly, but finding venues can be a real challenge. "We think our biggest bottleneck is the lack of institutional support [on the venues] because performances in industrial buildings would be shut down and people are unwilling to go there."
However, Lin remains optimistic about their prospects. He says there are more people who are interested in English theatre than expected, as their audience includes not just drama students, but many professionals as well. "Actually, we need to have more faith in Hong Kong society," he says. "After all, we are an extremely educated and culturally diverse society."
The Shadow Players are currently recruiting undergraduate students to join and share their enthusiasm for theatre. Visit their website http://hkshadowplayers.com or their Facebook page @HKShadowplayers for more details.
Edited by Angela Ng