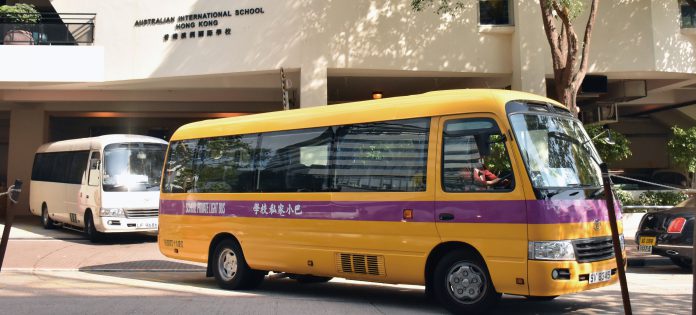 Parents raise concern over students' safety as safety belts are not equipped in all school buses
By Alice Wang and Kelly Chen
Road traffic congestion is nothing new in busy Hong Kong every morning. Among the many vehicles flooding the roads across the city are 5,212 school buses conveying tens of thousands of school pupils from homes to school.
Out of the 50 school bus accidents that took place between 2014 and 2018, one of the most severe school bus accidents happened when a bus rammed into a road divider in Kowloon Bay in December last year, injuring seven students aged between six and 11.
Ms Li, whose nine-year-old daughter studies on Hong Kong Island, raises concern about school bus safety. "Children do not fasten their safety belts when they are on board. There's no seatbelt on the coach," Li says. "It worries me that the driver might be driving too fast as the children sometimes describe it as a roller coaster ride."
Li thinks the children are not well protected due to the lack of safety belts on school buses. "I think it is necessary that children fasten their safety belts. However, there may not be safety belt on the bus or the school bus attendants do not require the children to do so because they will get off from the bus soon."
The Transport Department requires all student service vehicles registered on or after May 1 2009 to install "safer seats" – strong and closely spaced seats with high and energy-absorbing seat backs – to reduce the risk of students being thrown out of their seats and the extent of the injuries in vehicle collisions.
However, safety belts are not required by law. The department's figures show by January, 22 per cent of school buses riding in the city are without safer seat or safety belt installed.
Concerns from the Service Provider
Lam Chi-ping, chairperson of School Buses Operators Association, says parents nowadays are more cautious about school bus safety. "Parents always ask if there is any safety belt available on the school bus to be reassured."
He says there is concern hanging in the air when it comes to mandatory installation of safety belts.
"After some previous coach accidents, some people have demanded shuttle bus companies to install safety belts," he says. "It is better for the new batch of buses now as they usually come with safety belts. However, it can cost up to HK$300,000 to install safety belts for the old-modelled ones." Lam adds that most companies tend to phase out the old models, instead of investing a hefty sum for new installation.
Even if old coaches are replaced that safety belts are available, Lam says it remains unclear who should take up the legal responsibility for not fastening the safety belts.
"Should the responsibility to fasten safety belts be held by the passengers, the drivers or the attendants?" Lam questions. "If the onus lies on the drivers and attendants, their responsibility would be huge because they have to look after all children," he adds. "But you cannot keep your eyes on them all the time."
However, Ho Chu-ping, president of the Federation of Parent-Teacher Association in Tai Po says otherwise. Ho believes the attendants and drivers have the responsibility to ask students to fasten their safety belts. "They are responsible for looking after the children during the ride. They need to have the safety awareness to take care of the children."
He adds that many kindergarten school instructors would now act as escorts to take care of the children during the ride for that they know better about the children, "These instructors would act as attendants to accompany the children along the bus ride. Discipline of the children becomes better, but school bus fee will definitely go up."
Are Seatbelts Necessary?
Despite a growing interest calling for safety belt installation on school buses, there has been a long-running debate over whether school buses are safer with safety belts. Lo Kok-keung, a veteran mechanical engineer, believes ordinary safety belt is not necessarily the best protection for children because it is usually measured at adult's size.
"A three to four-year-old kid can easily pull their neck if he or she is wearing an adult's seatbelt and the waist part (of the seatbelt) will be too loose for them, thus having limited effectiveness to keep them safe," he says.
However, Lo thinks safety belts are essential to keep the passengers intact during an accident. "The ride is only safe when one is wearing a seatbelt. You can always keep the children protected when a seatbelt is fastened. In case of any car accidents, the kids would not be thrown outside of the vehicle," he says.
Lo suggests that school bus companies install child car seats with specially-designed safety belt to reduce the risk of death and injury in a traffic collision, "They are like baby seats for private cars. You can put a few on your bus – which means you do not need extra installation."
Stepping up to safety
Safety measures on non-franchised buses like school buses have been widely discussed following a serious traffic accident in February last year. A KMB bus flipped onto its side in Tai Po with 19 people killed.

In January this year, an independent review committee made 45 recommendations for franchised bus operations in the city, which included: providing funding for franchised bus operators to promote the use of new safety technology and requiring buses to provide real-time alerts of excessive speeding.

"Poor driving behaviour can only be uprooted only if drivers are reminded of their problems whenever they are spotted."
Dr Hung Wing-tat, a long-time member of the Hong Kong Society of Transportation Studies, believes similar practices should be introduced to non-franchised buses that would ride on highway with speed limit above 70 kilometres per hour. "Every vehicle on the highway, especially those carrying passengers, needs to reinforce their safety apparatus."

"There are some safety devices available in the market that can reveal if a driver gets exhausted, dozes off, drives too close to a vehicle in front or has sudden acceleration and halt." He suggests school bus companies install these devices, and remind drivers of the risk of dangerous driving behaviour.
These devices will be of great help to school bus safety. The Transport Department finds accidents involving school bus last year were mainly caused by drivers who were "driving too close to the vehicle in front" and "disobeying give way sign".
Hung believes training of drivers are of utmost importance. "Even if these safety devices are in place, management of bus companies should also offer retraining and valuation system to drivers. Poor driving behaviour can be uprooted only if drivers are reminded of their problems whenever they are spotted," he says.
Edited by Daphne Li