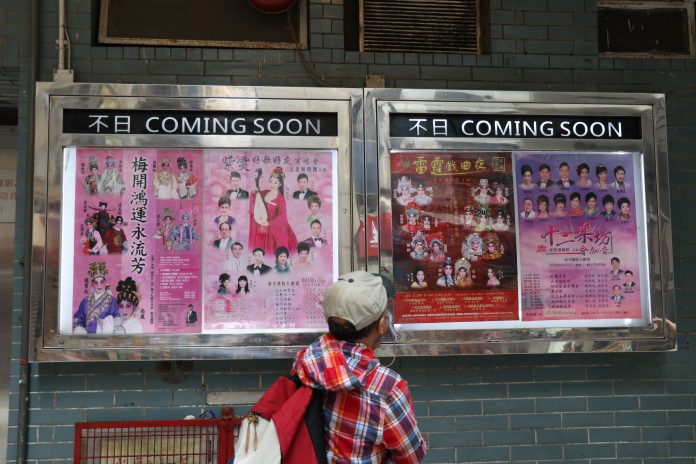 Can the opening of Xiqu Centre rejuvenate Cantonese Opera?
By Alice Wang
Every Saturday, Cheng Tin-ho, 10, goes to the Mills, a revitalized arts and cultural complex in Tsuen Wan to attend a class. It is not piano or ballet class that many children in Hong Kong join but Cantonese opera.
The underlying mask of Cantonese opera
His mother, Wong Ching-han, admits that she had no knowledge or interest in the traditional Chinese art before getting her son studying in the Cha Duk Chang Children's Cantonese Opera Association. "Originally, Cantonese opera was just noise in my mind," she says, adding that she hoped her son would learn to be patient by attending the class.
But her interest in this centuries-old art has grown. "When I pass by Sunbeam Theatre, I will start checking out the upcoming shows," she says, and no longer finds Cantonese opera noisy, but an art to appreciate.
The Cha Duk Chang Children's Cantonese Opera Association's site inside the Mills is divided into two parts. One for visitors to take pictures with different Cantonese opera costumes, another one for students to learn skills and methods of vocal and dramatic training that performers have to master.
Cantonese opera with singing and spoken scripts delivered in Cantonese dialect is popular in Cantonese-speaking regions, such as Guangdong, Hong Kong and Macau. Its variegated costumes, distinctive singings and symbolic gestures attract people from all over the world. In 2009, it was inscribed onto the UNESCO's Representative List of the Intangible Cultural Heritage of Humanity.
However, the younger generation in the city may not know how to appreciate this traditional art form.
Is education enough?
While teaching Cantonese operatic music is compulsory in the HKDSE Music curriculum, not all music teachers are equipped with the knowledge to teach it.
Li Yin-hing, Program Officer of the Cha Duk Chang Children's Cantonese Opera Association, says: "If a school teacher teaches Cantonese opera by himself or herself, he or she will play pieces of traditional music and videos of Cantonese opera, or just open a textbook and ask students to sing a Cantonese opera song together."
In Li's view, making Cantonese opera compulsory in school's music class can let students learn Cantonese opera. But such teaching methods are inefficient to cultivate children's interest or increase their participation in Cantonese opera.
In 2005, to help develop Cantonese opera, the Home Affairs Bureau (HAB) set up the Cantonese Opera Development Fund (CODF) for local associations. CODF aims to support and fund different kinds of projects to help promote Cantonese opera. Meanwhile, some non-governmental associations also offer funding to support Cantonese opera, such as the Hong Kong Jockey Club Music and Dance Fund. But resources are still limited, so not all schools have the financial ability to seek help from Cantonese opera associations to train music teachers.
Nowhere to perform
Li points out small opera associations struggle to find suitable performance venues due to expensive rents in private sites. "For some local small troupes, we cannot afford the rent for performance sites if there is no subsidy," she says. Cantonese opera associations find it hard to book public performance sites which are much cheaper to rent. While major performance sites are often reserved by big opera associations, local small troupes can only turn to sites they can afford.
"It is difficult for us to set the stage or carry performance props," she says. Li shares their experience of using Youth Square in Chai Wan, which turns out to be an unsuitable site, as it is not specially built for performing Cantonese opera.
Officially opened on January 20, 2019, Xiqu Centre, is the first completed project of the West Kowloon Cultural District and the first professional Cantonese opera performance centre in Hong Kong. Occupying a total of 28,164 square metres, the Xiqu Centre holds a Grand Theatre, a Tea House Theatre, eight professional studios and a seminar hall. They are all specially designed for different types of functions and activities related to Chinese opera.
But some insiders reflect that the government may give priorities to famous Cantonese opera troupes to use performance sites at the Xiqu Centre, so it may not be available for the small-scale ones. Also, the expensive rent may not be affordable for them.
"Having one more performance site is better than one less," says Lau Wai-ming, Artistic Director of Yeung Ming Cantonese Opera Troupe. She believes the opening of Xiqu Centre is good news for Cantonese Opera. While she appreciates that the government has put effort into the Xiqu Centre, she believes another challenge is that there are not many performance sites specifically designed for Cantonese opera.
Who can help?
Other than shortage of performance sites, Lau believes the development of Cantonese opera is not on the right track. "We are now developing arts with government resources and we have to comply with government policies, but not all activities from the creative industry are supported by the government," she says. Lau thinks it is inappropriate for arts association to change their principles in a bid to receive government support.
Lau also points out the current policies tend to favour younger artists, which could drive current artists out of the field due to the lack of support. When the quality of current performance is affected, it can possibly lead to loss of audience. But, Lau stills feel optimistic about the future of Cantonese opera, with the growing population of old people in Hong Kong. "It is absolutely normal for a 60-year-old to appreciate Cantonese opera as an art form with their own life experience," she says.
Future of Xiqu
Lau believes there is a need to sow the seeds for younger audience to accept this traditional art form now. "The main purpose of promoting Cantonese opera to children is not just to cultivate actors, but also to cultivate the audience," Lau adds.
In order to preserve Cantonese opera, Ching May-bo, professor of History at the Department of Chinese and History at the City University of Hong Kong, believes it is a collective responsibility. "No one should be blamed for the problems in the development of Cantonese opera today," she says.
Ching stresses that we should respect opinions from Cantonese opera performers, while we as audience, can give honest comments to them so that they can improve. Also, we should advise the government to follow up and review its funding allocation and adjust it accordingly.
All in all, Ching believes Cantonese opera will embrace a glorious future. "Since everyone knows that there is a problem, it is a good start for Cantonese opera," she says.
Edited by Erica Li