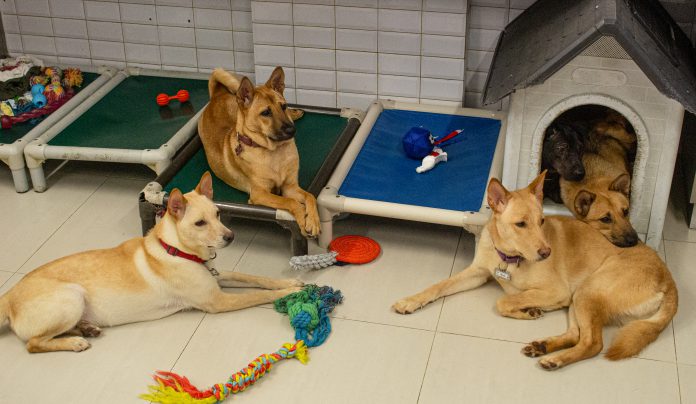 People should adopt pets instead of buying them to safeguard animal welfare
By Kassandra Lai & Savoki Zhang
"Charcoal stood out from others because it was so energetic, cheerful and tame," Veronica Chan recalls the first moment she saw her lovely dog at a carnival promoting dog adoption and responsible pet ownership two years ago.
Playing with Charcoal, a three-year-old male mixed breed dog, for a while during the event which was supported by various animal welfare organisations with the Agriculture Fisheries and Conservation Department (AFCD), Chan made up her mind to take it home.
The second-year nursing student at the Chinese University of Hong Kong (CUHK) initially thought that pets awaiting to be adopted feared human beings and might have illnesses. But she found out they are well taken care of by professionals in adoption shelters. "Some people believe pets from adoption centres have behavioural problems. However, Charcoal proves them wrong," she says.
Buy pets drives illegal breeding
Chan adopts her pet simply because she wants to save lives. "I heard that some pet shops in Hong Kong are breeding animals illegally and mistreating them," the 19-year-old student says. "Buying pets from pet shops may help breeders expand their business and this will harm the animals."
Illegal traders set up breeding facilities in rural areas where dogs are bred like factory products to cash in on pet trading that is worth millions of dollars a year in Hong Kong. For example, 135 dogs and cats were found housed in 76 crates under poor living conditions suffering from serious illnesses in Tai Kok Tsui in 2013. In 2017, 101 dogs were found at a breeding house in Yuen Long where they were trapped in overlapping and filthy crates, underfed and weak.
Chan continues that the practice of euthanizing pets in Hong Kong also prompts her to adopt pets. "Some of the pet shelters in Hong Kong may euthanize animals if they can not be rehomed. That is really sad," she says.
According to a written reply from the AFCD, the number of animals not suitable for adoption and eventually being euthanized by the AFCD rose from 2,660 in 2017 to 6,366 in 2018 but dropped to 3,419 in 2019.
"The big problem is the consumer. The illegal trade can only function if there is a demand from the consumers," says Dr. Fiona Woodhouse, deputy director of the Society for the Prevention of Cruelty to Animals (SPCA).
IN TERMS OF THE ETHICAL APPROACH, YOU ARE GIVING AN OPPORTUNITY FOR UNWANTED PETS TO FIND A HOME
says Dr. Fiona Woodhouse, deputy director of the SPCA
Law to protect animals
In March 2017, Hong Kong government revised the Public Health (Animals and Birds) (Trading and Breeding) Regulations, requiring every person who sells and breeds dog to obtain a Dog Breeder Licence and with a higher penalty from $2,000 to $100,000. The licence comes with a code of practice which details the arrangements for licensed premises and the care of a dog.
With stricter legislation in place, Woodhouse calls on the customers to double-check the legitimacy of breeders' licence and avoid buying animals online. "It's very difficult for the government to locate social media usage and private messaging," she adds.
Amid worries that the licensing system would set a low bar of eligibility for home breeders as it relies on self-reporting system to let breeders judge by themselves whether they comply with the code of practice, Woodhouse says, "this licensing system is one of the targets in the world."
Yet, Sally Anderson, founder of Hong Kong Dog Rescue (HKDR), says the AFCD is understaffed and illegal breeders are still operating as they did before.
Some states in the United States, such as California and Maryland, have passed laws to prohibit pet shops from selling dogs bred in dog breeding facilities – "puppy mills". They can only obtain animals from breeders that meet requirements laid out in the bill. Meanwhile, the United Kingdom is also planning to ban third-party sales of puppies and kittens starting from April 2020.
Under the new licensing regulation, the investigation unit of the AFCD has stepped up actions against illegal sales of dogs by looking for "dog for sale" advertisements on the internet and conducting regular inspections to shops selling pet accessories and offering pet-related services.
Up to December 2019, the AFCD prosecuted 72 cases of selling animals without a license out of 695 complaints.
Measures to encourage pet adoption
In a bid to encourage pet adoption, animal rights concern groups and the AFCD regularly organise events, like school seminars and holding exhibitions with celebrities. Such works have led to an increase in dog adoption from 6.4 per cent in 2010 to 17.8 per cent in 2018 and cat adoption from 12.4 per cent to 19.8 per cent, according to the Thematic Household Surveys conducted by the Census and Statistics Department. However, 34.8 per cent of dogs and 19.9 per cent of cats were still obtained from pet shops in 2018.
"More resources should be put on education and prevention rather than giving money to the animal shelters," Woodhouse says.
Education helps change public mindset and prioritise adoption over personal preference. "Adopters may have in mind that they want a certain breed of dog or cat. Sometimes people have preference over the colour. Age can be a factor." Woodhouse continues. A system that helps operators to find shelters for animals is also needed as it is difficult for them to find places allowing pet owners to have a pet at home in Hong Kong.
The Housing Authority has forbidden public housing tenants to have pets since November 2003, unless those with permission, such as service dogs, small household pets and desexed cats. Woodhouse suggests Hong Kong can learn from Singapore's housing policy and project ADORE (Adoption and rehoming of dogs). Each public housing household is only allowed to adopt one local crossbreed dog when it is around seven to eight months of age and has to comply with stringent ownership conditions, like sterilization and compulsory training.
Procedures for pet adoption
Many people hesitate to adopt pets, fearing there are complicated and lengthy processes, but Anderson says, "There have to be some questions asked but there's a limit as to what's actually necessary."
"The main thing we look for is whether the adopter has a good understanding of what a dog is, meaning that it's an intelligent animal with emotions, feelings, and a need to be part of a family," she stresses.
MANY PEOPLE MISS THE FACT THAT PUPPIES NEED COMPANIONSHIP, SOCIALISATION, TRAINING, AND FREQUENT MEALS TO GO UP INTO HEALTHY AND WELL-ADJUSTED ADULTS,
says Sally Anderson, founder of HKDR
Chan says she has a happy experience when she adopted Charcoal.
"We first registered by filling in forms and a home visit was also arranged later. After all these, we were allowed to pick up Charcoal from the shelter," Chan recalls.
"The adoption procedures may bring some inconveniences as we have to arrange a time for a home visit, but I think nothing can get in your way once you are determined to adopt," Chan says.
Edited By Howard Li
Sub-edited by Jasper Cao