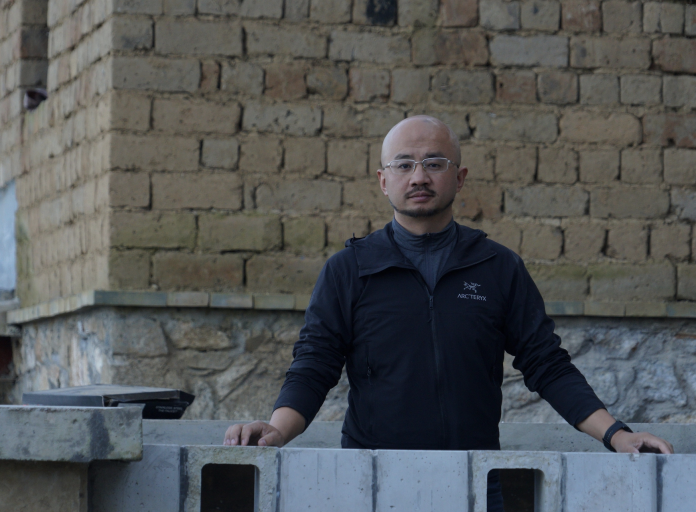 Architect Shu Tan shares his design philosophy and his life in Dali and Hong Kong.
By Coco Zhang in Shaanxi
Shu Tan has not seen his family for ten months. The 40-year-old independent architect's life is split in half by the coronavirus pandemic, leaving him unable to travel from Dali to Hong Kong, where his wife and two daughters are living now.
Travel Between Dali and Hong Kong
The German-educated architect spends most of his time in Dali, a Bai autonomous prefecture in Yunnan, China, to conserve traditional style dwelling, and flies back to Hong Kong every other week to visit his family.
"I always catch a red-eye flight back home so that I can use my time efficiently. When my daughters wake up in the morning, I'm on their sides," Shu says. He has two daughters. His six-year-old daughter is a primary school pupil, and the youngest girl is one year old.
He drives his daughter to school, plays with the two, and spends quality time with his family. "I'm just an ordinary father when I am back in Hong Kong," Shu says.
Shu met his wife in Dali in 2010 after he went back from Germany. Seeking more personally satisfying work, his wife went to Hong Kong to be the director of Tanoto Center for Asian Family Business and Entrepreneurship Studies at The Hong Kong University of Science and Technology. "We choose the way we like, and we are happy," Shu says.
Shu went to Dali to pursue a career he loves. "Dali is a warm harbour full of inspirations," says Shu, who was born in this Bai community in 1980.
"My designs are rooted in minority cultures… Dali helps me turn my idea into reality," Shu says. "Dali has land with potential for development, unlike Hong Kong where there are more restrictions," he adds.
Shu has not visited his family for ten months since January this year. He devotes his time to a rural reconstruction project in Hong He.
"The folk dwellings are not only about houses but also thousands of years of Hani culture and wisdom of skillful craftsmen,"
The rural district is an unexploited Hani minority region with rich tourism resources that have not been developed yet. Shu and his team are working on a project to build a collection of modern rammed earth buildings. Shu spends a third of every month in Hong He, communicating with workers, coordinating and tracking the project schedule to align the client's requirement. The project also helps promote tourism industry in Hong He.
Landslide is frequent in Hong He especially during rainy season in July and August. Most rural reconstruction projects choose to adopt modern ways to rebuild houses. Shu follows traditional building techniques to safeguard Hani cultural inheritance by building sustainable rammed earth houses.
The basic idea of rammed earth is using dirt to build a house.
"The folk dwellings are not only about houses but also thousands of years of Hani culture and wisdom of skillful craftsmen," the architect says.
A Spiritual Space
Shu tries to feature the relationship between a house and the surroundings in his design.
"People need space for meditation," Shu says. There is a tearoom at Shu's studio where he can relax and think in this quiet space. This kind of "quiet room" is an essential element in his design, featuring Shu's philosophy with his architecture.
"Most of my designs are after quality of life instead of making a profit. Some of my friends or my clients ask me to design their homes, and I give them a unique space of their own," Shu says.
There are many boutique accommodations at the edge of Erhai Lake. Many have rooms with a sea view for tourists. But Shu plans to build a wall on the side facing the sea to create an enclosed area for meditation.
"My design is not just for materialistic values, but for providing a personal space where people can stop and think. I want people to build their spiritual space in my design," Shu says.
"Don't look at the sea by the sea is a higher state of consciousness. People need to build walls around themselves so that they can look inward," he says.
Shu has his "quiet room", a darkroom for meditation in Dali.
As a real shutterbug, he uses a film camera to record life, especially every step of his daughters' development. "Thanks to the pandemic, I have time to do things that I have no time to do," Shu says. He built a darkroom in his yard to develop photographs in May.
"I have hundreds of rolls of films that haven't been developed. I now spend most of my time in this darkroom. The pictures always bring me back to the days when I was with my family. That makes me feel like they are always with me," Shu says.
He reflects and thinks about the meaning of family, the meaning of career, and the meaning of his own life in this 20-meter square room.
"I want to leave something meaningful to my daughters. Something can shape their view of themselves and the world," Shu says. "I want them to know why they live in this world instead of being assigned to live in a certain way. I hope they can find their own space one day."
"I want them to know why they live in this world instead of being assigned to live in a certain way. I hope they can find their own space one day"
Edited by Lasley Lui, Regina Chen