University students on the spectrum struggle while there is a lack of available support.
By Chloe Tam
Diagnosed with autism spectrum disorder (ASD), university student Yu, who only reveals her surname, has been struggling with her study and social life.
"Studying at the university is a huge challenge for me. Learning academic theories itself is easy but making friends is tough, especially for autistic students," Yu says.
The Year Three student shares that she finds it difficult to handle group projects, and she prefers working alone to avoid clashes with classmates.
"There are many group projects. I am scared of group projects and feel nervous about them, as I do not know how to do division of labour with other students tactfully. Conflicts happen all the time," Yu says.
"Most people do not understand my situation. To avoid disputes, I stayed away from group projects in the first two years of my study by asking course instructors to let me work alone," she adds.
Yu says it is difficult for autistic people to interpret the implied meaning of others' wordings, leading to misunderstanding and conflicts.
"My emotions are vulnerable to peer influence. I feel extremely guilty if I misunderstand them," she says.
The student sometimes overreacts to unexpected incidents.
"A course instructor's microphone broke one time and made a loud and high-pitched noise. I cried for the whole lesson because of it. I knew it was disturbing but I could not control myself. Once my emotions are triggered, it takes me a while to recover," she recalls.
The social work major wants to speak for Special Educational Needs (SEN) students after graduation. She changed her major from food nutrition to social work after her second year of study.
"I met a good social worker. She accompanied me when I was having a mental breakdown. She also spoke for me when I had a conflict with my teacher. It was a life-saving act. I want to do the same for others too," she says.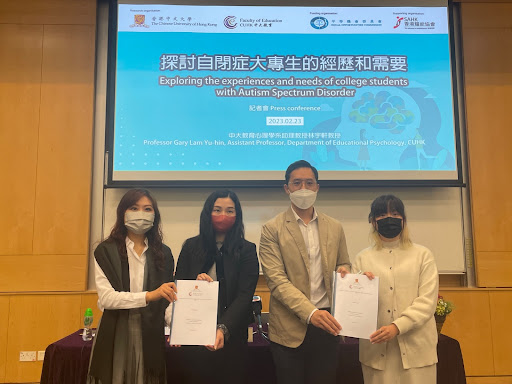 A common challenge
Professor Gary Lam Yu-hin of the Department of Educational Psychology at the Chinese University of Hong Kong (CUHK) has conducted studies about ASD students' learning difficulties.
"Although ASD students are capable of enrolling into universities, their graduation rate is comparatively lower and their mental health is worse than other students," Lam says.
According to the Education Bureau, there were 191 ASD students enrolling in full-time accredited undergraduate or sub-degree programs in Hong Kong.
Lam conducted research on the experiences and needs of Hong Kong university students with ASD from 2021 to 2022. It was funded by the Equal Opportunities Commission and supported by SAHK, a local rehabilitation non-government organisation.
The study found students faced challenges in learning, social communication, emotional and sensory issues, transition and career prospects, being misunderstood by others, disclosure of ASD or SEN conditions, and varied services for autistic students at different institutions. 
"Autistic students find it difficult to adjust to changes in routines such as switching from physical class to online lessons. It is because experiential learning activities such as live demonstrations cannot be carried out via Zoom. Theories and concepts taught via Zoom are too vague for them to understand," Lam says.
"Many people stereotype autistic people as bus fanatics who like being alone. Teaching staff are not familiar with the support measures available for autistic students as well. Worse still, discriminative behaviour may cause autistic students to struggle if they should disclose their condition. People who are not informed about autistic students' condition may also question why special arrangements are given to some of them," Lam adds.
Supporting students on the spectrum
Dr Joanne Wong Chi-yan from SAHK points out that the support for autistic students at tertiary institutions is limited.
"In some schools, there is only one staff in charge of SEN student-related affairs such as the University of Hong Kong, the School of Professional and Continuing Education and Hong Kong Community College. Yet, more and more autistic students are admitted to these institutions," Wong says.
Doris Tsui Ue-ting from the Equal Opportunities Commission shares Wong's view.
"The resources for SEN students are mainly allocated to acquiring hardwares such as learning facilities and equipment. Very little is offered to help students understand lectures and facilitate teachers to teach," Tsui says.
"More resources can be deployed for orientation camps so that student committees of the camps can better cater to autistic students' needs. Peer support is important to autistic students. This does not require a lot of money, but it is very helpful. The key to the problem is to offer people-oriented help and support," Tsui says.
Edited by Lesley Lam
Sub-edited by Victoria Fong