If you're confused by the political platforms of the unprecedented number of candidates standing in Sunday's Legislative Council election, then check out our tables outlining their stances on issues that matter most to young people.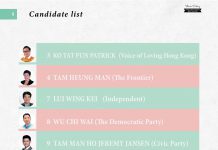 In the third part of our series on where candidates stand on issues first-time voters in Sunday's Legislative Council Election care most about, we look at Kowloon East.
The last installment of "Where they stand on the issues" covers the District Council functional constituency, popularly known as 'superseats'. The recent withdrawal of three pan-democrat candidate lists has intensified competition for two candidate lists vying for the fifth seat in the functional constituency.