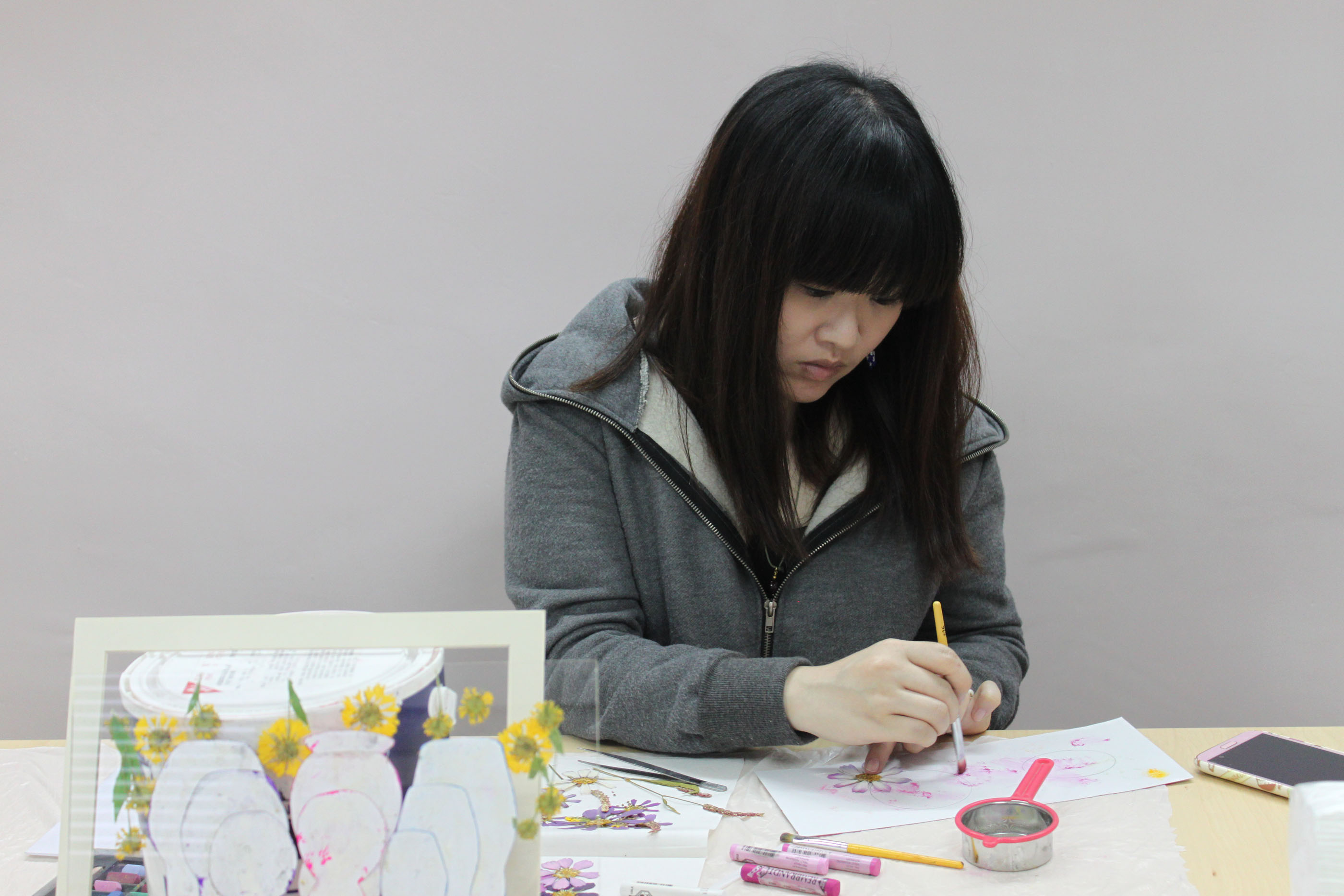 Create your own pressed flower products at Heart of Heartz
By Jayce Lai
Do you want to send real flowers that will never wilt or preserve the beautiful blooms that you have received? Pressed flower craft will let you do just that. At Heart of Heartz Press Flower Association, you can create your own beautiful and elegant pressed flower products.
The craft of pressing flowers has a long history. Originating in England in the Victorian era, it has experienced a revival in the last few decades. The process of making pressed flowers consists of drying and pressing flower petals and leaves to remove the moisture. The pressed flowers and leaves can then be used to in various ways, such as incorporating them into paintings or different handicrafts and accessories.
Trista Tse, the founder of Heart of Heartz Press Flower Association, was a banker before she became a pressed flower instructor. Inspired by a pressed flower exhibition during a trip to Taichung in 2012, Tse decided to quit her job because she found herself more interested in making pressed flowers. She decided to take a pressed flower course in Taipei and returned to Hong Kong to set up Heart of Heartz Press Flower Association.
To Tse, pressed flower art is a kind of meditation that brings her deep-down peace. "[When I'm doing pressed flower] I forget about the world as I only focus on making the product," says Tse with a satisfied smile on her face.
Tse says that pressed flower art has inspired her to enjoy life in the slow lane and appreciate the beauty of nature more. As Hong Kong is a hectic place where people are often too busy to savour and enjoy life, Tse hopes to promote the attitude of slow-living through her pressed flower workshop.
Heart of Heartz offers workshops that allow people to create their own pressed flower products. Don't worry if you do not have any prior experience of the craft as Tse will provide detailed instruction. Classes are usually small, with two to six people in each class. Fees range from HK$380 to HK$980, depending on the type of products made and the number of lessons required.
Apart from holding classes, Heart of Heartz also sells many lovely pressed flower products, from accessories, clocks, to kitchenware and bouquets for weddings. Every product is uniquely designed by Tse.
If you are interested in pressed flower art or simply want to treat your loved ones with a special gift, head to Heart of Heartz. You can also check out its Facebook page at www.facebook.com/heartofheartz
Edited by Yan Li