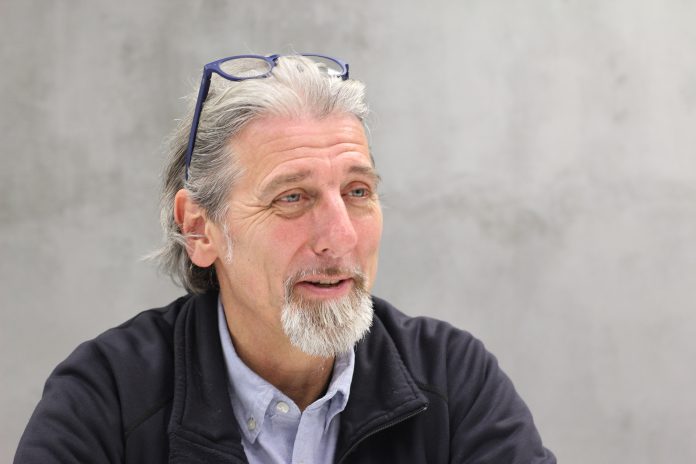 By Ada Chung
Incumbent Southern District Councillor Paul Zimmerman is making his third bid to enter the Legislative Council, this time for the Architectural, Surveying, Planning and Landscape functional constituency seat  previously held by Edward Yiu Chung-yim.
Yiu, who was disqualified for deviating from the official script when he was taking his oath as a legislative councillor, is backing Zimmerman, who is also supported by others in the pro-democracy camp.
The Dutch-born urbanist believes he can help to bring together people from different sides when it comes to the city's planning and development.
"So all these issues [related to the city's development], are bringing people from different sectors and that is something that I have always done, and this is what I hope to continue to do and I think definitely a strength that I have."
Zimmerman says the government only spends money on large scale projects, and neglects small-scale community projects and public projects which he believes would benefit both the public and small firms.
"The problem in Hong Kong is for young, small architects, planners and surveyors to get their hands dirty and do nice things," Zimmerman says."[areas for community projects] they're all ready to go, but there is no money, no program to fix them up."
He also wants the government to enact a 'conservation bill' to protect areas from being destroyed during redevelopment. He explains that while the government currently distinguishes and zones conservation areas, there is insufficient legal protection. Zimmerman thinks that the public may be more willing to accept development in greenbelt areas if there were a conservation bill.
The former Civic Party member is critical of the government's housing plans and believes there isn't enough pressure on the administration to consider alternative sites for redevelopment, such as brownfield areas – or 'inefficiently used land' in the New Territories. He believes this is mainly because the government is unwilling to negotiate with landowners – some of whom are linked to the Heung Yee Kuk.
Zimmerman faces a tough fight in a seat that had always been held by the establishment camp before Yiu's groundbreaking victory. And his image took a knock following a series of media reports about illegal structures in his Sai Kung residence. Although he has since removed the unauthorized building works, Zimmerman believes he could have handled the issue better.
"Of course I regret that situation has come about," he says."If I could turn the clock back, I would have been much smarter."
Zimmerman adds he has never tried to hide the fact that there were illegal structures at his home and he had in fact registered them under the 'Reporting Scheme for Unauthorized Building Works' with the Buildings Department in 2011.
The other candidate running in the Architectural, Surveying, Planning and Landscape functional constituency in the 2018 Legislative Council by-election is former legislator, Tony Tse Wai-chuen.
Edited by Yi Yeung