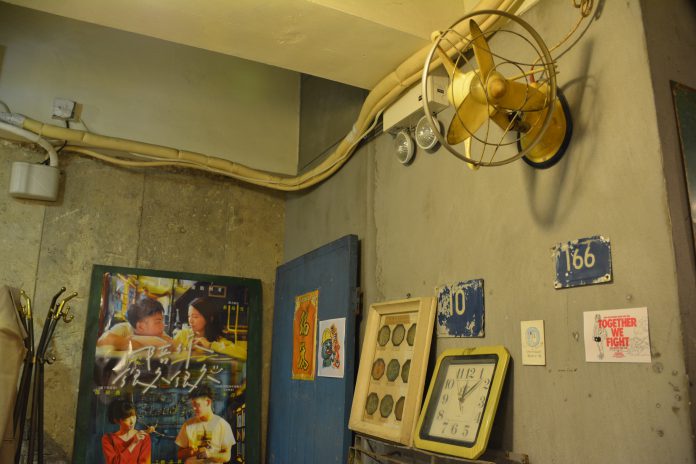 A Taiwanese restaurant inside an industrial building can bring you back to the old times.
By Tommy Huang
School Café (小時光) is a Taiwanese restaurant inside an old industrial building in Kwun Tong. Decorated like an old school, School Café is not simply a restaurant to dine in, but also a place to turn the clock back.
The owner of School Café, Kevin Chan, is a Hong Konger who loves Taiwanese food so much that he opened a Taiwanese restaurant.
Chan also likes to collect old stuff. Old desks and chairs in School Café were originally abandoned when some schools underwent renovation in Taiwan. Chan collected and brought them to Hong Kong. He thinks it is wasteful to throw away old school furnitures which are now used in the café as dining tables and chairs for customers to sit.
Hongkongers love Taiwanese romantic movies like "Secret (不能說的秘密)" and "You Are the Apple of My Eye (那些年,我們一起追的女孩)". Posters of these films are hung on walls in the café. Customers can feel as if they are in Taiwan once they step into the restaurant. "I have seen movies "Detention (返校)" and "Our Times (我的少女時代)", so I find these old desks and chairs familiar," Bowie Mok, a Hong Kong customer says.
Second-hand comic books are also available for customers to read at the café. Japanese comics became popular in the 1970s in Taiwan and Hong Kong. "I like Slam Dunk and comics by Mitsuru Adachi," Cannie Chan, manager of School Café, says. "Dragon Ball was also popular in my time, but it was not my favorite," she adds.
"It brings my childhood memories back. I see action figures of Mazinger Z, which we all watched when we were young," Lai Jui-Chin, a Taiwanese customer shares. Antiques such as action figures, sashes, fans, television, and telephone are all special features of its decoration.
Red-braised beef noodle soup and braised pork on rice are School Café's signature dishes. Most of the ingredients are imported from Taiwan directly. "Without these ingredients from Taiwan, the taste of the food will be different," Chan says. Tablewares such a flask-style cups, colored pencil-style chopsticks, and note-shaped menus another highlights of the restaurant. All imitate stationaries students use in schools.
"Older customers are more familiar with these decorations. When they come with their families, they share memories with their children," Chan says. "I find it meaningful."
Edited by Lambert Siu
Sub-edited by Soohyun Kim